2022 List of Potential New Condominium Launches in Singapore
Updated – 7 Jan 2022
2021 Singapore Residential Market Recapped
The private residential and public housing markets have had a remarkable year of recovery, with prices growing to an all-time high and achieving record-high sales volumes in the first 11 months of the year. According to data from the Urban Redevelopment Authority (URA), prices of private residential homes rose 5.2 per cent in the first three quarters of 2021, while resale prices of HDB flats rose by 8.9 per cent in the same period. There were a number of factors which had contributed to the stellar sales volume and rising price. Among them, the economic recovery, low interest rate environment, and the excess liquidity in the market.
New Sales Market Outlook
The increase in housing supply next year, coupled with the new cooling measures implemented with effect from 16 December 2021, will provide more options for buyers as well as stabilize property prices, which have grown substantially over the past year.
In 2021, PropNex projects that new private home sales will likely reach close to 13,000 units (ex. ECs); while in 2022, new sales volume may moderate to 9,000 to 10,000 units (ex. ECs) supported by genuine homebuyer demand from locals such as HDB UPgraders.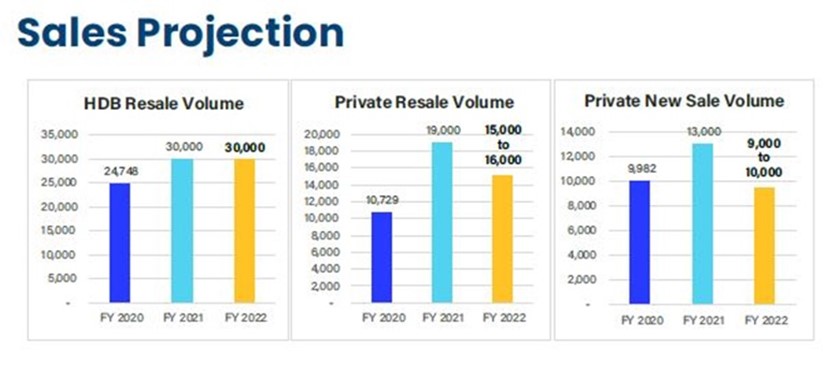 Summary
In 2022, an estimated 8,000 to 9,000 new units are expected to launch across various projects. Some new launches which homebuyers can look out for include Belgravia Ace, The Arden, North Gaia – Yishun Avenue 9 EC project – and the Tanah Merah Kechil Link mixed use development.
In terms of new launch prices, projects in the RCR and OCR are expected to launch at benchmark prices -between 5% and 8% higher than the launch prices witnessed in 2021, owing to rising land rates as well as construction costs for developers. Whereas launch prices in the CCR could potentially soften owing to weakened demand from foreigners and investors due to the revision in ABSD rates.
Notable Projects in Region For Your Reference
It is important to only engage the Official Direct Developer Sales Team to assist you. There are several complex procedures and key factors to consider before committing to purchase a unit. Rest assured that all our representatives are certified, well-trained and committed to deliver. By engaging the Official Direct Developer Sales Team, you will also enjoy the best possible direct developer price. There is no commission required to be paid.
Did you find what you were looking for?
Do you have a project you would like to discuss with us? Please leave your details and we'll call you back as soon as possible to make an appointment. Thanks!