CanningHill Piers at CanningHill Square
康 宁 河 湾
(综合私宅,饭店,零售 和 服务式公寓 开发项目)
由凯德集团与城市发展集团联合开发
*CanningHill Piers, the only brand new luxury city residence of its kind along Singapore River and Fort Canning Hill that will take integrated living to the next level**
*1-mins walk to Fort Canning MRT*
Designed by Danish Architecture Firm Bjarke Ingels Group
***Unveiling Soon in Oct /Nov***
Register Now @ HOTLINE : +65 9062 4481
for Exclusive Showroom Preview Invite
*IMPORTANT: Showflat Viewing
Sales Gallery and Showflat (where available) open for viewing strictly by appointment only!
In line with Government guidance our Sales & Marketing Suites and Show Rooms (where available) are open for appointments only, with maximum number of visitor per session. We continue to offer phone calls, video calls and where possible, virtual tours of our homes.
Canninghill Piers | By CapitaLand & CDL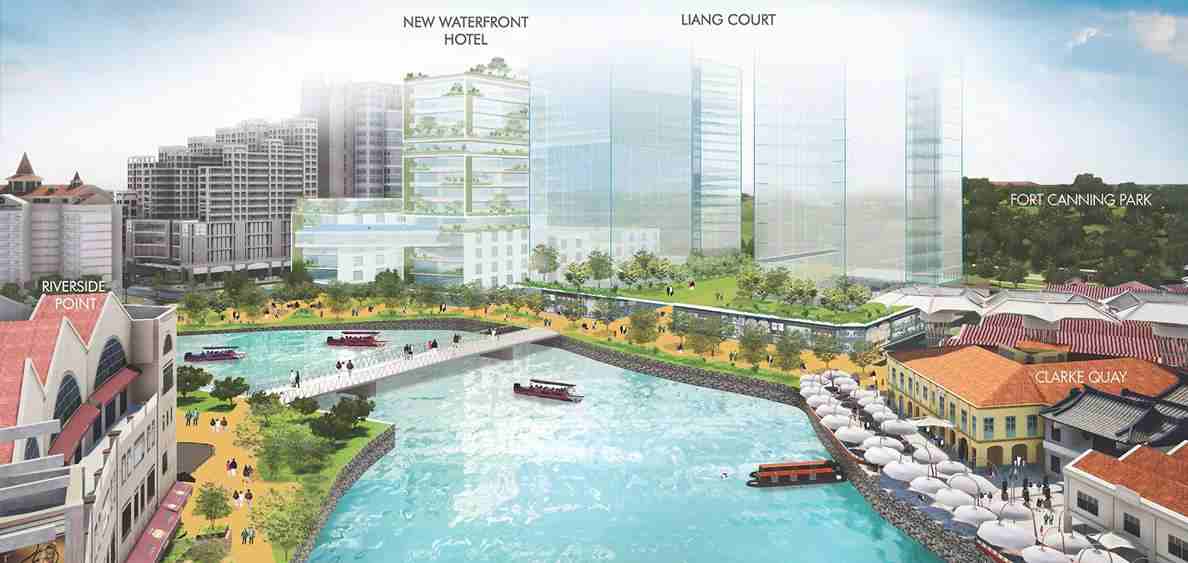 The wait is over. Upcoming brand new residences, CanningHill Piers at Canninghill Square, an integrated development jointly developed by City Developments Limited (CDL) and CapitaLand Limited to be unveiled soon in Q4 2021.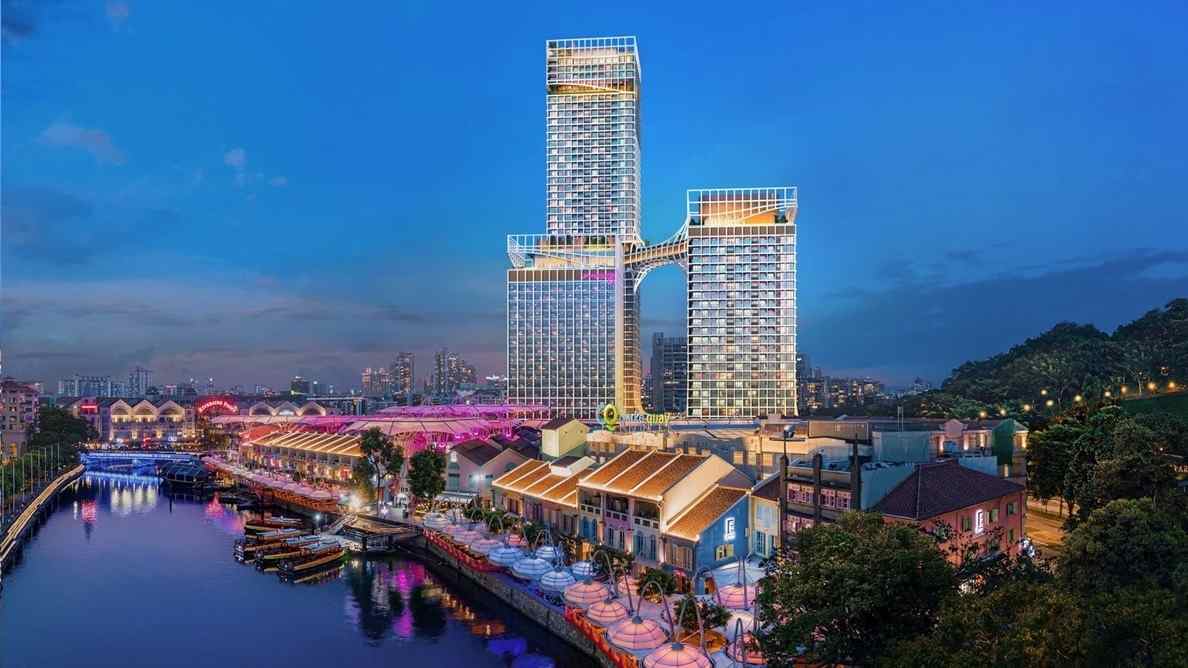 City Developments Limited (CDL) and CapitaLand Limited (CapitaLand) have unveiled the design for their newest joint residential development CanningHill Piers in District 6. The project is located between the historic Fort Canning Hill and the iconic Singapore River. Connected to the Downtown Line, Fort Canning MRT station, and next to F&B and lifestyle hub Clarke Quay, the development provides unparalleled urban living. This landmark residence is part of an integrated ground-up development that also features retail and food outlets called CanningHill Square, a hotel operated under the Moxy brand by Marriott International, and serviced residences, which operate under the Somerset brand with hotel licenses.
The design scheme comprises four towers of different heights – a pair of diagonally-facing residential towers(48-storey and 24-storey building) offering 696 apartment units, a 2-storey commercial podium (CanningHill Square), a 21-storey Hotel under Moxy Brand by Marriot International and a 192-unit serviced residences with hotel licence managed by Ascott Reit under Somerset branding. CDLHT will own the hotel, which will have about 460-475 guest rooms, under a forward purchase agreement with CDL. 
All four towers are distinctly spaced apart from one another, maximizing views and allowing the courtyard at the center of the commercial podium to open to the sky. A single continuous drape adorning the façade ties the various components together into an iconic and sculptural whole. Façades are partially lifted to reveal building entrances, common areas, and green spaces at various heights, infusing the integrated development with a distinct and unified architectural identity.
With a height of 180 metres, the 48-storey residential tower facing the river will be the tallest residential building along the Singapore River, while the 24-storey residential tower overlooking Fort Canning Hill stands at 100 metres. Comprising a total of 696 units, the two residential towers are connected by an iconic sky bridge on Level 24, which provides a wide range of lifestyle amenities such as the Sky Gym, Infinity Lap Pool, Sky Gourmet, Flexi Lounge and Function Room that overlook the unblocked Fort Canning Hill, Singapore River, the Central Business District (CBD), Marina Bay and beyond. Residents can enjoy more outdoor amenities and vantage points on Level 3, with jogging tracks, bouldering walls, and an adventure-themed children's play area surrounded by verdant landscaping. The Sky Club, a luxurious clubhouse spanning over 1,900 square feet (sq ft) with spectacular views of Marina Bay and Sky Garden, are located on Level 45. A wide selection of one- to five-bedroom premium apartments, Sky Suites and a penthouse units ranging in size from approximately 410 to 8,950 sqft are available.
CanningHill Piers is designed by Bjarke Ingels Group (BIG), led by Bjarke Ingels, one of the world's most renowned contemporary architects behind award-winning developments such as 8 House in Copenhagen and Via 57 West in New York.
CanningHill Piers will be the new benchmark in urban living and meet the aspirations of city residents for style, wellness, and connectivity, especially given its unique location surrounded by nature and historic landmarks. With upcoming plans to reposition Clarke Quay as a vibrant shopping, leisure and entertainment district both during the day and at night, residents living at CanningHill Piers will be able to enjoy a lively and modern neighbourhood.
Canninghill Piers is expected to be ready by 2025 as the integrated development open in phases from 2024. Register now for early-bird info update, floor plan, launch pricing info and showflat preview appointment at (+65) 9062 4481.
Canninghill Piers Location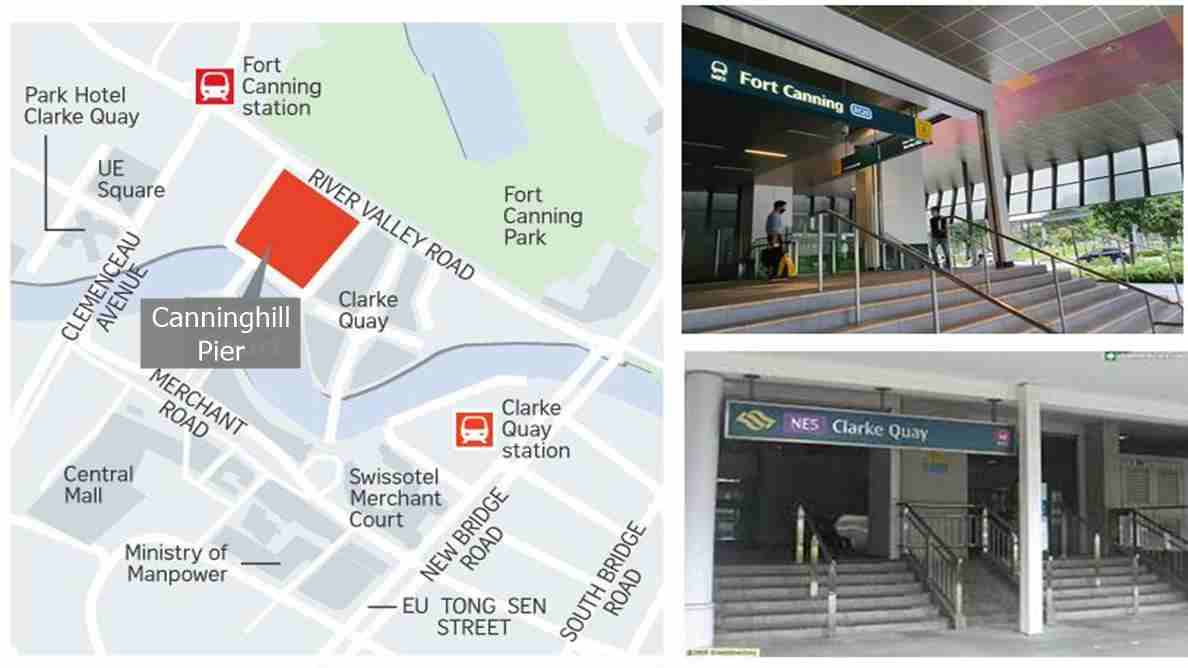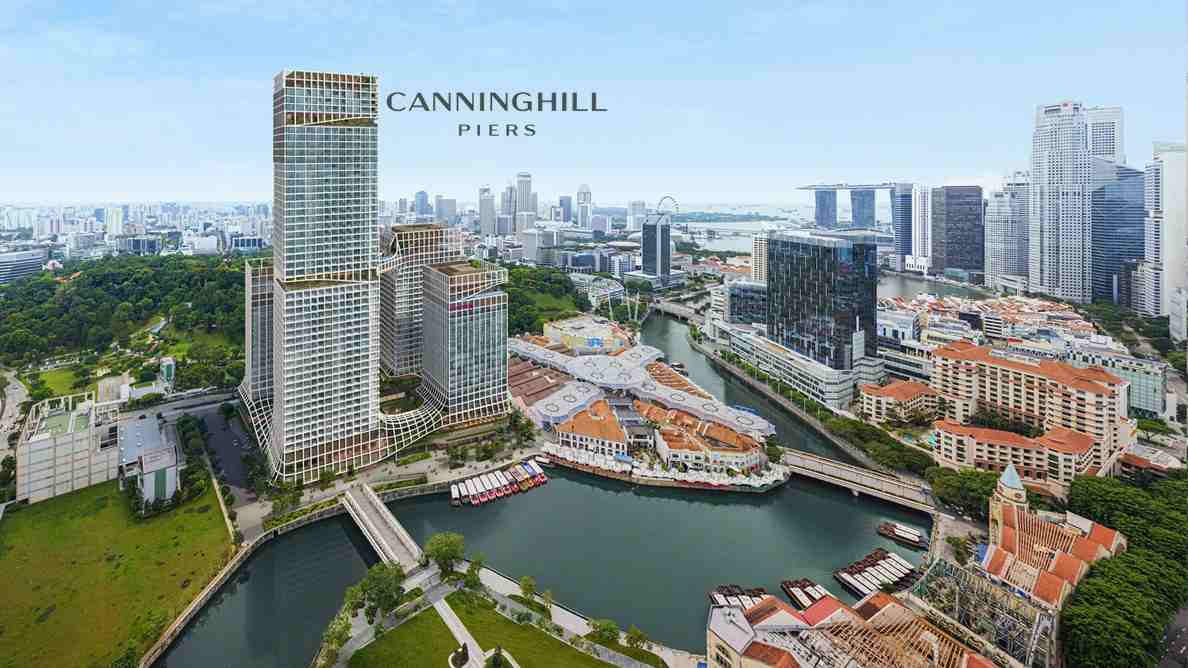 The Singapore River is a vibrant local and international icon – home to a myriad of cultural, heritage and lifestyle offerings. Situated in the heart of Clarke Quay – Singapore's most popular riverfront lifestyle and entertainment precinct – and on the fringe of Singapore's Central Business District, Canninghill Piers at Canninghill Square is linked to the Central Expressway via River Valley Road. It enjoys excellent connectivity to public transport with a direct link to Fort Canning MRT Station on the Downtown Line and is a short walk from Clarke Quay MRT Station on the North East Line. The development is also connected to an overhead pedestrian bridge that provides direct access to Fort Canning Park, a well-known historical hilltop landmark.
Lifestyle
Fort Canning Park – Walk 5 min 

Jubilee Park – Walk 3 mins 

The Foothills  – Drive 3 mins
Supermarkets
Doorstep Canninghill Square Retail Mall

FairPrice Chinatown Point – Drive 5 mins

Cold Storage UE Square – Walk 6 mins

Sheng Siong  Supermarket – Drive 5 mins
Shopping Malls
Doorstep Canninghill Square

Plaza Singapura – Drive 5 mins 

Singapore Shopping Centre  – Drive 5 mins 

The Heeren, Paragon- Drive 10 mins 

Takashimaya – Drive 12 mins 

The CenterPoint – Drive 12 mins
Nearest MRT Stations
Fort Canning MRT Station – Walk 1 min

Clarke Quay MRT Station – Walk 5 min
Schools
Cambridge at Robertson – 3 mins

Eton House Pre-school, Robertson Walk) – 10 mins walk

River Valley Primary School – Drive 5 mins
Outram Secondary School – Drive 5 mins
CanningHill Piers Condominium Located At The Heart of Clarke Quay, a vibrant riverfront lifestyle and entertainment precinct at your doorstep!
Short Walk to 2 MRT – Fort Canning Station (DTL) and Clarke Quay Station (NSL), Walk over to Canninghill Square, Fort Canning Park and many more…
SMS /WhatsApp +65 9062 4481 for Showflat Viewing Appointment, VIP Discount, Direct Developer Pricing and Floor Plan Brochure
HOTLINE : (+65) 9062 4481
Canninghill Piers Quick Facts
Developer :
CDL, CapitaLand & Ascott
Location :
1 & 5 Clarke Quay, Singapore

Site Area :
139,129 sqft
Tenure :
99-years leasehold
Expected T.O.P. (Vacant Possession) :
Est. 2023
Expected Legal Completion :
Est 2024
Total Number of Units :
696 Residential Units | 2 Blocks - 48 & 24-Storey Residential Tower
Total Number of Car Park Space :
TBA
Architect :
Project: DP Architects Pte Ltd
Design: Bjarke Ingels group
Landscape Consultant:
Ramboll Studio Freiseitl
M&E Engineer:
TBA
Project Interior Engineer:
Asylum Creative Pte Ltd
Main Contractor :
TBA
Canninghill Piers Unit Type
| Bedroom Type | Unit Size | No. of Units | Maintenance Fee | Price Guide |
| --- | --- | --- | --- | --- |
| 1 Bedroom | 409 - 463 sqft | 99 | TBA | TBA |
| 1 + Study | 474 - 560 sqft | 229 | TBA | |
| 2 Bedroom | 732 sqft | 20 | TBA | |
| 2 Bedroom + Ensuite Study | 829 sqft | 20 | TBA | |
| 2 Bedroom + Study | 732 - 883 sqft | 163 | TBA | |
| 3 Bedroom | 893 - 1259 sqft | 60 | TBA | |
| 3 Bedroom Premium | 1313 sqft | 20 | | |
| 4 Bedroom Premium | 1755 - 1959 sqft | 60 | | |
| 5 Bedroom Premium | 2788 sqft | 20 | | |
| Sky Suites | 2874 - 3972 sqft | 4 | | |
| Super Penthouse | 8956 sqft | 1 | | |
| | Total Units | 696 Units | | |
Canninghill Piers Apartment
TBA
CanningHill Piers Condo Facilities Gallery
Wide range of Lifestyle Facilities: Outdoor jogging track, a bouldering wall and an adventure-themed children's play area on Level 3 as well as a Sky Gym, Infinity Lap Pool, Sky Gourmet, Flexi Lounge and Function Room on Level 24. The Sky Club, a luxurious clubhouse spanning over 1,900 sqft with breath-taking views of Marina Bay, together with the Sky Garden are located on Level 45.
CanningHill Piers Condominium Integrated with Commercial Retail, F&B, Hotel and Serviced Residence
Wide Selection of 1 Bedroom (409 sqft) to 5 Bedroom Premium (2788 sqft) Apartments Plus ONLY Super Penthouse (8956 sqft)
SMS /WhatsApp +65 9062 4481 for Showflat Viewing Appointment, VIP Discount, Direct Developer Pricing and Floor Plan Brochure
HOTLINE : (+65) 9062 4481
About Canninghill Pier Developer – CapitaLand, CDL and Ascott Reit

About City Developments Limited (CDL) 
City Developments Limited (CDL) is a leading global real estate operating company with a network spanning 103 locations in 29 countries and regions. Listed on the Singapore Exchange, the Group is one of the largest companies by market capitalisation. Its income-stable and geographically diverse portfolio comprises residences, offices, hotels, serviced apartments, shopping malls and integrated developments.
With over 55 years of experience in real estate development, investment and management, CDL has developed over 43,000 homes and owns over 18 million square feet of lettable floor area globally. The Group's London-based hotel subsidiary, Millennium & Copthorne Hotels (M&C), is one of the world's largest hotel chains with over 145 hotels worldwide, many in key gateway cities.
About CapitaLand Limited
CapitaLand Limited (CapitaLand) is one of Asia's largest diversified real estate groups. Headquartered and listed in Singapore, it owns and manages a global portfolio worth S$131.7 billion as at 30 September 2019. CapitaLand's portfolio spans across diversified real estate classes which includes commercial, retail; business park, industrial and logistics; integrated development, urban development; as well as lodging and residential. With a presence across more than 200 cities in over 30 countries, the Group focuses on Singapore and China as its core markets, while it continues to expand in markets such as India, Vietnam, Australia, Europe and the USA.
CapitaLand has one of the largest real estate investment management businesses globally. It manages eight listed real estate investment trusts (REITs) and business trusts as well as over 20 private funds. Since it pioneered REITs in Singapore with the listing of CapitaLand Mall Trust in 2002, CapitaLand's REITs and business trusts have expanded to include Ascendas Reit, CapitaLand Commercial Trust, Ascott Residence Trust, CapitaLand Retail China Trust, Ascendas India Trust, CapitaLand Malaysia Mall Trust and Ascendas Hospitality Trust.
It is important to only engage the Official Direct Developer Sales Team to assist you. Buying a property can be a complex process with various regulatory requirements and key factors to be considered before committing to purchase a unit. Rest assured that all our representatives are certified, well-trained and committed to deliver. By engaging the Official Direct Developer Sales Team, you will also enjoy the best possible direct developer price. There is no commission required to be paid.
Register Now For Canninghill Piers Showflat Viewing Appointment!
Visit to Show Flat is strictly by appointment only. To request for an invite, kindly fill up the form and we will in touch with you shortly.
Official Developer Sales Team.
Canninghill Piers apartment Brochures, Detailed floor plan, Payment Schedules, Special Sales Packages, Promotional Packages, Development Updates are available upon request by simply fill up the request form.
Canninghill Piers Showflat Viewing Appointment

Canninghill Piers Unit Booking & Discount

Canninghill Piers Unit Choice & Selection

Canninghill Piers VVIP Early Bird Discounts

Canninghill Piers Direct Developer Price

Canninghill Piers Floor Plan

Canninghill Piers Development News & Updates

Canninghill Piers Location Map

Canninghill Piers VVIP Preview Registration
Singaporeans/Permanent Residents/Foreigners are welcome!
*District 9 Waterfront Mixed Development by Renowned CDL and CapitaLand*
Showflat Preview Soon in Q3
Reservation Your Priority Viewing Schedule Now
HOTLINE: (+65) 9062 4481
Registration of Interest
Canninghill Piers, mixed development by CDL, CapitaLand & Ascott Group. Investors residing outside Singapore who are keen to invest in a unit or units from Canninghill Piers should contact our Singapore Sales Office by filling up the form below. By submitting the registration form below, you are deemed to have given us the consent to contact you regarding your interest on this development. We shall be in-touch with you shortly. Thanks for registering your interest with us.
*Foreign nationals from USA, Iceland, Norway, Liechtenstein & Switzerland buying 1st Residential Property in Singapore are EXEMPTED FROM the 20%  ADDITIONAL BUYER'S STAMP DUTY (ABSD)
Address: 1 & 5 Clarke Quay, Singapore
Country: Singapore
Property Id : 7187
Property Size: 409 ft2
Rooms: 1
Bedrooms: 1
Bathrooms: 1
Developer: JV CDL, CapitaLand & Ascott
Completion (TOP): 2025 (Est.)
Tenure: 99-Years Leasehold
Price: TBA
Number Of Units: 696 units
Unit Mix: 1, 2, 3, 4 , 5 Bedroom and Penthouse
Number Of Floor: 48 & 24-Storey Tower
Furnishing: partial
Number Of Car Park Lot: TBA
Eligibility: Foreigners are eligible to purchase
Security: 24 Hour Security Post, CCTV and Access Card
View: City view
Balcony
Lap Pool
Sky Pool
Lounge
Sky Terrace
Lobby
Fridge
Air-con
Washing Machine
Jacuzzi
Spa