North Woolwich Road, London, London
add to favorites
Mariner's Quarter
Royal Wharf Phase 3 – The Triumphant Finale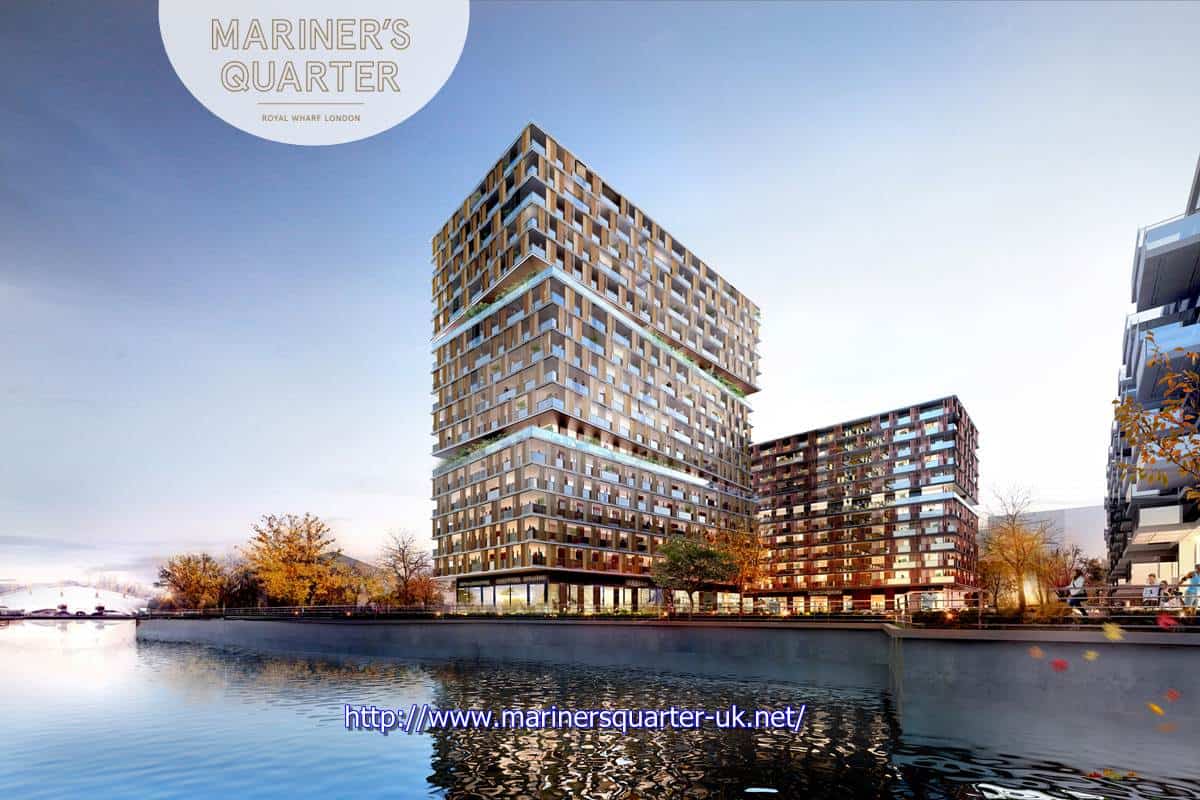 A WATERFRONT HAVEN WITHIN LONDON'S  NEWEST NEIGHBOURHOOD
Mariner's Quarter in the triumphant finale to Royal Wharf, a spectacular residential, business and leisure destination, overlooking a stretch of the Thames reaching almost a mile across.
Mariner's Quarter offers the neighbourhood's most premium location and exclusive architecture, with some of the buildings offering unrivalled river views.
The very name of Mariner's Quarter sums up what this exclusive section of the neighbourhood is all about. Embracing the energy of the Thames and the spirit of adventure, mere seconds from the social hub of the sports and leisure centre, to own a property in Mariner's Quarter is to own a slice of the best that London has to offer.
Just minutes from Canary Wharf, and less than half an hour from Oxford Street, this will be a rich, textured neighbourhood, focused around a lively central high street, a broad market square and a rolling riverside park. Criss-crossed with inviting side-streets and charming mews, Royal Wharf will also be peppered with public squares and gardens, modelled on the greatest traditions of London estates.
This will be a place where parents can drop their children at school, then stroll home – stopping off at the local bakery and greengrocer for a few essentials. A place to picnic in the park at weekends, catch up with neighbours at a favourite café, or amble along almost a full kilometre of beautifully planted riverside walk. It will be a friendly, even intimate, local neighbourhood. A place to call home.

1, 2 & 3 BEDROOM APARTMENTS
Price Start From £395,000 | Register For Latest Updates & Star Buy List
EXQUISITE DESIGN IN A PREMIUM  RIVERFRONT SPACE
Mariner's Quarter offers the neighbourhood's most premium location and exclusive architecture, with some buildings offering incredible arching river views. The spirit of adventure permeates every home in Mariner's Quarter. Generous in scale and impeccably designed, these homes are inspired by Georgian mansion housing and warehouses reflecting the industrial heritage of the area.
The contiguous apartment block is visually divided into three separate volumes, with each volume corresponding to the three different categories of building heights as viewed from the Thames.
Capitalising  on  the  river  views,  the  top  and  lowest  blocks  are  gently  rotated  on  a  central  axis towards Canary Wharf, creating views  of the water  even for east-facing units located away from the water's edge. The middle block, consisting of apartments on the eighth to the 13th storey, is then rotated in the opposite direction to provide views of the new pier. The middle block also leans towards the green plaza and overlooks the Thames Barrier and Thames Barrier Park.
THE MARCO POLO BUILDING
VVIP Discount + Furniture Package + Legal Subsidy
ONLY £2000 to Secure A Unit With Spectacualr River View
The crowning glory of the Mariner's Quarter, riverfront Marco Polo boasts a bold design, consisting of three vertically stacked building boxes, made striking by a subtle twist of each box. Inspired by the unpredictable London weather, the building's façade and character was designed to modify with each season, with the louvered balcony screens adjustable to provide shade from the sun or wind while enjoying outside space.
Marco Polo (Building 18)
Number of Floors : 18
1 Bedroom : 34 units
2 Bedroom : 54 units
3 Bedroom : 34 units
Total : 119 units
THE JAMES COOK BUILDING
Part of the same design as the Marco Polo building, the James Cook features a similar design without the quirky twists. Adjustable balcony screens lend the building a living, breathing feel, creating a sense of changing with the seasons. The colour palette of this building is the reverse of the neighbouring Marco Polo, to create a subtle differentiation between the plot
Royal Wharf Clubhouse Making Residents Feeling Good Inside and Out
Working with David Morley Architects, an internationally renowned specialist in sports and leisure design, physical and psychological wellbeing has been built into the very fabric of Royal Wharf. Alongside the Riverside Park, just behind Mariner's Quarter, will be a world-class leisure and fitness centre, fully equipped to meet the varying needs of residents.
The centre  will include:
25 metre swimming pool, suitable to all ages and abilities
Sauna, steam room, jacuzzi, experience  shower
Outdoor gym facilities
20,000 sq ft of light and airy space
Refreshment and social and relaxing area
Workout zones
State of the art exercise equipment
Personal training assessment hub
♦ ♦ ♦
The centre will be a social hub for people to get together and meet more of their neighbours – a London rarity.
The excitement and sociable aspects of sport creates a perfect platform for bringing people together.
♦ ♦ ♦
Sales Procedure & Payment Schedule
Reservation:
Furnish and sign on Reservation Form with personal particulars
Photocopy of passport
Payment of £2000 by Telegraphic Transfer or (S$4000 for Singapore Buyer)
Payment Schedule:
Upon reservation, within 21 days upon exchange of contract, payment of 10% less £2ooo reservation fee
In 12 months from exchange, payment of 10%
Balance 80% payable upon completion (est 2019)
Jointly Developed by :

REQUEST FOR A SHOWROOM INVITE !
Visit to showroom is by invitation only. To request for an invite, kindly fill up the form and we will in touch with you shortly.
Official Developer Sales Team. Brochures, Detailed floor plan, Payment Schedules, Special Sales Packages , Promotional Packages, Development Updates are available upon request by simply fill up the request form.
Mariner's Quarter Priority Unit Choice & Selection
Mariner's Quarter Early Bird Discounts
Mariner's Quarter Direct Developer Price
Singaporeans/Permanent Residents/Foreigners are welcome
Register Now To Enjoy VVIP Discount
Only £2000 To Secure Your Choice Unit !
Get Exclusive Invite and Privilege Information For Preview Launch
Royal Wharf by Ballymore and Oxley. Investors residing in Asia who wish to invest in Royal Wharf by Ballymore and Oxley should contact our Singapore Sales Office by filling up the form
Property Id : 957
Property Size: 561 ft2
Rooms: 1
Bedrooms: 1
Bathrooms: 1
Developer: Ballymore & Oxley International
Completion (TOP): Est. End 2019
Tenure: 999
Price: from £395,000
Number Of Units: 207
Unit Mix: 1, 2 & 3 Bedroom
Number Of Floor: Marco Polo - 18 Floor James Cook - 12 Floor
Furnishing: Furniture Furnished
Eligibility: Foreigner Eligible
View: River, Garden & Street VIew
Balcony
Concierge
Gym
Lounge
Lobby
Similar Listings
Damac Tower Nine Elms London, Zone 1. Comprises residential apartment designed by Versace Home. 3 mins to Vauxhall
[more]
Damac Tower Nine Elms London, Zone 1. Comprises residential apartment designed by Versace Home. 3 mins to Vauxhall
[more]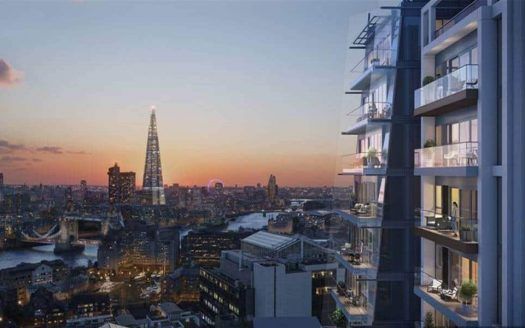 Cashmere Wharf, the Tallest Tower at London Dock, latest release by St. George, is located in a prime Wapping Distr
[more]
Cashmere Wharf, the Tallest Tower at London Dock, latest release by St. George, is located in a prime Wapping Distr
[more]