Oxley Convention City
*First Ever Integrated Convention Centre at Batam's Financial District*
(Comprising Convention Center, Serviced Apartment, Office Tower, Shopping Mall, F&B and Luxury Apartments)
| Doorstep to Upcoming MRT |
 *Title Deed for Foreigners!*
*Fully Furnished Apartment with 18% Guaranteed Rental Returns Over 3 Years from ONLY S$75k!*

Oxley Convention City @ Batam Indonesia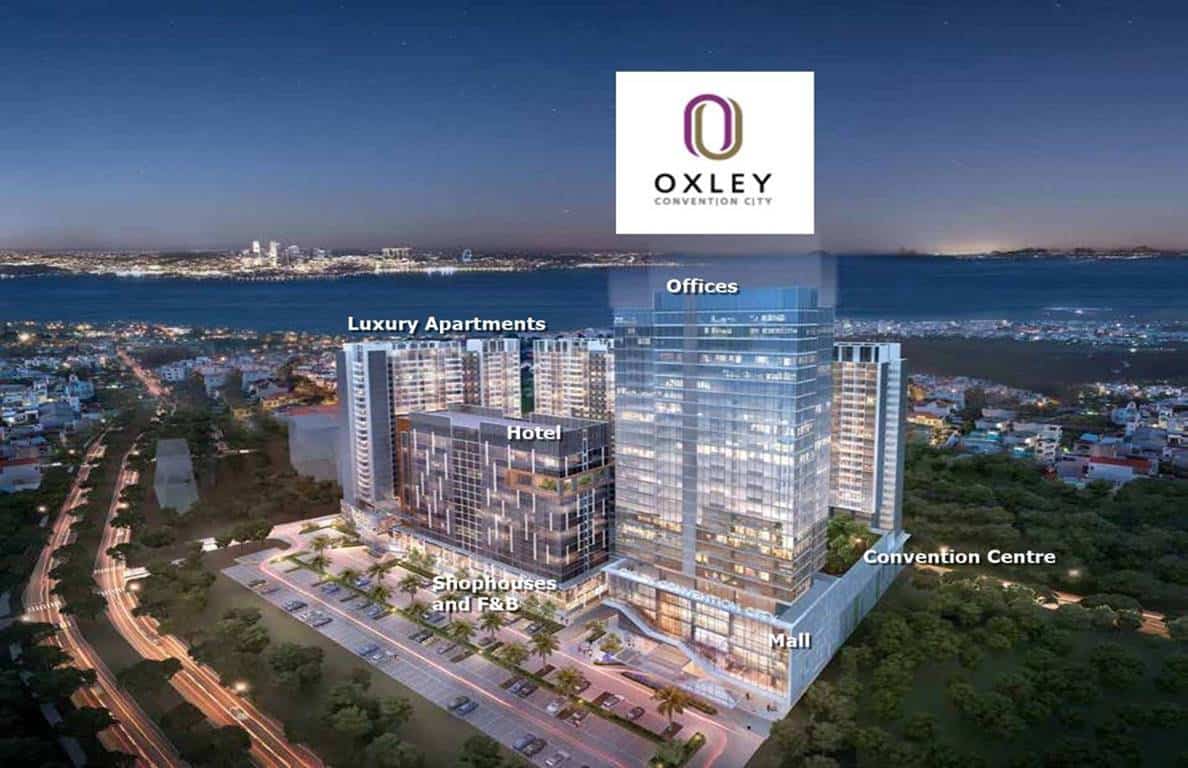 A flagship master planned development by reputable Singapore-listed developer Oxley Holdings Limited and PT Karya Indo Batam (KIB) (on a 50:50 joint-venture development) set to change the way the world thinks, meets and works.
Located strategically at the heart of Batam's vibrant financial district, at the junction of Jalan Sei Panas and Jalan Raja H. Fisabilillah.
Just a stone's throw away from major banks such as BNI Bank and OCBC NISP, and mere minutes away from popular destinations such as the Nagoya shopping and food district, Oxley Convention City is at the heart of it all.
An integrated development with a thriving ecosystem including a Convention Centre, an exclusive 20-storey Hotel with 520 guest rooms, a 29-storey Office Tower with 320 strata-titled offices for sale, 16 exciting retail & entertainment shop units and 15 dynamic shops at F&B avenue, a vibrant collection of 99 shop units and three 32-storey towers of total 1635 luxurious residences.
Developed by Singapore Mainboard Listed Developer Oxley Holdings with a business presence across nine geographical markets today,
including Singapore, the United Kingdom ("UK"), Ireland, Cambodia, Malaysia,
Indonesia, China, Japan and Myanmar.
Completion of Oxley Convention City is estimated due in 2019. 
Oxley Convention City Video Introduction
SMS/WhatsApp "OCC"<Name><Email> NOW to +65-90624481 for eBrochure, Floor Plan and Starbuy List!
15 Reasons Why Invest in Oxley Residences @ Oxley Convention City, Batam Indonesia
Potentially the "Next Big Thing" in Indonesia Economy

Very affordable homes from $7xK!
Foreigners Eligible to have Property Title Ownership (New Policy 2018)
Upcoming Sei Panas LRT Station at Doorstep
Stratigically Locatd in Close Proximity to Singapore (20km from Singapore with daily ferry and flight services)

Thriving Economic Urban Centre and Growing Tourism

Established Infrastructure with New $8 Billion Infrastructure Development including 2nd Airport Terminal, LRT Lines, Green Solutions and Digitization 

"Ready" Industrial Parks (24 industrial parks currently in Batam equiped with Modern technolgies)

Well Supported with Amenities – Schools, University, Hospital, Banks, Shopping Malls, HOtels and Gofl Courses

Cheap & Available Labour

Government Support

Batam's Tax Free Zone has made it the 3rd Busiest Entry Port and 3rd Most Popular Tourist Destination in Indonesia
100% foreign ownership of companies allowed
One-Stop Policy for Seamless Investment Procedures
Easy Immigration Procedures for Expatriates
Oxley Convention City | Master Development Plan in Phases
 Oxley Convention City | By SG Listed Developer – Oxley Holdings 
Defining Batam's changing urban skyline, Oxley Convention City is more than just a city within a city
A gateway development, a comprehensive city hub, a lifestyle destination, a home with a city address and an island resort feel
*Own A Luxury Condo at Most Affordable Price from ONLY $7xK with Full Title Deed for Foreigners*
Oxley Convention City | Location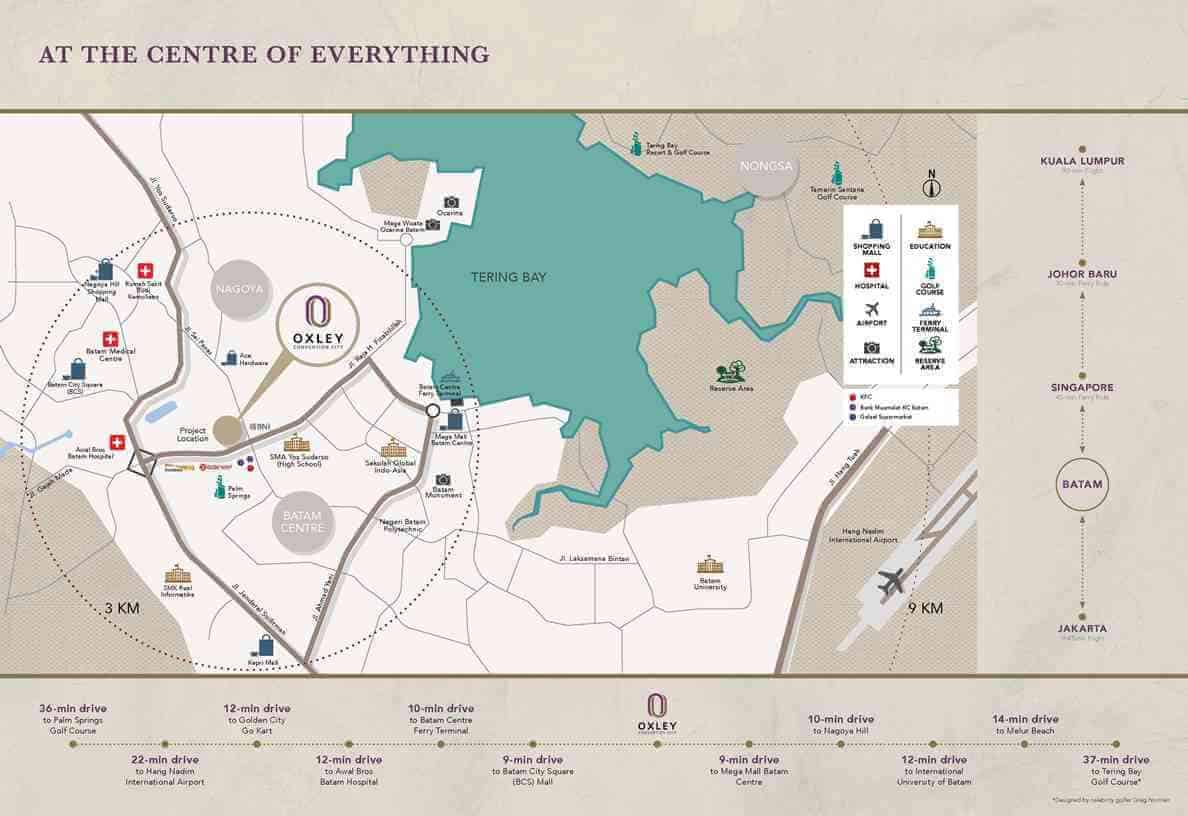 ABOUT BATAM – A GLOBAL CONNECTION | A LOCAL FORCE
 BIGGEST CITY IN THE RIAU ISLANDS

PROVINCE OF INDONESIA

 TOTAL POPULATION

1.04 MILLION LOCALS WITH OVER 3,000 EXPATS

 KEY ECONOMIC INDUSTRIES

TOURISM, UTILITIES, SHIPPING, FINANCE,INDUSTRIAL, MANUFACTURING, GLOBAL TRADE

 POPULAR TOURIST DESTINATION

KNOW FOR ITS SHOPPING MALLS, SPA RESORTS AND WHITE SAND BEACHES

 WELL-CONNECTED TRANSPORTATION HUB

WITH HANG NADIM INTERNATIONAL AIRPORT, SIX FERRY TERMINALS, FOUR SEAPORTS AND A FUTURE ISLAND-WIDE MONORIAL NETWORK
WHY BATAM ?
INVEST IN WHAT'S TO COME
With strong government support and competitive investment incentives, Batam is rich with untapped potential and lucrative opportunities for local,
regional and Singaporean investors.
On the cusp of exciting change, the once-sleepy fishing village is now earmarked to become a vital, economic powerhouse for Indonesia,
and a catalyst for strengthening cross-country relations with Singapore, a long-term strategic partner.
ONE OF THE MAIN INDONESIAN RECIPIENTS OF THE LARGEST SHAREOF INTRA-ASEAN FOREIGN DIRECT INVESTMENT (FDI) INFLOWS
PART OF FREE TRADE AREA ALONG WITH SINGAPORE AND HOHOR BAHRU, WITH NO VALUE ADDED TAX AND NO IMPORT/EXPORT DUTIES ON GOODS
THE FUTURE BATAM-BINTAN BRIDGE WILL OPEN UP NEW OPPORTUNITIES AND GREATER CONNECTIVITY BETWEEN THE TWO CITIES
STRONG GOVERNMENTAL SUPPORT WITH COMPETITIVE INCENTIVES AND LOW TARIFFS
ONE-STOP POLIICY FOR SEAMLESS INVESTMENT PROCEDURES
DOUBLE TAXATION AVOIDANCE AGREEMENT WITH 51 COUNTRIES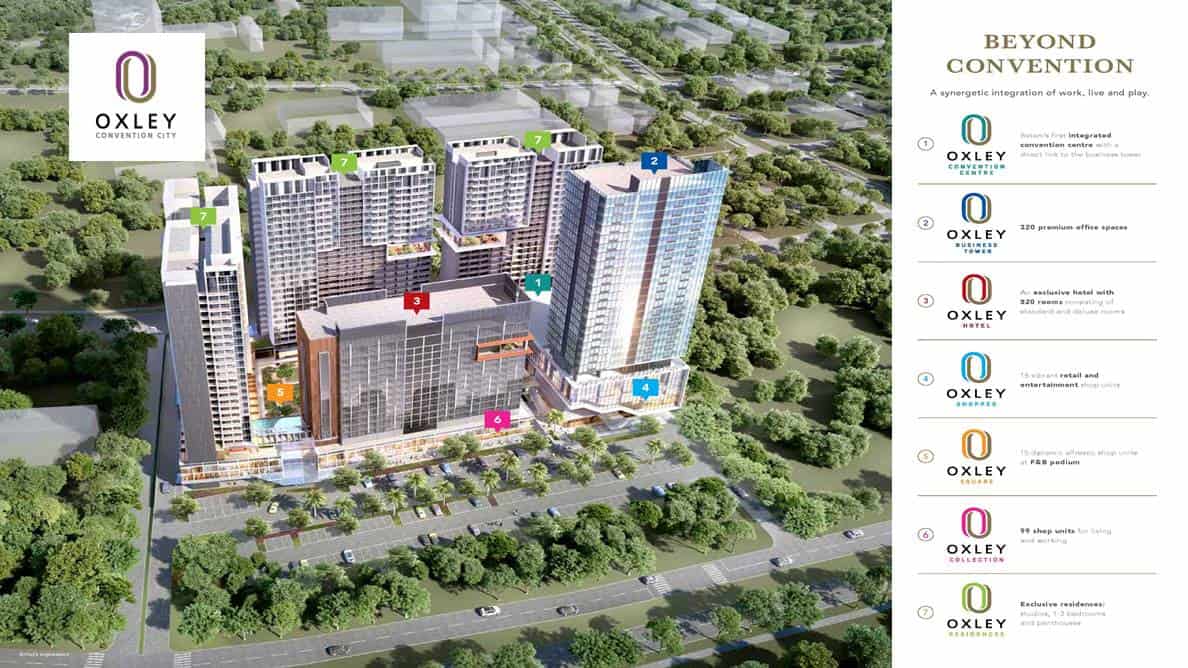 OXLEY CONVENTION CENTRE
Where The Heart of Commerce Beats
A first-of-its-kind in Batam, the Oxley Convention Centre introduces businesses to an innovative venue to connect, network and showcase their offerings. Surrounded by an exciting spread of retail, dining and hospitality offerings, as well as an improved transport network, it allows for a constant and natural flow of traffic, making it ideal for large gatherings.
Directly connected to Oxley Business Tower

Spanning 1,500 sq m

2 collapsible halls to cater to MICE activities of various scales

Close to 7 metres in height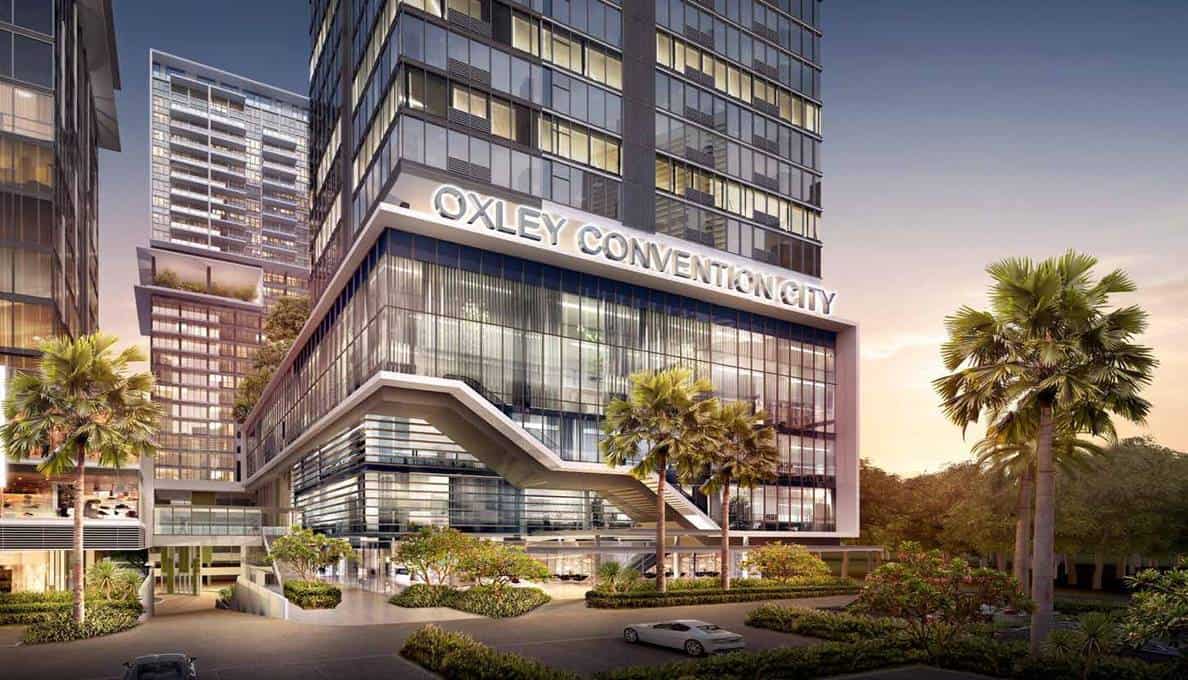 OXLEY BUSINESS TOWER
Be Known For The Company You Keep
Set within a robust economic and business climate perfect for investment opportunities, Oxley Business Tower offers premium signature office spaces befitting business leaders from across the globe.
Conveniently located in Batam's thriving financial district

First business tower with an integrated convention centre

29-storey tower with 320 office units

Minutes away from the ferry terminal and international airport, ideal for regional operations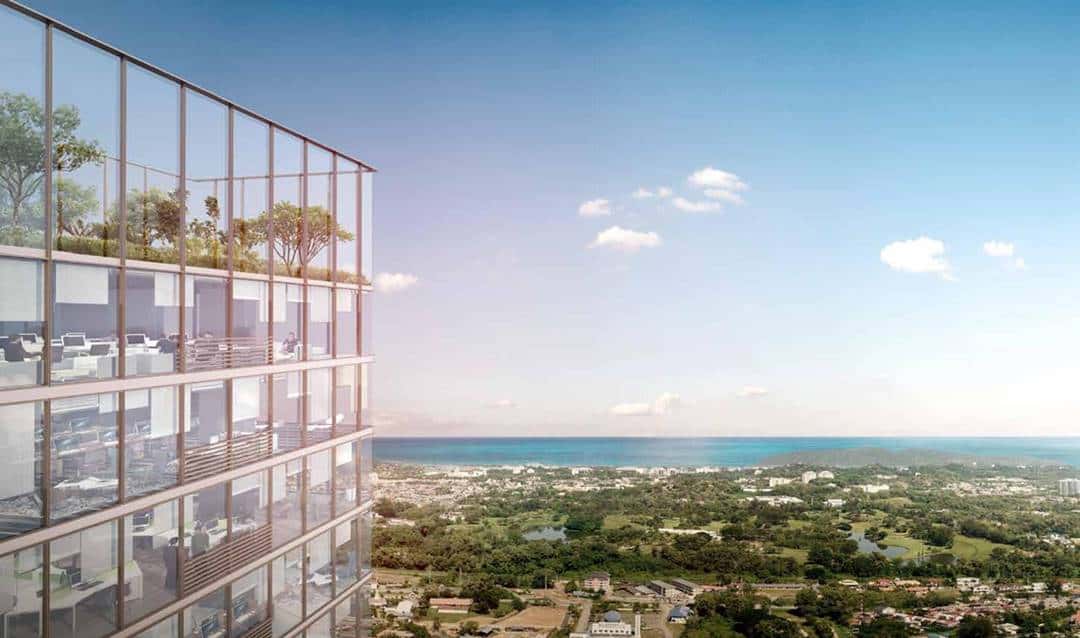 OXLEY HOTEL
Buiness, Pleasure OR Both
Standing at 21 storeys, Oxley Hotel is located along Jalan Raja H. Fisabilillah. With convenient hotel facilities such as a gym, a bar and lounge, 24-hour reception service, exclusive concierge service and a swimming pool, the Oxley Hotel delivers quality service and a welcoming experience for both business and leisure travelers.
Located conveniently along Jalan Raja H. Fisabilillah

Exclusive 21-storey hotel comprised of 520 units

Directly connected to Oxley Square, the F&B podium with a wide range of international cuisines to savour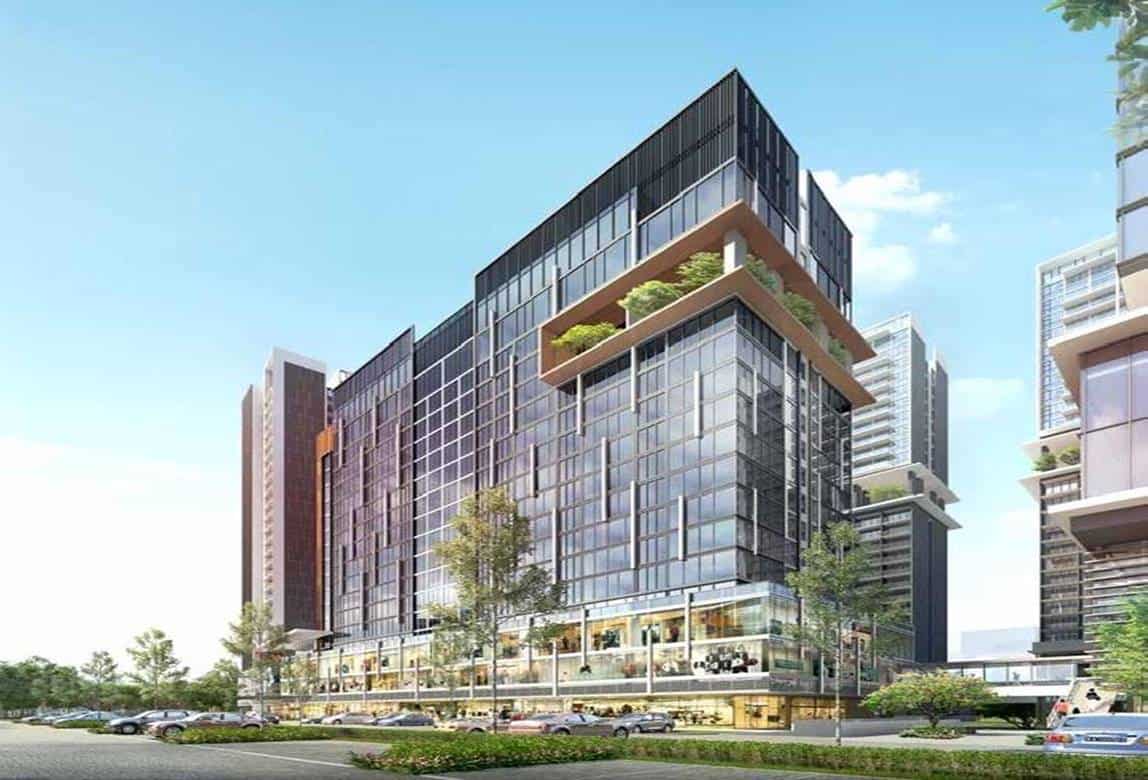 Invest In Oxley Residences from ONLY S$6xK with Full Title Ownership | Earn 18% Guaranteed Rental Returns Over 3 Years!
SMA/WhatsApp "OCC"<Name><Email> NOW to +65-90624481 for more info and VVIP Discount
OXLEY SHOPPES
Discover Life's Greatest Luxuries, Right At Home
Whether it's looking for the newest collection from popular international brands or supporting local talents from favourite home-grown labels, Oxley Shoppes presents a universal shopping experience.
3 storeys of extensive shopping

Luxurious international brands and home-grown labels

Together with Oxley Square, it offers more than 30 retail and dining options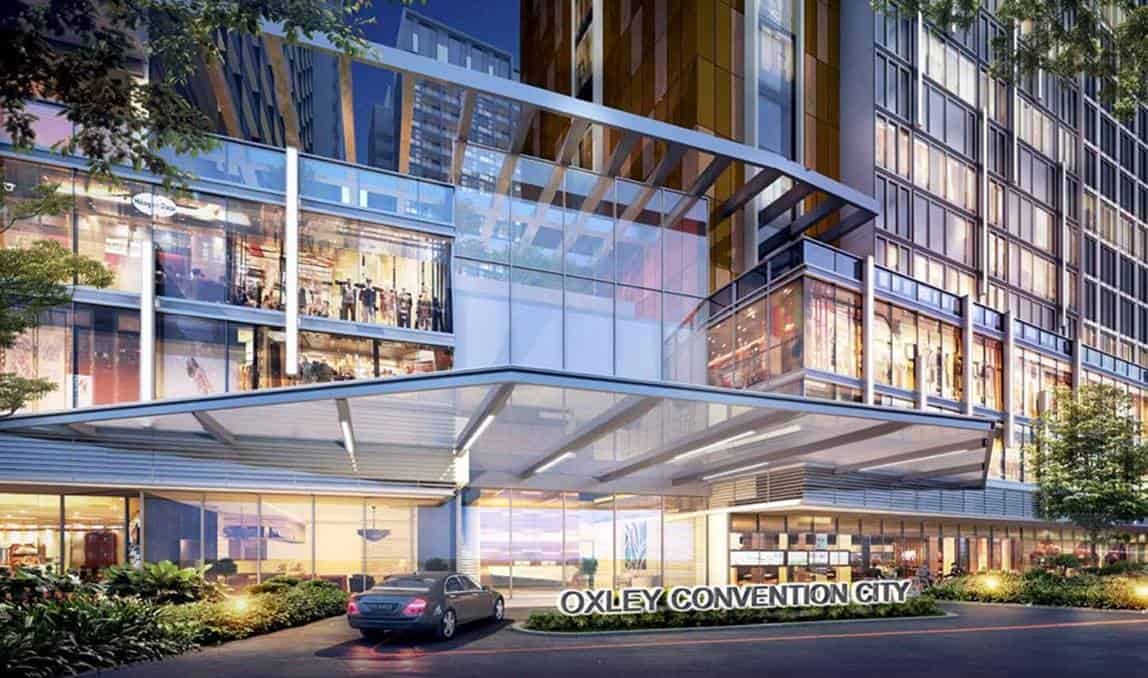 OXLEY SQUARE
Savour The Finer Things in Life
Oxley Square is a dynamic alfresco F&B podium located on the 2nd storey. Bringing the world's greatest cuisines closer to you, the podium offers tantalising F&B selections such as numerous well-loved restaurants serving an eclectic choice of world-class cuisines.
Alfresco F&B podium featuring international and local cuisines

Conveniently located on the 2nd storey of the development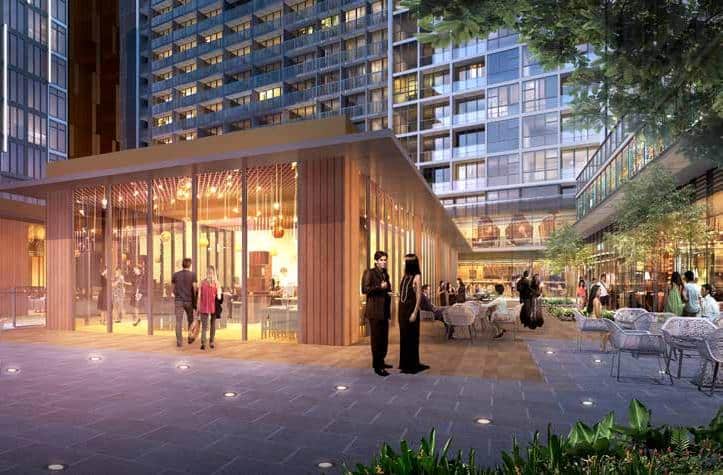 OXLEY COLLECTION
The Balance Between Work and Life
One of the development's highlights, Oxley Collection offers a unique experience of integrated living and working at the heart of the city.
A collection of 99 shops units, ranging from 1 to 3 storeys with the lower floors commonly used for commercial purposes

The prime location offers constant footfall of working executives, patrons from ongoing exhibitions, residences or international travelers

Next to Batam's first integrated convention centre
Invest In Oxley Residences from ONLY S$6xK with Full Title Ownership | Earn 18% Guaranteed Rental Returns Over 3 Years!
SMA/WhatsApp "OCC"<Name><Email> NOW to +65-90624481 for more info and VVIP Discount
OXLEY RESIDENCES
Experience The Exceptional
Oxley Residences, the residential development of Oxley Convention City, offers well thought out homes with high ceilings and balconies that take in the scenic views outside. With a choice of homes suitable for both singletons and growing families, these residences easily meet the demands for an elevated urban lifestyle.
Three 32-storey towers with a total of 1,635 residences

Efficient studios from 25 sq m – the perfect pads for young urbanites

Compact 1-bedroom units from 39 sq m – starter homes for young professionals and couples

Spacious 2 – to 3-bedroom units from 53 sq m – ample spaces for families to grow

With a host of private facilities including BBQ pits, yoga room, swimming pools, sauna, playground, multi-purpose function room and a well-equipped gym
Enjoy First Mover Advantage to Own A Property in Indonesia Real Estate Market
Attractive Priced and Most Affordable Condominium Apartment from SGD6xK!
REGISTER NOW FOR VVIP EARLY BIRD DISCOUNT!
OXLEY RESIDENCES INDICATIVE PRICE:
Studio from Rp 6xx million (~S$6X K)
1 Bedroom from Rp 8xx million (~S$8X K)
2 Bedroom from Rp 1.2x billion (~S$12X K)
3 Bedroom from Rp 1.7x billion (~S$17X K)
Penthouse from Rp 3x billion (~S$30X K)
Single-storey shop unit from Rp 2.6x billion (~S$26X K)
ENJOY 18% GUARANTEED RENTAL RETURNS Over 3 Years! | FULL TITLE DEED FOR FOREIGNER!
Oxley Residences | The Apartment
Fully Furnished at Most Affordable Price from S$7xK !

Oxley Convention City – Facilities Site Plan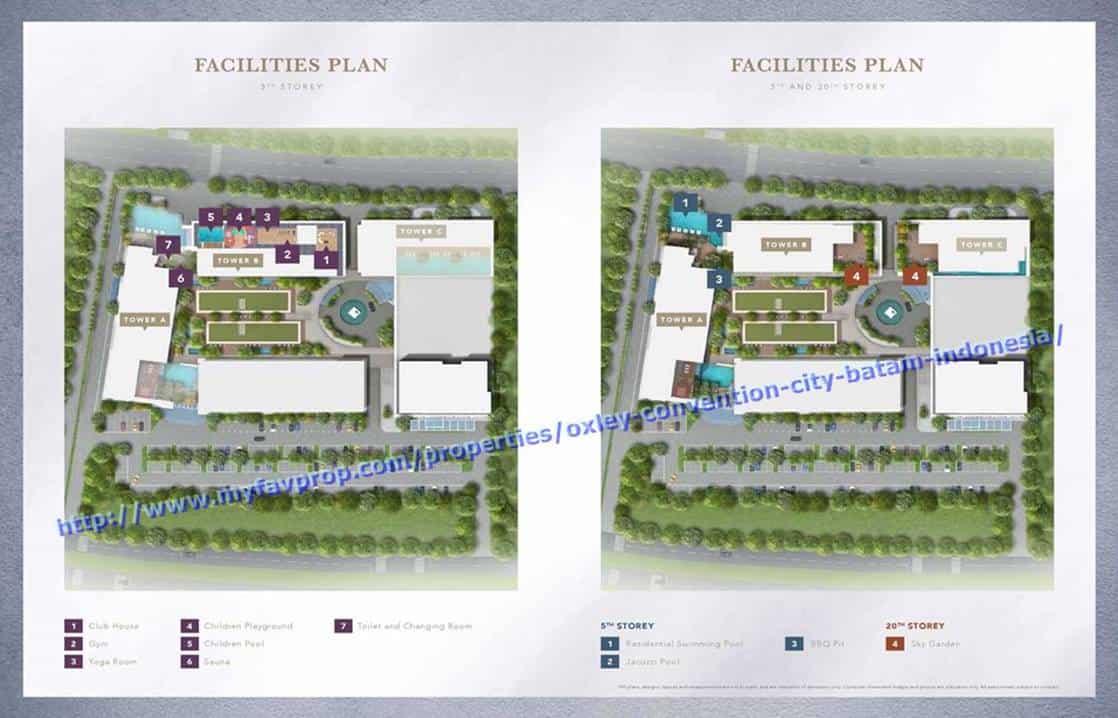 Indulge In Life's Pleasure At Oxley Residences
Away from the bustle of the city, revitalise with a yoga session, or take a refreshing dip in the swimming pool to cool off on a warm day. And with the nearby integrated retail and F&B deck, be spoilt for choice with the large selection of stores and experience the luxuries of city living
– all within your home's proximity.
Invest In Oxley Residences from ONLY S$6xK with Full Title Ownership | Earn 18% Guaranteed Rental Returns Over 3 Years!
SMA/WhatsApp "OCC"<Name><Email> NOW to +65-90624481 for more info and VVIP Discount
Typical Residential Floor Plan
OXLEY RESIDENCES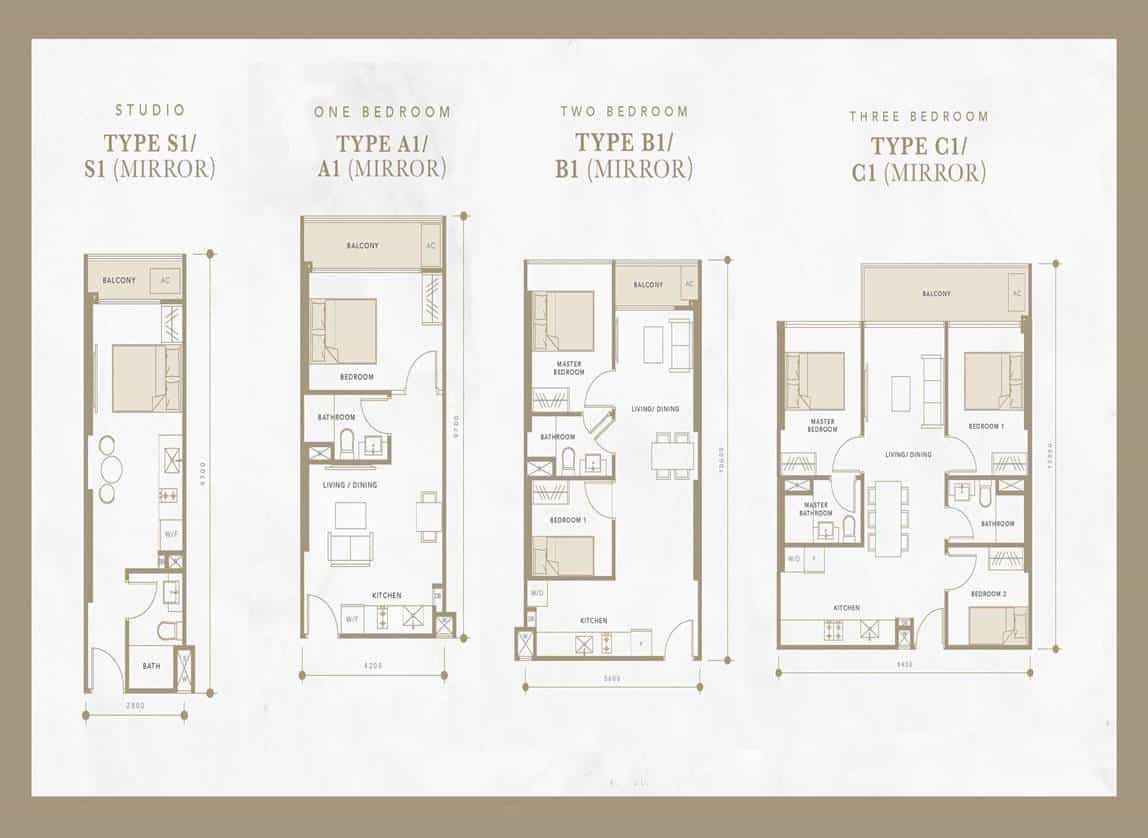 Typical Shops Floor Plan
OXLEY COLLECTION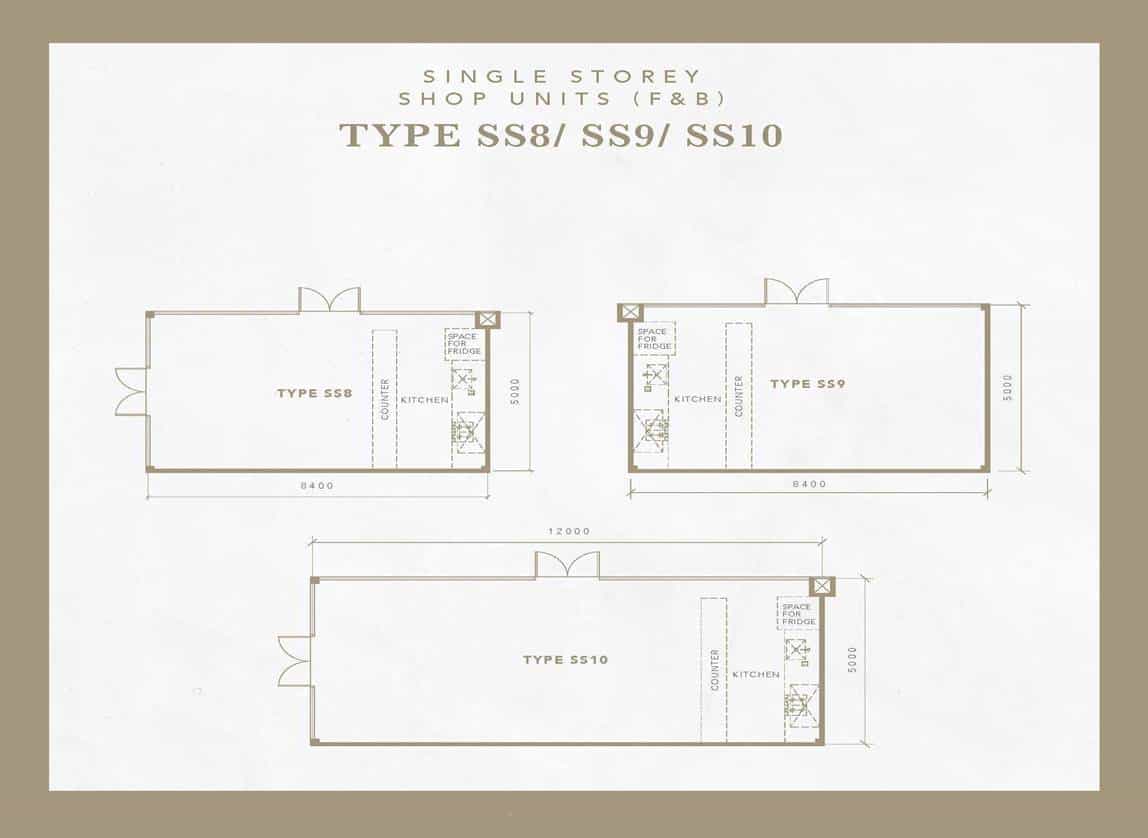 Reservation and Payment Schedule:
Booking /Reservation fee – S$1,600

Upon Signing of *Sales & Purchase Agreement, within 14 Days : 1st 20% less IDR 15,000,000 (equivalent of S$1,600)
15 Oct 2017 : 2nd 20% payment
15 April 2018 : 3rd 20% payment
15 October 2018 : 4th 20% payment

Upon Delivery Notice (within 14 Days) : Final 30% payment
*Signing of SPA
Option 1 – Sign agreement in Batam (notary fee at approx. IDR 1.5 million to IDR 3 million)

Option 2 – Sign agreement in Singapore (notary fee at approx. S$200 to S$300)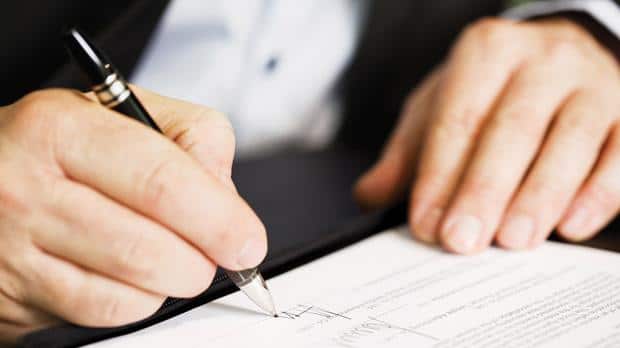 Registeration of Interest
Get Latest Updates | Register for Show Room Visit
Oxley Convention City by Oxley Holdings. Investors residing in Asia who wish to invest in Oxley Convention City should contact our Singapore Sales Office by filling up the registration form below. We will be in-touch with you shortly. Thank you!
Property Id : 2315
Price:
SGD
60,000
onwards
Property Size: 274 ft2
Rooms: 1
Bedrooms: 1
Bathrooms: 1
Developer: Oxley & PT Karya Indo Batam
Completion (TOP): 2019
Tenure: 35 Years HGB (renewal for 30 Years)
Price: $6xK (Residential) / S$26xK
Number Of Units: Residential (1635 units) / Shops (99 units)
Unit Mix: Studio, 1, 2 & 3 Bedrrom
Number Of Floor: 32-storey | 3 Residential Tower
Furnishing: Partial
Eligibility: Foreigners Eligible to Purchase
Security: Security Guard House /Access Card
View: City /Sea View
Balcony
Gym
Lap Pool
Sky Pool
Sky Terrace