Lot 99, Section 0058 Mukim Bandar Kuala Lumpur, Daerah Kuala Lumpur, Kuala Lumpur
add to favorites
OXLEY TOWERS KLCC
INVEST IN OXLEY TOWERS KLCC, A NEW SIGNATURE LANDMARK
In The Heart of Kuala Lumpur City Centre
Next To The World-Renowned KLCC PETRONAS TWIN TOWER
SIGNATURE OFFICE
A PRIME ADDRESS NEXT TO PETRONAS TWIN TOWER
ATTRACTIVE VVIP PRICING
Levels 13 & 15 | From RM 1.6xM (withGRR) before discounts
Levels 18 & 19 | From RM 1.7xM (non-GRR) before discounts
 * 2-Year Guaranteed Rental Returns @ 6% Nett Per Annum *
Whatsapp /SMS – "Name & Email" to (+65) 90624481 NOW to register for VVIP Discounts & Priority Unit Selection!

Oxley Towers KLCC (Kuala Lumpur City Centre), a Freehold Mixed Development located at the heart of Malaysia Capital City, along Jalan Ampang, next to KLCC Petronas Twin Towers drawing a new Iconic Skyline in the bustling city centre. Oxley Tower KLCC comprises of an Office Tower, Jumeirah Hotel with Residences, SO Sofitel Hotel with Residences and a Retail Podium linking all the three towers of 29, 49 and 78 Storeys.
The 29 Storey Tower will comprise 274 offices. Sofitel will manage the 79-storey tower with 600 units of branded residences above the 220 four-star hotel rooms.  Dubai's Jumeirah Group will manage the 49-storey tower, which will house the 190-room six-star Jumeirah Kuala Lumpur hotel above the 273-unit Jumeirah Living Kuala Lumpur service residences.
The three towers will be linked by an 8-level retail podium and three sky bridges, which will serve as food and beverage spaces . This awesome development offers a wonderful design and luxurious environment for business and individual opportunities.
Oxley Towers KLCC | Fly Through Video
Oxley Towers KLCC | Quick Facts
Developer : Oxley Rising Sdn Bhd
Location : Lot 99, Section 0058 Mukim Bandar Kuala Lumpur, Daerah Kuala Lumpur
Tenure : Freehold
Land Area (sqm) : 12,575
Approx. Gross Floor Area (sqm) : 175,979
Development Mix : 3 Towers
28-storey Tower with Grade-A Offices

49-storey Tower with Jumeirah Hotel (190 rooms) and  Jumeirah Living Residences (273 apartment)

79-storey Tower wiith Sofitel Hotel (220 rooms) and Residences (600 serviced residences)

8 Level of Retail Podium with F&B restaurants
SIGNATURE OFFICE
The address perfect for modern entrepreneurs and professional to thrive in. Flexible offices spaces replace with the latest business facilities and lavish amenities.
SO SOFITEL
Energetic avant-garde sophistication has arrived. SO Sofitel, the first in Malaysia will captivate with its playful mix of French elegance and rich Malaysian culture. Homed in the tallest column of Oxley Towers, residents and guest alike will be SO pampered; SO cosseted by this 5-star hotelier.
JUMEIRAH
A Master of Luxury, Jumeirah marks its debut into the melting pot of Kuala Lumpur here at Oxley Towers. Comprising both super luxe hotel and the renowned Jumeirah Living Residences, exceptional living, where every whim and fancy is indulged, awaits.
THE BOULEVARD
A galleria teaming with trendy retailers added to the plethora of entertainment and lifestyle malls in the surrounds will gratify your senses
Oxley Towers KLCC | Location
Strategically situated in the heart of Kuala Lumpur City Centre, Oxley Towers KLCC  at Jalan Ampang is supported with excellent transport links at your doorstep are KLCC LRT, Dang Wangi LRT, Ampang Park LRT station that will connect you to greater Kula Lumpur as well as direct rail access to Kuala Lumpur International Airport.
Within walking distance is the convenience of landmark buildings, embassies, lifestyle malls, major businesses, key amenities, two LRT stations and is located face to face with one of the world's most iconic buildings – the Petronas Twin Towers – a thrilling life awaits at Oxley Towers KLCC that is integrated with Grade-A Offices, SoSOfitel Hotel with Residences, Jumeirah Hotels with Residences and Retail Podium.
Oxley Towers KLCC is close to numerous embassies, namely Royal Danish Embassy, Royal Swedish Embassy, Embassy of the Kingdom of Morocco, French Embassy, Embassy of the Republic of Korea, Embassy of the People's Republic of China, to name a few.
At super prime location along Jalan Ampang, Kuala Lumpur City Centre, Oxley Towers KLCC is just:
1 minute stroll to Wisma MCA

2 minutes to Bank of China

3 minutes walk to Intercontinental Hotel

4 minutes walk to JL Premium Outlet

5 minutes walk to Kuala Lumpur Convention Centre

6 minutes walk to Iconic Petronas Twin Tower
SIGNATURE OFFICE (FULLY SOLD!)
SMS /Whatsapp  "OT-KLCC" "Name" & "Email" to (+65) 90624481 Now To Register For VVIP Discounts & Priority Unit Selection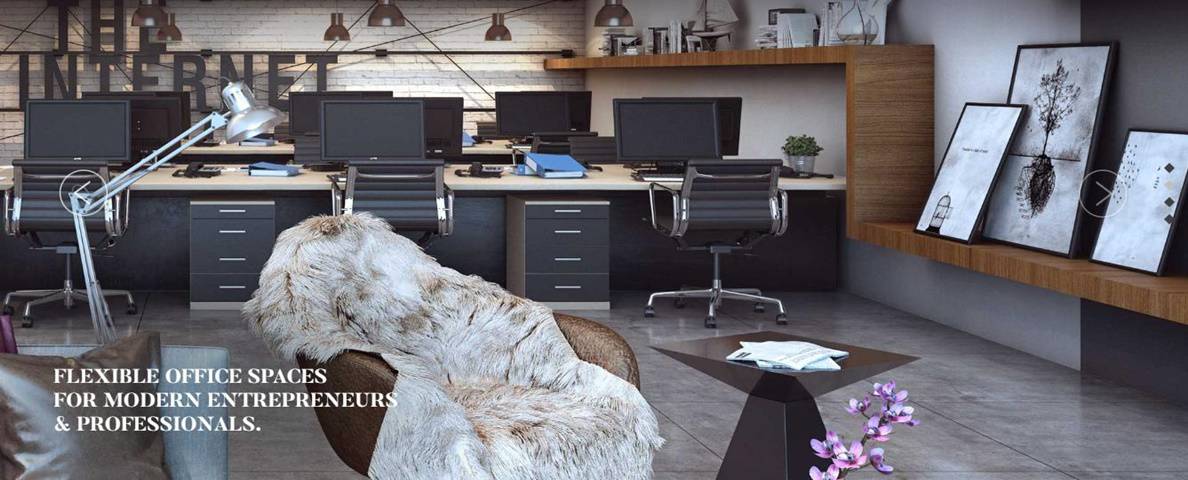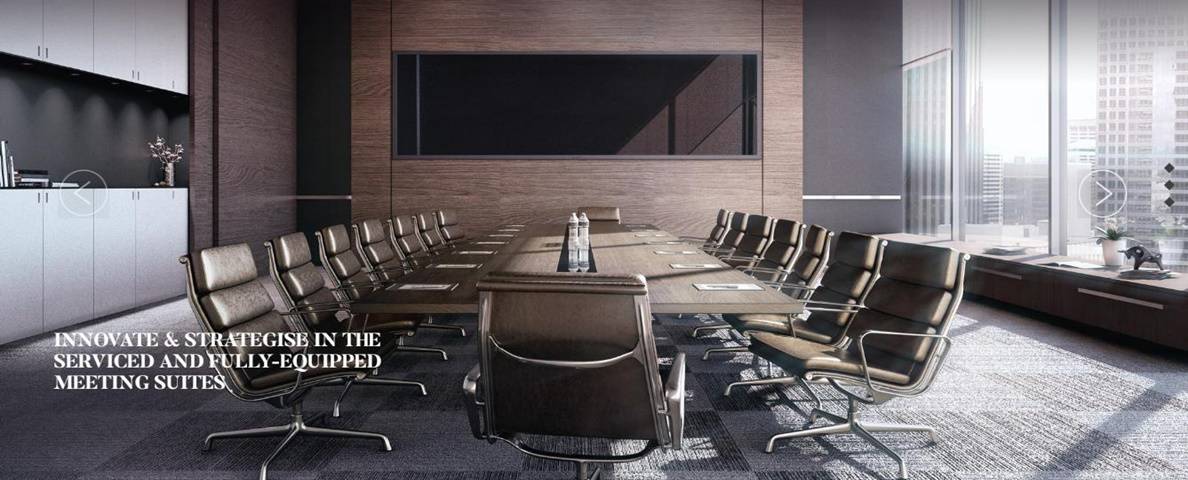 OXLEY TOWERS KLCC | SIGNATURE OFFICE
High Quality Strata-Offices
In The Heart of Kuala Lumpur City Centre
[ultimate_info_table design_style="design06″ color_scheme="blue" package_heading="Signature Office Unit Mix" heading_font_style="font-weight:bold;" heading_font_size="desktop:20px;"]
| | | | |
| --- | --- | --- | --- |
| Type | Unit Size | Number units | %age |
| A | 580 – 999 | 188 | 68.6 |
| B | 1000 – 1399 | 31 | 11.3 |
| C | 1400 – 1900 | 51 | 18.6 |
| D1 | 1844 – 2278 | 3 | 1.1 |
| E | 10,882 | 1 | 0.4 |
|   | Grand Total  | 274  | 100  |
[/ultimate_info_table]
[ultimate_pricing design_style="design06″ color_scheme="blue" package_heading="* 2-YEAR GUARANTEED RENTAL RETURNS *" package_sub_heading="Attractive VVIP Pricing" package_btn_text="Call : (+65) 90624481 /Email : inquiry@myfavprop.com" package_name_font_family="font_family:|font_call:" package_name_font_style="font-weight:bold;" package_name_font_size="desktop:23px;" features_font_style="font-weight:bold;" subheading_font_style="font-weight:bold;" subheading_font_size="desktop:23px;" min_ht="148″ button_font_style="font-weight:bold;" button_font_size="desktop:20px;"]
Levels 13 & 15 | From RM 1.6xM (with GRR) before discounts
Levels 18 & 19 | From RM 1.7xM (non-GRR) before discounts
[/ultimate_pricing]
Top Reasons To Invest in Signature Office, Oxley Towers KLCC
FREEHOLD Tenure in Kuala Lumpur prime area.
Currently Lack of Grade-A Office Supply in Prime KLCC location

Built by Singapore based Oxley Group.

Prestigious Address Next to Petronas Twin Towers, the most key site in the whole Kuala Lumpur.
Well Connected Transport Link to Various part of Greater KL and International Airport via LRT, MRT and Expressway.

Special style and timeless design, one of its kind in Kuala Lumpur.

Fully Equipped and Serviced Meeting Facilities plus Rooftop Garden Lounge & Lifestyle Gymnasium
Energy efficient lighting & air-conditioning system with up to 20% savings

Landscaped surroundings for added outdoor comfort and serenity
Oxley Towers KLCC | Signature Office Unit Plan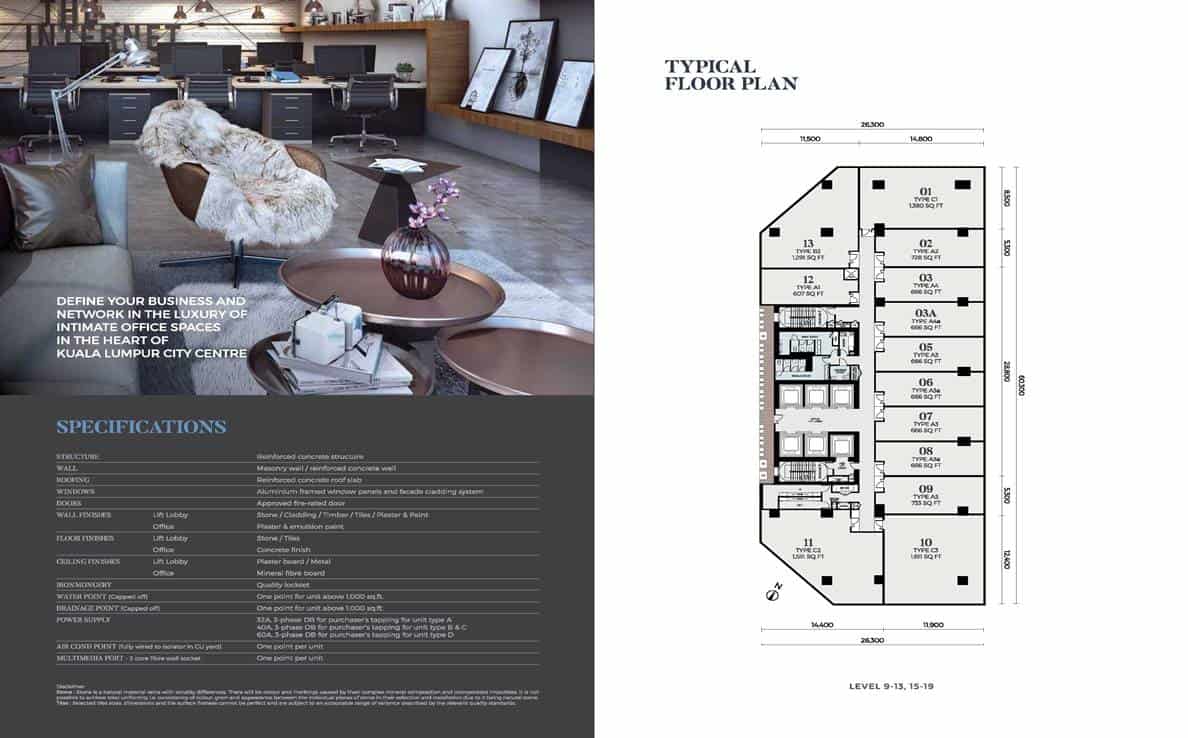 Oxley Towers KLCC | Jumeirah Living 
Kuala Lumpur Residences
AN EXCLUSIVE ADDRESS IN THE HEART OF THE CAPITAL
Welcome to Jumeirah Living Kuala Lumpur Residences.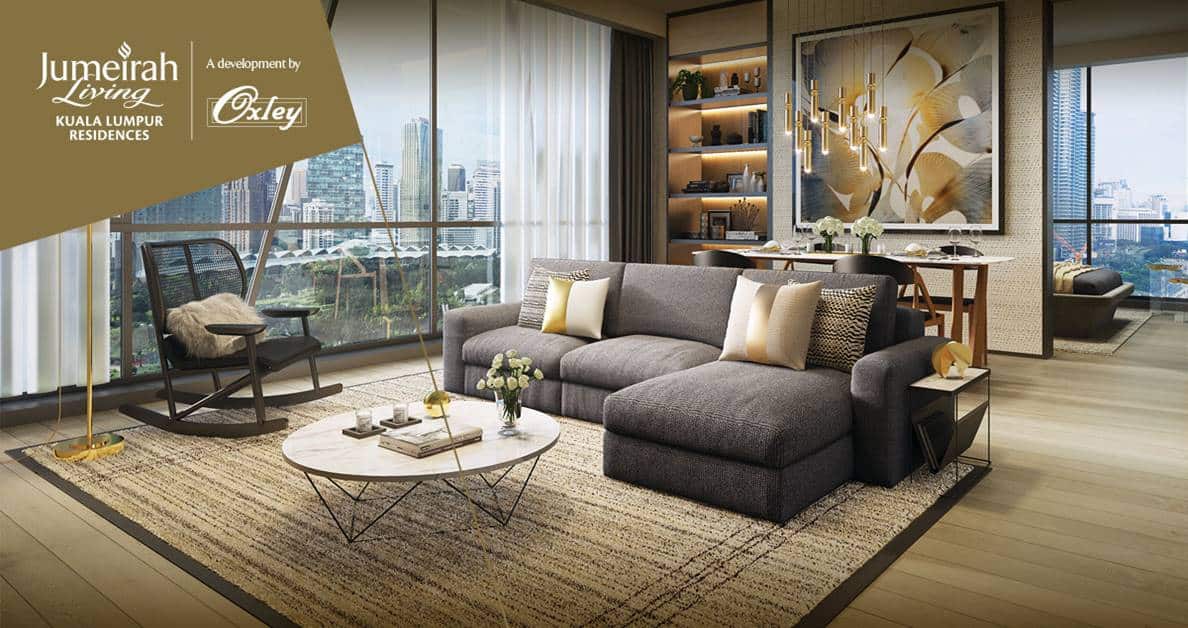 At the heart of Malaysia's vibrant capital, an elegant new icon of modern luxury living is on its way. A place where every moment inspires and enlivens – a place you can truly call home.
Together with Jumeirah Kuala Lumpur, a five star luxury hotel, it will grace the new Oxley Towers KLCC development – a landmark destination due to transform Kuala Lumpur's skyline by 2021.
The very best amenities and personal service, along with cool contemporary styling, are the hallmarks of Jumeirah Living. With world-class dining and entertainment, spectacular city views and spacious open air pool decks, luxurious Talise Spa and state-of-the-art Fitness Club, Jumeirah Living Kuala Lumpur Residences is set to offer Kuala Lumpur's finest lifestyle.
The Residences
At Jumeirah Living Kuala Lumpur Residences, life is not just designed to be functional but inspirational and about a sense of identity.
Each residence apartment is where the urban oasis becomes personal and a unique environment with bespoke design that adapts to your individual lifestyle – where the authenticity of the experience and quality of craftsmanship is enshrined in every fixture, fitting and flawless finish.
From the finest appliances and sanitary ware, to the stone-work and wood-work, these are sensory domains, intelligently designed to enhance your relaxation.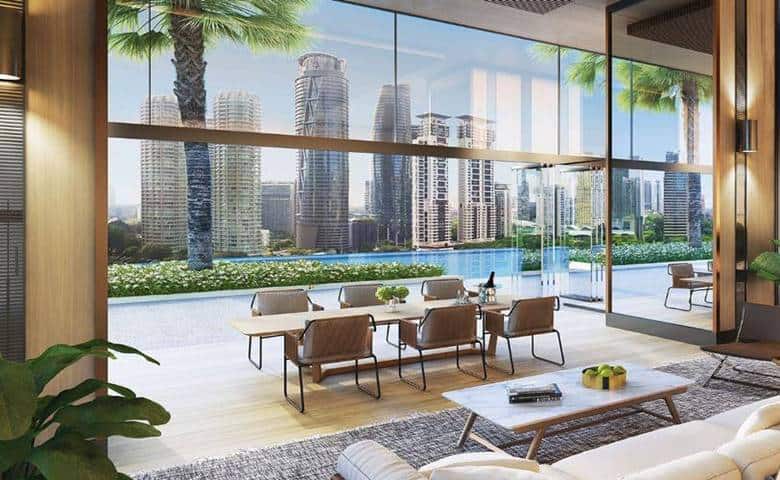 Jumeirah Living Residences | Extraordinary Lifestyle Facilities
The Residence Club extend residences' home with Fashionable Relaxation and Entertainment Spaces, Function Room and Fitness Room. Here, the urban oasis creates sanctuaries awash with natural light, fresh breeze and lush greenery, invincibly connecting indoor and outdoor with infinite views and vast sliding doors.
The Sky Deck provide mesmerizing open air view of the sunrises and sunsets, or you could recline on submerged lounges in the infinite pool, to enjoy family barbecues and picnics on the lawns or to watch children splash, climb and play.
In among sculptures and trees, you can practice yoga, swing from a hammock, wallow in jacuzzi, retreat to a shady corner, or throw a party on the glamorous sun-deck.  Enjoy a spectacular views of this most inspiring of cities – breathtaking by day and bedazzling by night. Your Effortless Jumeirah Living Lifestyle Home.
SMS /Whatsapp  "OT-KLCC" "Name" & "Email" to (+65) 90624481 Now To Register For VVIP Discounts & Priority Unit Selection
SO Sofitel Hotel & Residences
Be Energised | Be Avant-Garde | Be Entertained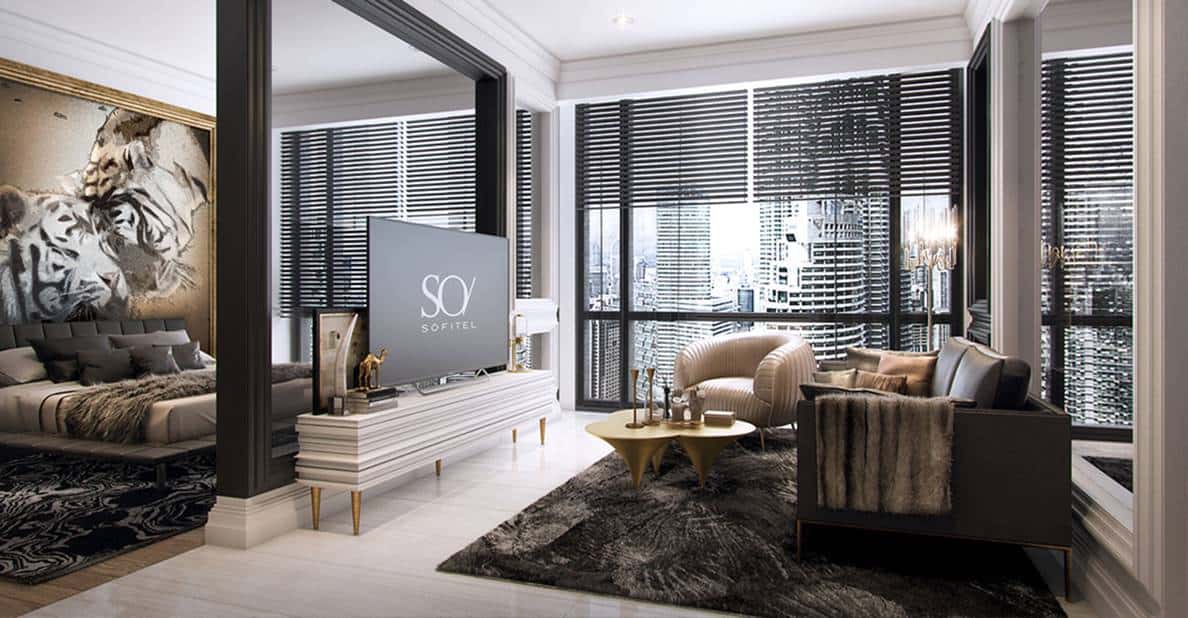 SO Sofitel is AccorHotels' lifestyle brand.
With properties located around the world, the brand playfully mixes sophisticated French elegance and the dynamic style of each locale, crafting unique experiences in places to see and be seen at.
SO SOFITEL EXISTING HOTELS
SINGAPORE | BANGKOK | MAURITIUS | HUA HIN
FUTURE OPENINGS
JAKARTA | RIO IPANEMA | AUCKLAND
SO Sofitel Kuala Lumpur Residences
Proudly introduce to you the first of its kind SO Sofitel Residences by AccorHotels' lifestyle brand SO Sofitel, along with its partner Oxley Group,  the Residences is situated at Oxley Towers KLCC, setting a new step not only for SO Sofitel  but also for the residential scene in Kuala Lumpur, taking excellence to the next level.
Ideally situated in the most exclusive part of KL, SO Sofitel Kuala Lumpur Residences offer immediate proximity to the city's exceptional shopping scene, and a wide, eclectic, sleek and refined dining scene. Visit Website for more details : SO Sofitel Kuala Lumpur Residences 
About Developer – Oxley Holdings
Oxley is a homegrown property developer and is principally engaged in the business of property development and property investment, with an overseas presence across eight geographical markets. The Group has a diversified portfolio with property development projects in Singapore, the UK, Cambodia, Malaysia, Ireland, Indonesia and China and investment projects in Singapore, Cambodia, Malaysia and Japan. The Group also provides project management and consultancy services in Myanmar.
The Group's property development portfolio includes quality residential, commercial and industrial projects incorporated with retail elements and lifestyle features and facilities and are located in choice areas that are easily accessible. In 2013, the Group expanded its property development portfolio into other countries through partnerships with reputable developers and business partners. Oxley's balanced portfolio of investment properties comprises industrial, hospitality and commercial properties.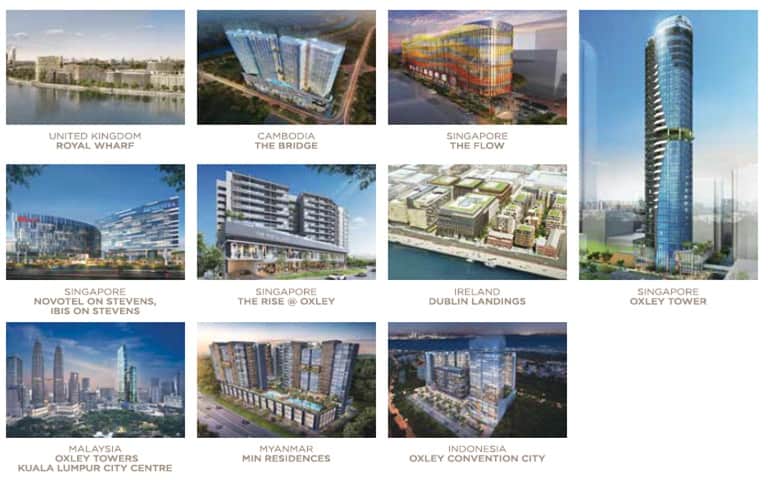 REQUEST FOR A SHOWROOM INVITE !
Visit to showroom is by invitation only. To request for an invite, kindly fill up the form and we will be in touch with you shortly.
Official Developer Sales Team. Brochures, Detailed floor plan, Payment Schedules, Special Sales Packages , Promotional Packages, Development Updates are available upon request by simply fill up the request form.
Oxley Towers KLCC Choice & Selection 

Oxley Towers KLCC Early Bird Discounts

Oxley Towers KLCC Direct Developer Price

Oxley Towers KLCC Floor Plans

Oxley Towers KLCC Development News & Update

Oxley Towers KLCC eBrochure

Oxley Towers KLCC Location Map
Singaporeans/Permanent Residents/Foreigners are welcome
HOTLINE / SALES GALLERY : (+65) 90624481
Registration of Interest
Oxley Towers KLCC. Investors residing in Asia who wish to invest in Offices and Residences from Oxley Towers KLCC  should contact our Singapore Sales Office by filling up the form below. Thank you!
Other Good Property Investments
Cambodia Property
The Bridge Retail Mall : 70% Guarantee Rental Over 10 Years by Singapore Public listed developer Oxley, Only from USD1xxk!
The Bridge Cambodia SOHO : Freehold Grade A Soho office with up to 39% Guarantee Rental over 3+3 years
The Peak Luxury Condominium : Next to Shangri-La Hotel. 12% Nett Guaranteed Rental Returns over 2 years by Oxley Singapore. Only from USD1xxk!
Vietnam Property
1)HCMC 
The View Riviera Point Vietnam at District 7, by Keppel Land, 2BR only from $2xxk!
D1mension  HCMC by CapitaLand in District 1 CBD  with  up to 8%  Guaranteed Rental for up to 4 years from USD3xxk!
2) Hanoi 
Seasons Avenue Hanoi by Capital Land, 2BR only from $16xk!
Malaysia Property:
1)Kuala Lumpur
The Luxe KL : Freehold Condo near KLCC – Singapore Listed Developer. Low Cash Downpayment only from $20k to own a unit here.
2)Johor Bahru
Suasana JB : Freehold Condo by UMLand next to Komtar, CIQ, upcoming MRT Station. From S$2xxk!
UK Property
1)Manchester Property
Burlington Square Manchester :  Luxury Apartment at the heart of  Corridor Manchester ,   From  GBP1xxk!
CITU NQ Manchester : Luxury Apartment at the heart of Manchester City Center, UK 2nd  Largest City Center,  From  GBP1xxk!
2)London Property
Royal Wharf London : Waterfront Mixed Development near Canary Wharf, between 2  Tube/MRT Stations &  near to upcoming crossrail.  From GBP 35xk
Marine Wharf East : near Canary Wharf from GBP 390k
Emery Wharf : Prime London Zone 1 location, 10 mins walk to Tower Hill Station. From GBP 540K.
Address: Lot 99, Section 0058 Mukim Bandar Kuala Lumpur, Daerah Kuala Lumpur
Country: Malaysia
Property Id : 2778
Price:
From RM
1,600,000
before discounts
Property Size: 607 ft2
Developer: Oxley Rising Sdn Bhd
Completion (TOP): 2021
Tenure: Freehold
Price: From RM 1.6xM Before Discount
Number Of Units: 338
Number Of Floor: 29 Story
Eligibility: Foreigners Eligible To Purchase (T&C apply)
Security: Card Access & CCTV
View: City
Gym
Lounge
Sky Terrace
Lobby
Similar Listings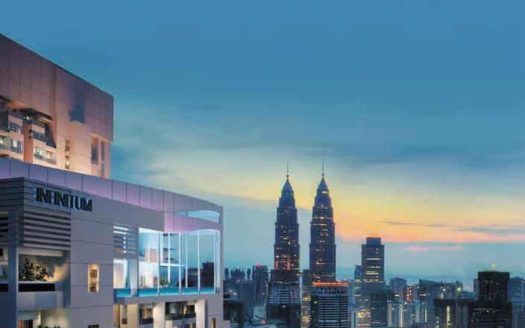 The Luxe by Infinitum, an exquisite Freehold Dual-Key designer suite at KL Golden Triangle, located beside Quill Ci
[more]
The Luxe by Infinitum, an exquisite Freehold Dual-Key designer suite at KL Golden Triangle, located beside Quill Ci
[more]