North Woolwich Road, London
add to favorites
Royal Wharf London by Oxley Holding
London's Fastest Selling Development
Capitalize On Attractive Exchange Rate Before Great Bristich Pound Recovers More!
NOW from only £388K!
12 Mins to Canary Wharf | 4 mins to London City Airport
LAST 50 Units For Sale!! | Act Fast!
(SMS/WhatsApp "RW" <Name><Email> to +65-90624481 for Latest Star Buy)
Royal Wharf London by Oxley Holding & Ballymore
A mega Thames Riverside Township development at East London, stretches to nearly 40 acres and offer a stunning south facing riverside promenade, devised at its heart a new vibrant high street connecting parks and squares. This masterpiece is a joint development by Oxley Holdings, a Singapore Mainboard Listed Developer and Ballymore, one of the top UK Developers, provides every things that a residents would love to live in – Parks, Schools, Shops, Offices, Riverside F&B and Walkway.
Royal Wharf has excellent transport links into the heart of London via the Docklands Light Railway, a new Crossrail station (opening in 2018), and international connections from London City Airport and riverboat services  from the brand Thames Clipper pier.
Royal Wharf set to be the choice of place to  live in East London that has been driven by real opportunity to be at the forefront of London's economic growth in the coming decade
London Waterfront Apartment with Extraordinary River Thames View
SMS/WhatsApp "RW" to +65-90624481 for Latest Starbuy List Now!
Last 20 Units !
♦ ♦ ♦ ♦ ♦ ♦ 
PHASE 3 – Mariner's Quarter 
The Triumphant Finale with River Thames View
 1, 2 & 3 Bedroom units available for choice !
♦ ♦ ♦ ♦ ♦ ♦ 
Click to -> Explore Mariner's Quarter Here !
13 Reasons Why Invest in Royal Wharf London !
1) 500m Wide Frontage along River Thames with Stunning Riverside Promenade
2) Royal Wharf – Most Preferred Living Area with Residential, Schools. Offices, Shopping Mall, Riverside F&B and Retails, Fitness club, Parks and Landscaped Squares
3) Mega Township Development with State-of-art business district to support financial, high-tech and knowledge driven industries
4) Excellent Transport Link into the heart of London via Docklands Light Railway, a new Crossrail (commencement in late 2018), Thames Clipper Riverboat services and international connections from London City Airport
5) London is moving east since the transformation of Canary Wharf into one of Europe's most powerful business district & Olympic 2012
6) Strategic Location Close to Asia Business Park (ABP) with over 20,000 new jobs and increasing workforces from proxy Canary Wharf (World Class International Business District) resulting Huge Tenant Base Potential
7 ) Letting market surge continues due to chronic shortage of housing in London – 5% Potential Rental Yield
8) Appointed Lead Leasing company with huge tenant base
9) Projected Strong 50% Capital Appreciation after 2018 once Crossrail starts operation – Secure now at 1/5 of Zone 1 and 1/2 of Zone 2 Housing Price
10) Invest with confidence – Development from SGX Mainboard Listed developer Oxley Holdings & UK Top developer Ballymore 
11) Affordable price from £397K
12) Low cash outlay – only 10% down payment to own a unit + 10% in 12 months and balance 80% upon completion
13) Easy financing with Deferred Payment scheme
Capitalise Now on Attractive GPB exchange rate to invest in London Property
Royal Wharf London Now from £385K
SMS/WhatsApp "RW" <Name><Email> to +65-90624481 for Latest Starbuy List
Royal Wharf London | The Development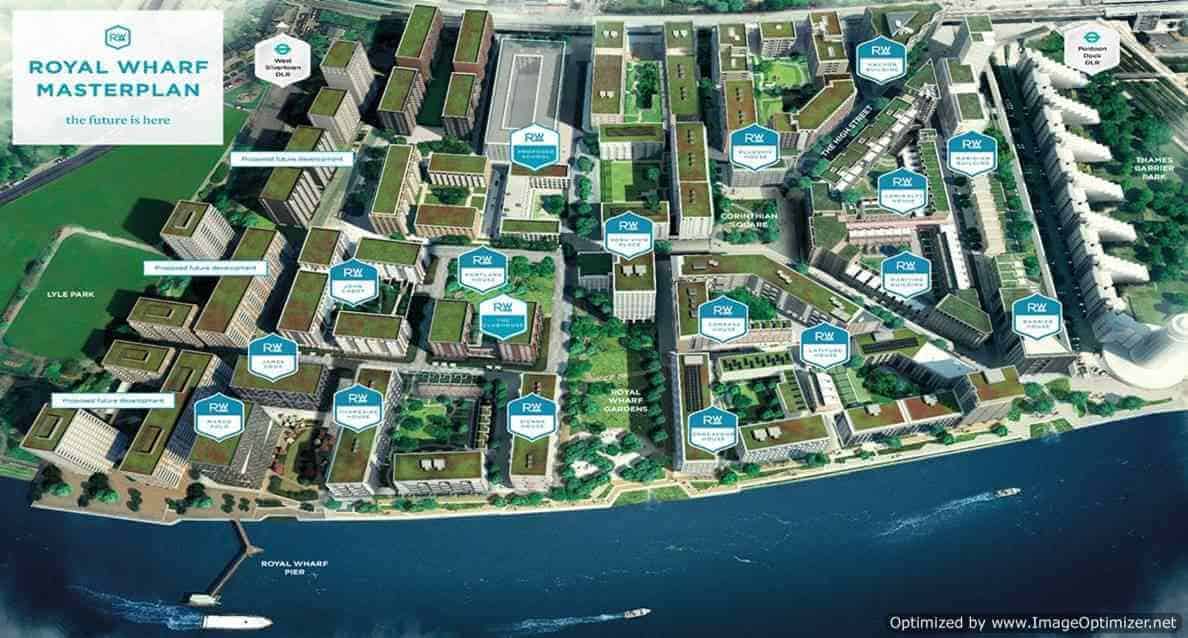 The development will consist of 3,385 homes in total including expansive townhouses, three-bed duplexes, two-bed and one-bed apartments and compact studios. The design of every residence in this exclusive neighbourhood combines the principles of the new Georgian revival with the expansive thrills of contemporary riverside living. There are stunning apartment buildings offering unrivalled views of River Thames, terraced mansion blocks offering generous family sized apartments and a range of townhouses with tall ceilings and stunning gardens
Royal Wharf Township will consist of new schools, supermarket, shops, offices and riverside restaurants catering for lifestyle need of estimated population of 10,000 residents cum workforces within the development enclave.
Royal Wharf, nestled amongst the streets and townhouses, there are play areas and open green spaces, lush planting, lawns and Riverside Walk stretching  nearly a kilometre along the Thames. An intricately planned neighbourhood, where everything you need is right at your doorstep.
At A Glance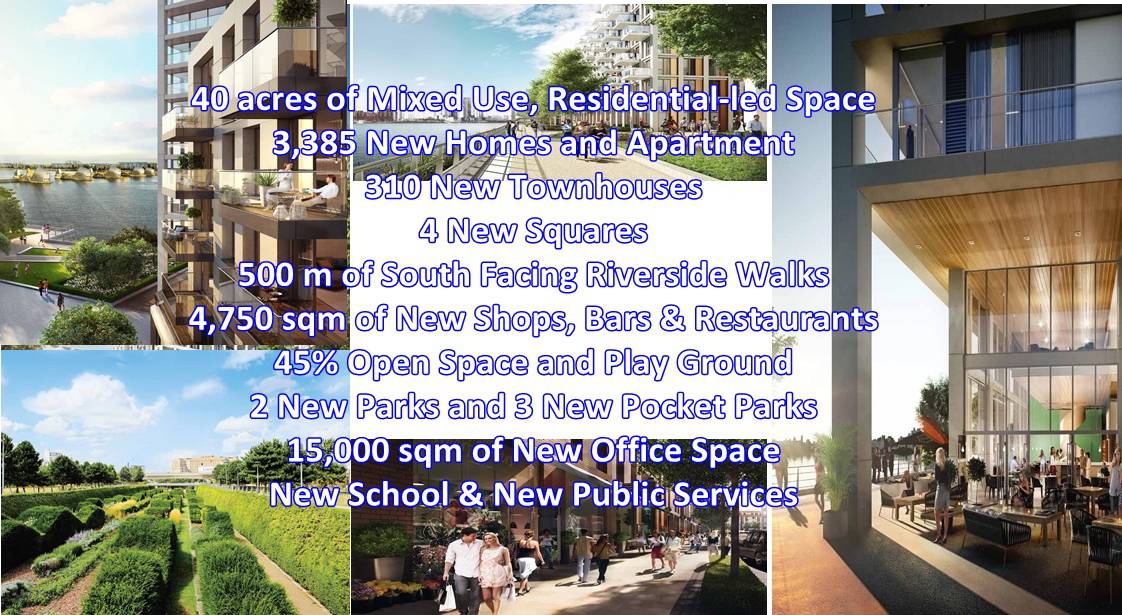 Royal Wharf London with 500m of Forntage Along River Thames
Over 90% SOLD – Don't Miss The Golden Opportunites to Invest in London Property!
SMS/Whatsapp "RW" Now to +65-90624481 for Latest Starbuy List!
The Apartments
♦ ♦ ♦ ♦ ♦ ♦
From townhouses to apartments, all of Royal Wharf's homes are infused with the aesthetic and values of new Georgian interiors.
Residences are characterised by a sequence of spaces designed to a subtle hierarchy, carefully choreographed to give a clear sense of movement and change. Whilst expansive windows look out onto breathtaking vistas of the Thames Barrier or Canary Wharf.
♦ ♦ ♦ ♦ ♦ ♦
ROYAL WHARF WITH WORLD-CLASSS CLUBHOUSE
Designed by David Morley Architects, 
An Internationally Renowned Specialist in Sports & Leisure Design
(RARE IN LONDON APARTMENTS – Making ROYAL WHARF MOST POPULAR CHOICE for Rental & Resale)
Reservation & Payment Schedule
A non-refundable reservation fee of £2,000 is payable at
reservation and will be deducted from the 10% deposit.
10% deposit (less £2000 reservation fee) is payable 21 days from exchange
10% is payable in the form of a construction sum 12 months from the date of exchange.
The balance of the purchase price is payable upon completion (estimated Q1 2017)
Documentation required for Reservation
Copy of Passport
A current utility bill or bank statement showing your name and home address (dated within the last 3 months)
Miscellaneous Cost
Estimated Service Charge
Apartments – £3.20 / sqft pa
Townhouses – £1.59 / sqft pa
Including concierge, estate management, 24/7 security, etc.
Parking – £308 per space per year
GROUND RENT
1 Bed Suites £30 per month
1 Beds £40 per month
2 Beds £50 per month
3 Beds £60 per month
4 Beds £67 per month
Townhouses £75 per month
Parking £5 per month
* NOTE: the ground rent is payable annually
REQUEST FOR A VISIT TO SHOWROOM !
You are cordially invited to visit our sales gallery / showroom to explore more about Royal Wharf Development with the project model
Kindly fill up the attached request form for registration purpose and we shall contact you very shortly.
Brochures, Detailed floor plan, Payment Schedules, Special Sales Packages , Promotional Packages, Development Updates are available upon request by simply fill up the request form.
Call / SMS +65-90624481 for eBrochure /Floor Plan /Starbuy Offer !  
Register now for :
Royal Wharf London VVIP Discount & Priority Booking

Royal Wharf London eBrochure

Royal Wharf London Floor Plans

Royal Wharf London Pricing /Price list

Royal Wharf London Location Map

Royal Wharf London Latest Development Updates
Registration of Interest Here :
Property Id : 240
Property Size: 441 ft2
Rooms: 1
Bedrooms: 1
Bathrooms: 1
Developer: Oxley Holdings & Ballymore
Completion (TOP): 2017 - 2020 in phases
Tenure: 999-years
Price: From £385,000
Number Of Units: 3385 apartments including Townhouses
Unit Mix: Studio, 1, 2 & 3 Bedroom, Townhouses
Furnishing: Partial
Number Of Car Park Lot: approx. 1000 parking lots
Eligibility: Foreigners Eligible
Balcony
Concierge
Gym
Library
Lobby
Similar Listings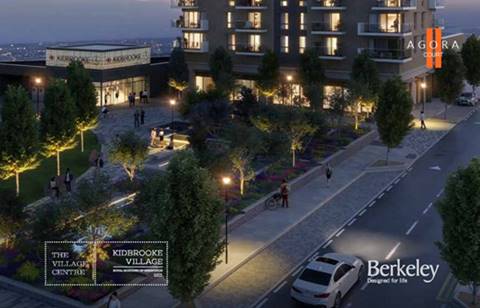 Agora Court at award winning Kidbrooke Village. Luxury homes by Berkeley Group. Next to Crossrail Station.16 mins t
[more]
Agora Court at award winning Kidbrooke Village. Luxury homes by Berkeley Group. Next to Crossrail Station.16 mins t
[more]