Wisma Infinitum, No. 18, Jalan Dewan Sultan Sulaiman, 50300 Kuala Lumpur
add to favorites
The Colony by Infinitum
With professional lifestyles in mind, The Colony by Infinitum is a freehold development, offering the ideal living experience. With 723 residential units and 31 commercial units spread across three levels of retail shops, discover everything you wish for at The Colony by Infinitum.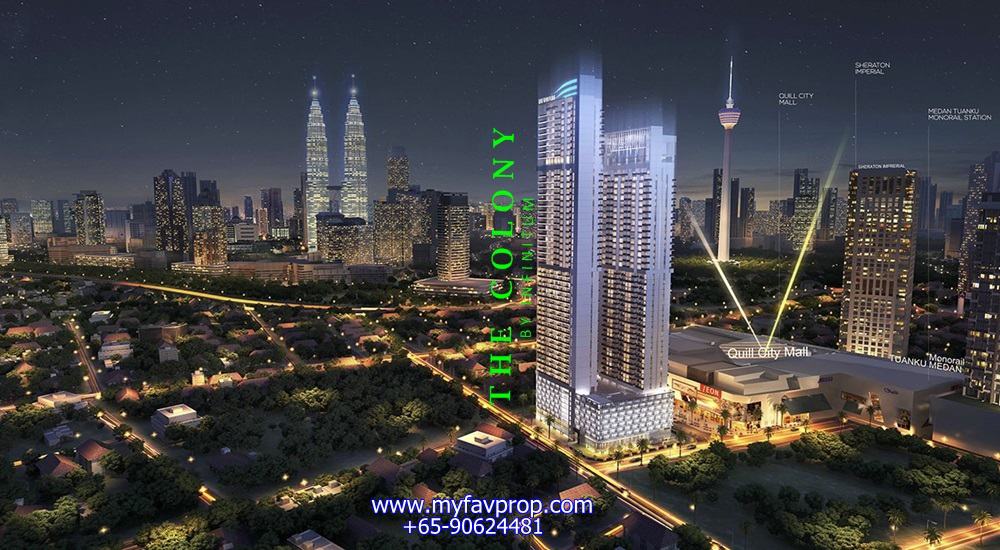 While designing The Colony by Infinitum and the amenities around it, special attention has been paid to your needs to conduct your business 24/7 and live a stress-free life. Each unit at The Colony by Infinitum is dual-key for the enjoyment of a seamless lifestyle, integrating two different environments for your personal life, whilst meeting clients and other business opportunities. Such practical arrangement allows for the balance between playfulness and concentration, comfort and function. The space allows for flexibility in its use enabling you to transform it based on your lifestyle and needs. The convenient office location also works well when meeting clients and other business opportunities. It incubates creative and professional lifestyles with its efficient and smart design. With everything you need at your doorstep, it is an oasis where you can perform at your best and find the focus you need.
For many, being able to work from a home office would be a dream. With the freedom to create the ideal work environment from the office layout to cosy and functional furniture. The Colony by Infinitum wants to inspire and ignite creativity and passion within you through its home-office design and amenities specially suited for individuals who value a balanced lifestyle.
13 Good Reasons to Invest in The Colony by Infinitum !
Located within The Golden Triangle & in the heart of Kuala Lumpur, Malaysia's 1st Tier City & Capital
Located right beside Quill City Mall and Sheraton Imperial Hotel
Mixed development with shopping retails
Doorstep LRT  to commute to Kuala Lumpur City Centre
Doorstep to Quill City Mall a premium lifestyle shopping mall
Dual Key concept for 1 and 2 Bedroom for co-own or rent out
Selected units provide a panoramic view of Kula Lumpur cityscape
Near KLCC and Kuala Lumpur's major attractions – 3 monorail stops away from Bukit Bintang
Singapore Developer – Roxy-Pacific and Macly Group
Highly affordable Freehold property in Kuala Lumpur Central from SGD 3xxK !
Favourable Malaysia Ringgit exchange rate (potential currency gain and great value to buy now!)
Low down payment of less than S$25K for the first 20% payment
Convenient commutation to Singapore from KL via Future HSR in 90 mins
Connection
1.4 km to KLCC
3-stops to KLCC via RapidKL
3-stops to Bt. Bintang
Shopping Complex
Quill City Mall
Maju Junction Mall
Sogo Shopping Mall
Jalan TAR (Tunku Abdul Rahman)
Health Care Facilities
General Hospital Kuala Lumpur
IJN Heart Institute
Hospital Pusrawi Sdn Bhd
Hospitality
Sheraton Imperial Hotel
Renaissance Hotel Kuala Lumpur
Quality Hotel City Centre
Concorde Hotel Kuala Lumpur
Shangri-la Hotel Kuala Lumpur
Pacific Regency Hotel
Education Hub
IBC Higher Studies Sdn Bhd
ANC Business Management
International Academy Clipso
Boston Language Centre
International Business School
LuPeiChan Japan Education Centre
University Technology Malaysia
Goon Institute
Developer : Macly Equity Sdn Bhd (Wholly Subsidiaries of Roxy-Pacific and Macly Group)
Land Size : Approximately 1.389 acres / 60,505 sqft
Expected Completion : Q4 2019
Tenure : Freehold
Type of Development :  Mixed Commercial Retail & Residential
Buildings:
Commercial :  31 units
Residential :  
Block A (Phase 1) : 33 Storey, 423 units
Block B (Phase 2) : 43 Storey, 300 units
Carpark Lots: Total 997 lots
723 Residence Lots
30 Visitor Lots (Residential)
31 Retail + 2 Season Parking
Authority
20 Handicapped Lots
68 Ladies Carpark Lots
123 Public (Shopper at Basements)
Unit Mixes
Typical Units – Duplex DK
Level 8 to 12 and Level 14 to 18 (17 units / floor)
Type B1 – 795sf / Type D – 945sf / Type D1 – 990sf
Level 13 (15 units / floor)
Type B1 – 795sf / Type D – 945sf / Type D1 – 990sf
Typical Units – Simplex DK
Level 19 to 32 (16 units / floor)
Type A – 705sf / Type C – 745sf
Penthouse
Level 33 (14 units / floor)
Type P1(C) – 1156sf / Type P1 – 1140sf
The Developer
Roxy-Pacific Holdings Limited
(An Established Property & Hospitality Group with an Asia-Pacific Focus)
Established in May 1967, Roxy-Pacific Holdings Limited is a trusted, homegrown specialty property and hospitality group, principally engaged in the development and sale of residential properties. The Company also owns the Grand Mercure Roxy Hotel and other investment properties. We have, over the years, grown our portfolio to include both residential and commercial developments. Our landmark properties include the Grand Mercure Roxy Hotel and Roxy Square Shopping Centre. Our focus on being a developer of distinctive and high quality projects has seen us grown into a highly regarded listed property and hospitality group.
Macly Group
(Macly Group is a Real Estate Development Company Based in Singapore)
Since 1987, Macly Group has had a track record of developing landed properties, to apartments, condominiums, mixed developments, commercial and cluster housing projects. Between 2004 to 2011, the Group developed and launched 20 developments with a total of more than 1000 residential and commercial units in Singapore. Macly Group continues to uphold its mission in providing quality and value to purchasers today.
The Colony by Infinitum – Best Value KL Condominium 
SALES HOTLINE : +65-90624481
Site Plan & Floor Plan
~~~~~~~~~~~~~~~~~~~~~~~~~~
MAKE A VISIT TO OUR SHOWROOM !
Visit to showroom is by invitational only. To request for an invite, please fill up the form, and we will contact you shortly.
Official Developer Sales Team. Detailed individual Floor Plans, Payment Schedules, Early Bird Discounts, Project News & Updates are available upon request. Simply fill up the following form to stay in touch!
Priority Unit Choice & Selection
Early Bird Discounts
Direct Developer Price
Singaporeans/Permanent Residents/Foreigners are welcome
Call /SMS / Whatsapp +65-90624481
for eBrochure /Floor Plans / Developer's Discount Packages
Register now for :
The Colony by Infinitum VVIP Booking & Discounts
The Colony by Infinitum VVIP Pre-launch Priority Unit Selection
The Colony by Infinitum Updated Information
The Colony by Infinitum Floor Plans
The Colony by Infinitum Price list / Pricing
The Colony by Infinitum Location Map
Registration of Interest
GET YOUR EXCLUSIVE INVITE & PRIVILEGE INFORMATION NOW !
The Colony by Infinitum. Investor residing in Asia having interest in The Colony by Infinitum, can contact our Singapore Sales Office by submitting the form below.
Address: Wisma Infinitum, No. 18, Jalan Dewan Sultan Sulaiman, 50300 Kuala Lumpur
Country: Malaysia
Property Id : 555
Price:
RM
986,000
onwards
Property Size: 705 ft2
Rooms: 1
Bedrooms: 1
Bathrooms: 2
Developer: Macly Equity Sdn. Bhd
Completion (TOP): Q3 2020
Tenure: Freehold
Price: RM 986000 onwards
Number Of Units: 723
Unit Mix: 1 & 2 Bedroom
Number Of Floor: 33-Storey (Phase 1) 43-Storey (Phase 2)
Furnishing: Partial
Number Of Car Park Lot: 723 Residential Lots
Eligibility: Foreigner Eligible
Security: 24 hour Security & Access Card
View: City
Similar Listings
Citadines Medini at Nusajaya Iskandar Puteri, Serviced Residences managed by The Ascott Limited. 15mins to 2nd Caus
[more]
Citadines Medini at Nusajaya Iskandar Puteri, Serviced Residences managed by The Ascott Limited. 15mins to 2nd Caus
[more]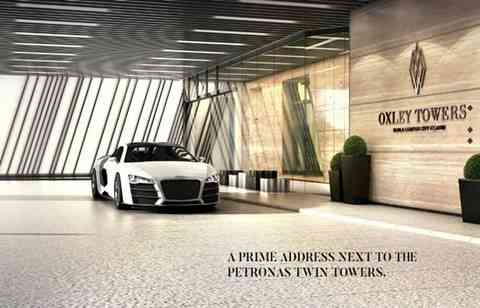 From RM
1,600,000
before discounts
Oxley Towers KLCC (Kuala Lumpur City Centre), a signature masterpiece by Oxley, located in the heart of KL City Cen
[more]
Oxley Towers KLCC (Kuala Lumpur City Centre), a signature masterpiece by Oxley, located in the heart of KL City Cen
[more]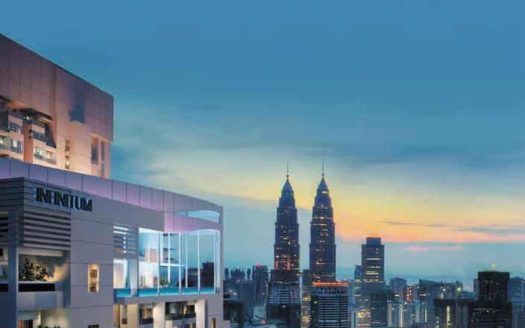 The Luxe by Infinitum, an exquisite Freehold Dual-Key designer suite at KL Golden Triangle, located beside Quill Ci
[more]
The Luxe by Infinitum, an exquisite Freehold Dual-Key designer suite at KL Golden Triangle, located beside Quill Ci
[more]