Village No 14, Sam Dach Hun Sen Road, Tonle Bassac Commune, Chamkamorn District, Phnom Penh, , Phnom Penh
add to favorites
Invest in The Peak Shoppes @ Prime Phnom Penh City Centre
(Integrated with Shangri-La Hotel, Grade A Office and Residential Apartment Towers)
*Enjoy Superb 16% Star Buy Special Discount*
(For Selected Units Only)
FREEHOLD Shops and F&B Units For Sale From USD 85K! 
 *Managed by Bluebell Group, Asia's Leading Omni Brand Operator*
*Enjoy Hassle-free 10-Years Guaranteed Rental Return*
(Year 1 – 5 @ Nett 5% GRR Per Annum | Year 6 – 10 @ 6%  Nett GRR Per Annum)
(Total 55% Nett Guaranteed Rental Return Over 10 Years!)
金边市中心购物商场,永久产权商铺出售,由凯德运营 | 10年租金回报总55%净收!
 [SMS/WhatsApp/Call (+65) 90624481 NOW for eBrochure, VIP Discount & Starbuy List]
The Peak Shoppes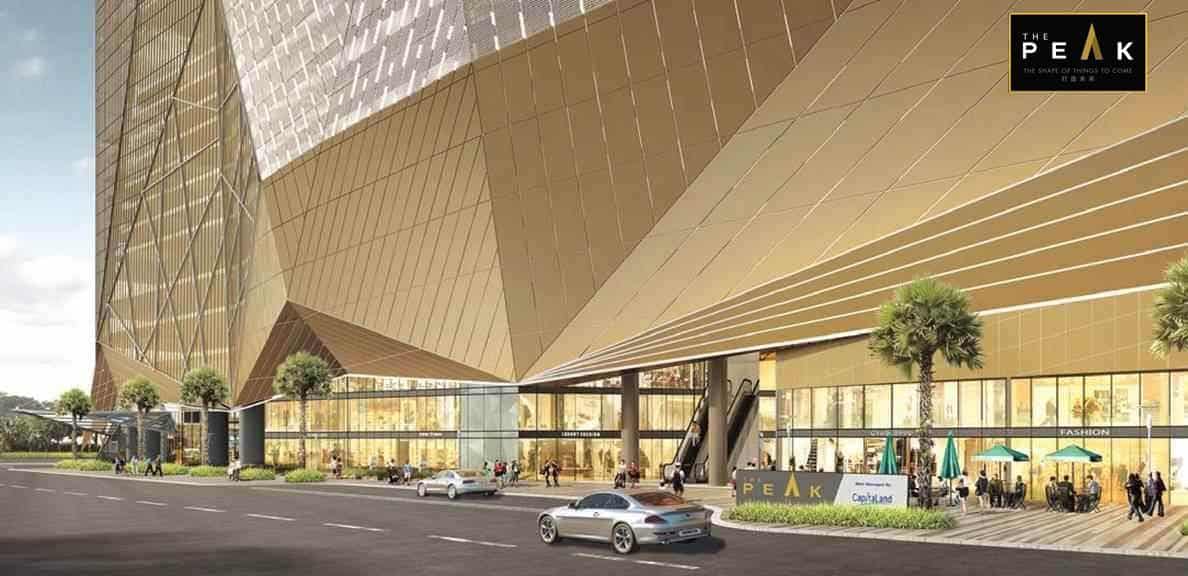 Consumer Retail Demands Underpins The Rise in Shopping Malls
(Related Articles)
23 Dec 2020: The Peak Shoppes is in the stage of completion. Oxley will be changing the mall operator for The Peak Shoppes by appointing Bluebell Group to mange the retail mall. Bluebell Group is a leading Omni Brand operator and premium brand retail industry with major focus on Asia consumers.
16 June 2020: The Peak development likely to be on target completion end 2020. Amidst Covid-19 situation, developer offer 16% discount for selected units and 11% discount for all other units. Investor now looks to owning one at super value buy price level.
18 Jan 2020: Cambodia reported economy reached even greater heights in 2019 with a growth at 7.1%, the highest in the Asia region. Estate Agents Association, Cambodia forecast property price to increase by more than 10% especially in the suburbs of Phnom Penh as well as Sihanoukville, Kampot and Siem Reap Towns. (source: phnompenh post dated 01 Jan 2020)
23 Oct 2019: Cambodia's 7% economic growth (for 2019) is projected to be the highest in Asean region despite facing several challenges – by IMF
17 June 2019 | US-China trade wars to benefit Cambodia. Invest in The Peak Shoppes. (source: https://www.straitstimes.com/asia/se-asia/china-investment-poised-to-help-cambodian-bike-industry-pedal-ahead). Rare opportunity to be a shop landlord to enjoy high returns. Earn 55% Nett Guaranteed Rental Returns over 10 Years!
02/05/2019| New land tax in Phnom Penh set to go up by at least 30% from USD1000 psm to USD4000 psm in July 2019.  Future development would cost more to invest. (source: https://m.phnompenhpost.com/post-property/phnom-penh-land-tax-prices-set-increase)
26/04/2019 | NagaWorld casino resort $4bn Naga 3 expansion with digital theme park.Moody's and S&P give thumbs up on Naga3 development project. (source: https://www.khmertimeskh.com/50598260/moodys-and-sp-give-thumbs-up-on-naga3/)
03/02/2019 | Chip Mong Retail (Cambodia Developer) to build more shopping mall across Phnom Penh, tapping rising incomes and the growth of the middle class in cambodia (Source : Khmer Times). The Peak Shoppes offer one of most rewarding investment property for sale in Phnom Penh city with nett 55% GRR package over 10 years.
09/11/2018 | Over 650 units sold and still counting. RSVP: (+65) 90624481 for more details
29/08/2018 | New Level 1 retail shops and F&B units to be released for sales on 7 September 2018. Registration of interest now open for early-bird buyers with VVIP discount and Priority Unit Selection. RSVP: (+65) 90624481 for more details.
20/08/2018 | Enterprise Singapore is supporting more Singapore companies to invest in Cambodia. Singapore trading and distribution companies like Goodhill Enterprises and LSH Cambodia which supply to hotels, restaurants and supermarkets, have helped to bring in new consumer products to an increasingly wealthy and discerning rising middle income class. (source: www.khmertimeskh.com/50520969/enterprise-singapores-cooperation-with-cambodia/)
30/07/2018 | Phase 2 Launch with new Level 3a Shops and F&B Restaurants, zoned for Foodcourt and Entertainment uses, received overwhelming interest with over 100 units sold at this level within 1 hour and still counting. Total over 300 units sold with release of level 2, 3 and 3a Level retail units till date.
19/07/2018 | Phase 1 Launch with overwhelming sales results – More than 200 units SOLD in first 2 hour opening sales! F&B units at Level 2 Fully Sold. Limited 3 units at Level 3 for grab.
21/03/2018 | Straits Times |

CapitaLand sign memorandum with Oxley to manage  it's 420,000-sqft mall (The Peak Retail Mall) in Phnom Penh opening in 2020

2 Feb 2018 | Circle K, US Convenience Store Chain, opens first store in Phnom Penh, Cambodia – (source : Khmer Times)
11 August 2017 | Tim Ho Wan, the famed Hong Kong-based Michelin-starred Dim Sum Chain opened its first branch on Aeon Mall which attracts thick crowds of dim sum aficionados – about 700 a day
10 August 2017 | A massive retail outlet that combines a supermarket with a department store is to be built by South Korea's largest retailer, E-Mart Inc, expanding its foothold in Cambodia with AEON Mall 2, set to open in 2018 (source : Phnom Penh Post)
17 August 2016 | China Duty Free Group (CDFG), the travel retailer open its  3rd duty-free store in Nagaworld 2 at Phnom Penh.
The Peak Shoppes, a Retail Component Integrated in The Peak Cambodia, a 4-in-1 Mixed-use Development
The Peak Shoppes | Retail Mall
The Peak Shoppes (Retail Mall) in Phnom Penh Cambodia, a retail component of The Peak Cambodia, a high-end integrated development by Oxley Holdings, with Grade-A Office Tower, the First Shangri-La Hotel and 2 Luxury Residential Towers, sitting atop of this 5 level retail mall. The Peak Shoppes will offer excitements at residents doorstep with specialty shops, chic culinary restaurants and exciting entertainment spots. Topping it off, under an agreement signed with Oxley Holdings on March 2018, The Peak Shoppes is expected to be fully managed and operated by CapitaLand Retail. As of 24 Dec 2020 Oxley has made changes to the mall operator with Bluebell Group, a Leading Omni Brand operator in Asia.
The Peak Cambodia, is prominently located at Sam Dach Hun Sen Road, Sangkat Tonle Bassac, Khan Chamkarmon Phnom Penh, and within close proximity to NagaWorld Hotel, Embassies, Goverment Buildings, Grade-A offices and Luxury Condominiums. The completion is expected to be in 2020 forming an astounding Iconic Landmark architecture in the prime Phnom Penh City Skyline.
Register NOW for Starbuy List and  VVIP Discount !
SMS/WhatsApp "PeakShoppes" <Name><Email> to (+65) 90624481 for VVIP Privileges & Pricing Info!
Invest in The World's Fastest Growing Economy – Cambodia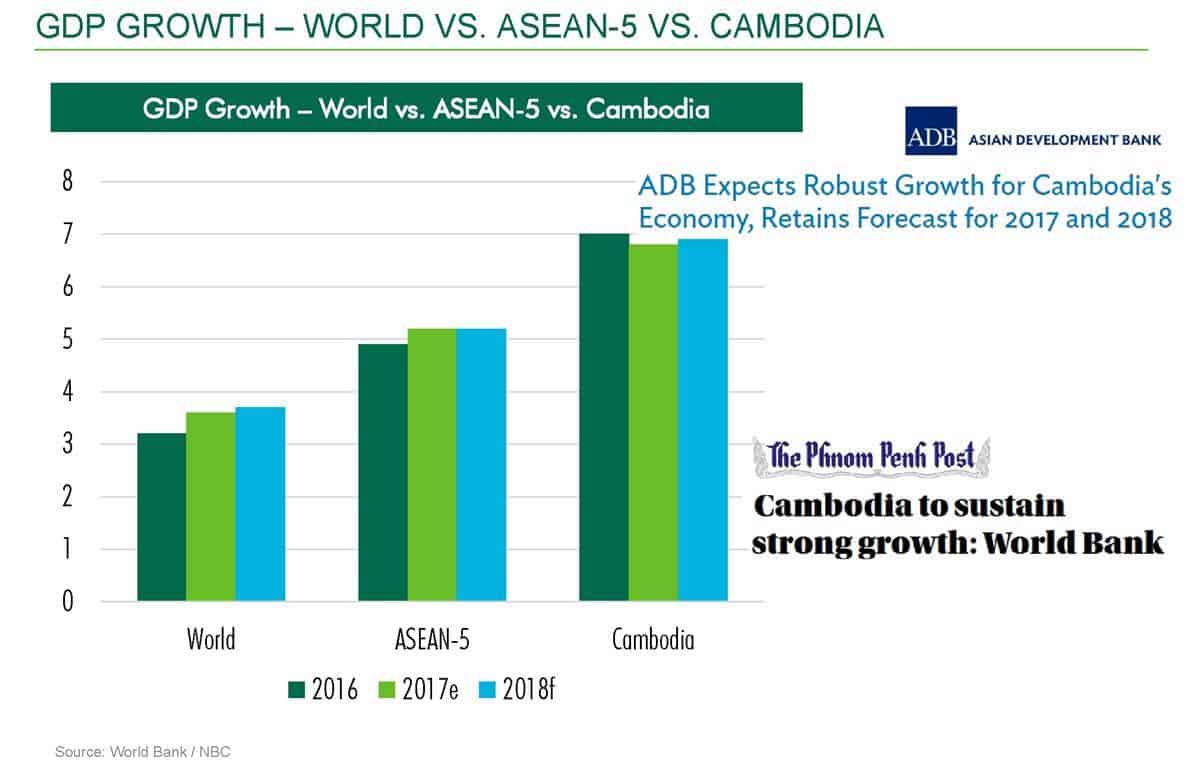 Cambodia GDP Growth Forecast | CBRE Cambodia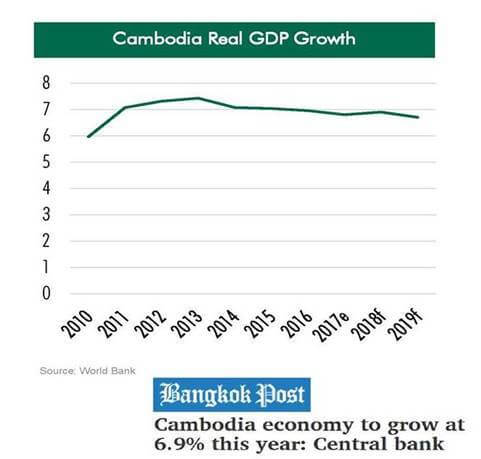 GDP Growth Factor:
Tourism : 5.6m | +11.8% Y-O-Y
Construction : US$6.8Bn | +22%
Manufacturing : 115 New Factories
Exports : US$9.55 Bn | +19%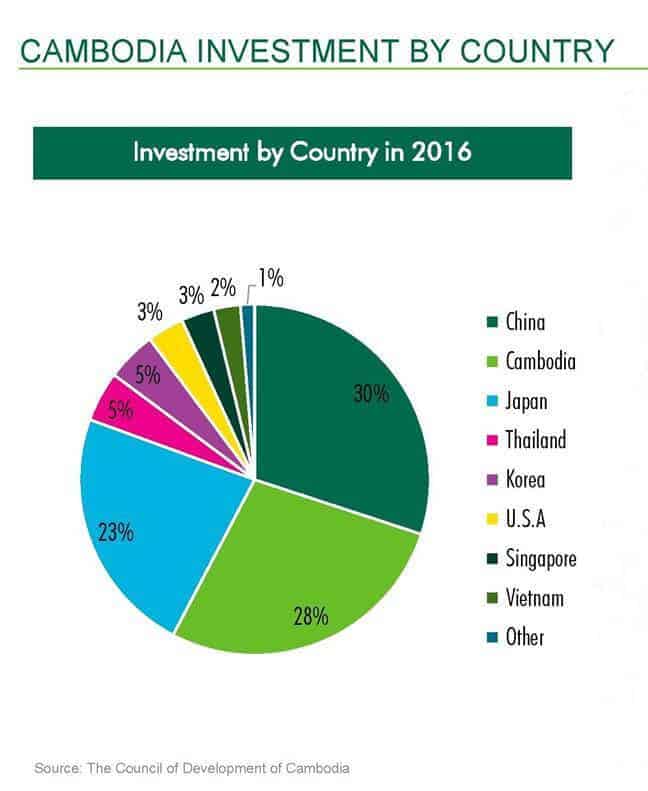 Cambodia Investment Update
Phnom Penh Retail Market Overview
Cambodia has in recent years attracted the interest of international retailers – including Singapore-based brands – who are keen to tap the country's rising spending power and growing tourist arrivals.  This has led to an increase in demand for well-located and well-designed retail spaces in the country.  Given The Peak's strategic location in central Phnom Penh and high-grade building specifications, it is well-positioned to meet the requirements of quality retailers seeking to serve the growing aspirations of the city's community. 
The influx of international brands
A sign that investors could visualize the potential in Cambodia's economy and it's retail industry. It also show that the retail industry is keeping up with the consumer's evolving tastes and increasing appreciation of international brands. This is largely due to a brand-conscious middle-income population that is steadily rising as Cambodia joins the lower-middle income country bracket.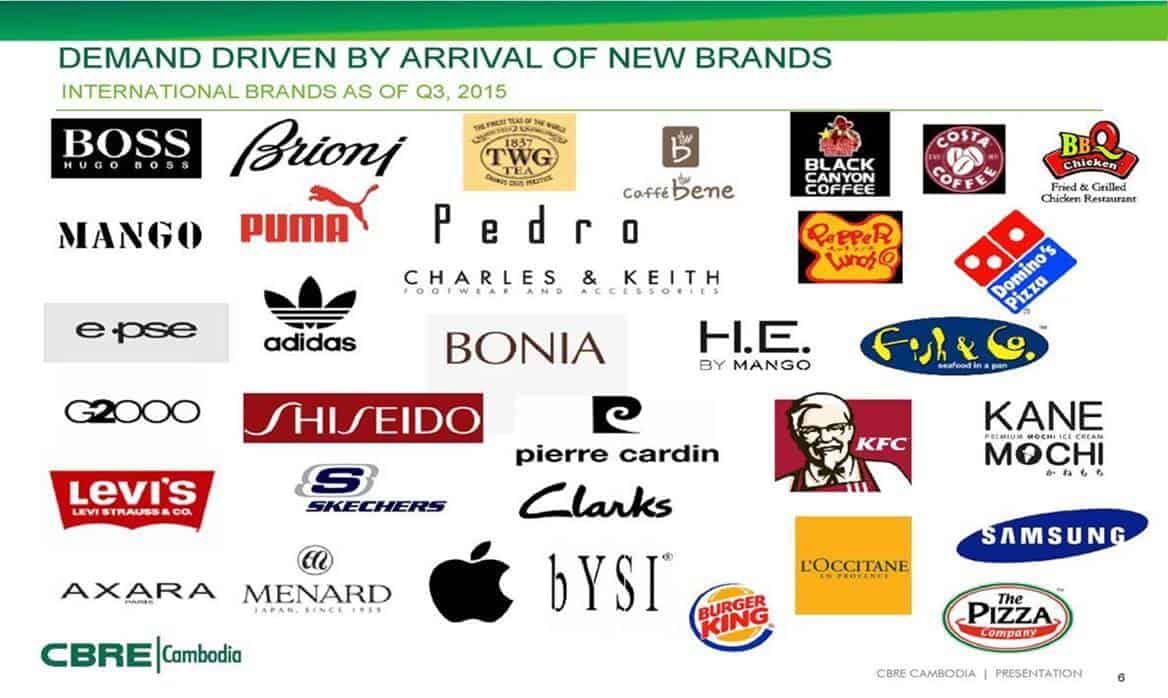 Phnom Penh Retail Rental Rates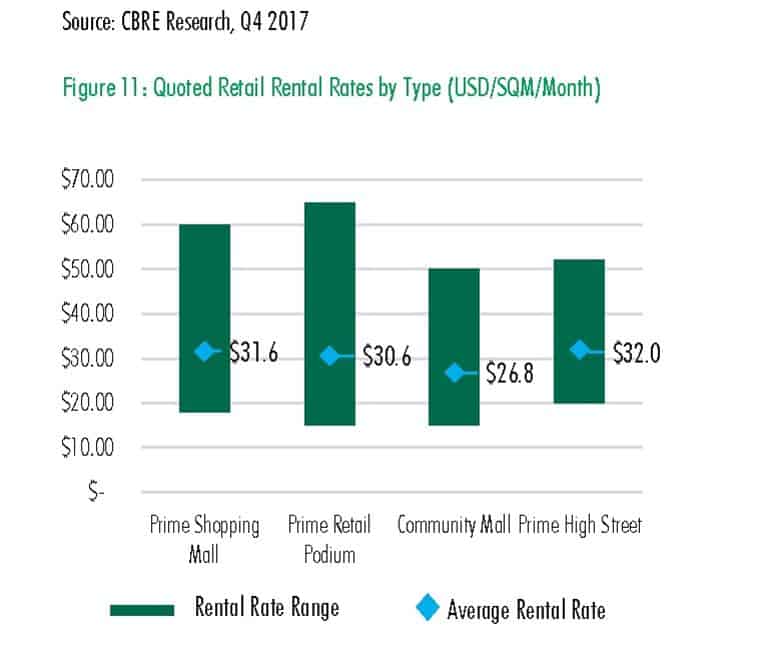 Segmented into A, B and C grades, study found that the average rental fee per square metre had increased slightly, with grade A space costing $35 to $40 per square metre. Grade B rentals averaged $25 to $30 per square metre while grade C cost $12 to $25.
Over the course of 2017, Phnom Penh, Capital of Cambodia attracted 24 New International Retail Brands, predominately targeting the Food & Beverage and Fashion Sectors.
The Peak Shoppes, Freehold Retail shops and F&B Restaurant units offer investors rare opportunities to witness a potential strong growth in the retail industry of Cambodia – as of now, one of the best Cambodia Property for investment.
Phnom Penh's retail sector has entered a new phase, characterised by rapidly accelerating levels of new supply as developers seek to capitalize on predicted growth in consumer purchasing power. As such, a marked increase in retail stock is anticipated to be introduced in 2019, particularly within the community mall and retail podium sub-sectors. 2019 is also set to see a continuation of the increasing numbers of international retailers entering the Cambodian market.
As a result of the reported growth of Cambodia's middle class, overall levels of disposable income increasing and the number of foreign visitors expanding, Phnom Penh has witnessed a shift away from traditional retail formats such as wet markets, hawker stands, shop houses and independent grocery/provision stores, towards more modern retailing concepts such as shopping and community malls. Whilst these concepts are relatively new to the market and thus the evolution of local consumer behaviour continues to adjust, this shift is a promising sign which has acted to increase the number of international retailers entering the market.
International developers including AEON and Oxley Holdings Ltd., together with local developers such as Peng Huoth Group and Chip Mong Group, are currently actively involved in expanding the presence of their retail portfolios across Phnom Penh.
The Peak Shoppes – One of the Most Rewarding Cambodia Investment Property in Prime Phnom Penh City Centre
*Enjoy 55% Nett Guaranteed Rental Returns Over 10 Years!*
SMS/WhatsApp "PeakShoppes"<Name><Email> to (+65) 90624481 for More Info & VVIP Early-bird Discount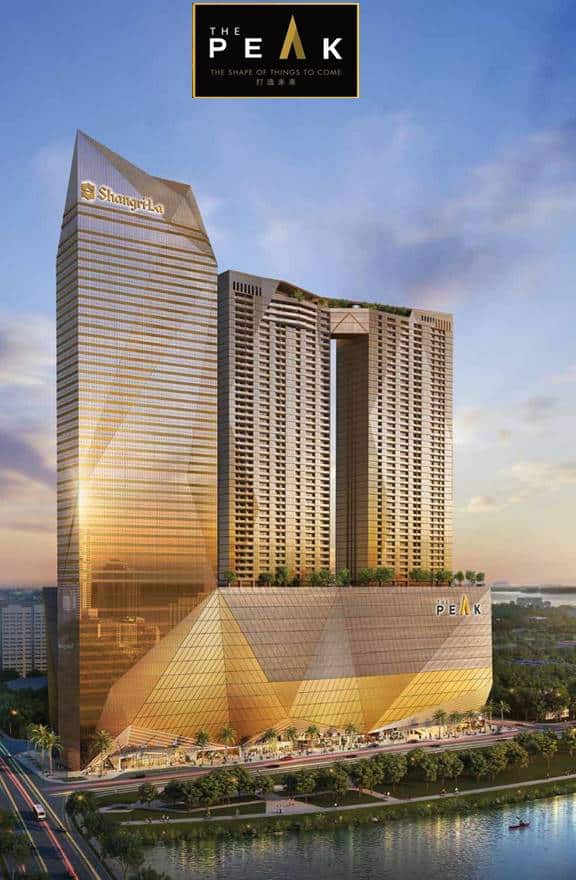 About The Peak Cambodia
A High-end Integrated Development with world-class hotel, Restaurants, Retail, Residences and Offices
Soaring 55 storeys into the clouds, The Peak Cambodia, stand tall in the skyline of Phnom Penh City.  This masterpiece In the making is poised to become an Iconic Waterfront Landmark in the city centre where the world looks up to.
Located in Chamkarmon District in Central Phnom Penh, Cambodia's vibrant capital,  The Peak, a freehold 55-storey hiigh-end mixed-use development occupying a land area of approximately 12,609m2. This spectacular high-end development comprises Two Residential Towers (with 1014 apartment units), a Grade-A Offices Tower (The Peak Business Tower) and the country's first Shangri-La Hotel (with 300 guest rooms), sitting atop the 5-Level Retail Podium – The Peak Shoppes
The Peak, located along the river explanade, overlooks the historic Mekong River and Phnom Penh's bustling cityscape.  Surrounded by high-end residential developments, key commercial and government buildings, The Peak's immediate catchment area covers the most sought-after prime residential and commercial districts of Chamkarmon and Diamond Island.
With a luxurious Shangri-La Hotel, Offices, Residences, Restaurants and Retail, The Peak, offer the world's  next destination for inn, work and play in fast growth and tourist most visited Phnom Penh City.
The Peak Shoppes | Quick Facts
Developer :
Oxley Gem (Cambodia) Co., Ltd
Location :
Village No.14 Sam Dach Hun Sen Road, Tonle Bassac Commune,
Chamkarmorn District, Phnom Penh City
Kingdom of Cambodia
Site Area :
12,670 sqm
Tenure :
Freehold
Expected T.O.P. (Vacant Possession) :
Q4 2020
Retail Podium :
Duplex Shophouses on Ground Level
4 Floors of Retail units from Level 1 to 3A
8 Floors of Carpark from Level 5 to 12
Office & Hotel Tower :
15 Floor of Office Units (250 units)
18 Floors of Hotel rooms with 8 Floors of Hotel Facilities
Residential Tower 1 & Tower 2 :
Tower 1 (507 units) and Tower 2 (507 units)
Total 39 Floors from 15th Flr to 53rd Flr with 2 Floors of Recreation Deck on level 13A & 55
The Peak Shoppes | Retail Unit Mix
Unit Type
Unit Size
Retail
3.18 - 94.73 sqm
Retail with Water Point
3.37 - 29.29 sqm
Restaurants
4.61 - 34.28 sqm
Exhibition Space
(Level 1)
8.14 - 18.79 sqm
The Peak Shoppes | Location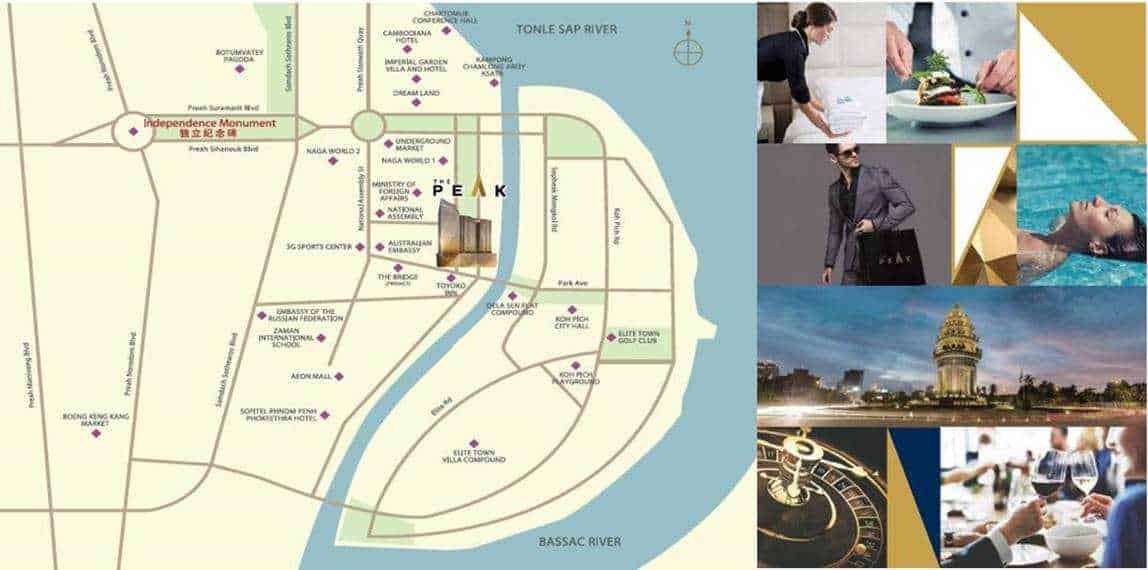 Nestled in the most sought-after Phnom Penn City Centre and within minutes of stroll, The Peak Shoppes – Commercial Retail Mall, is surrounded by the country's historic resonance, the city's commercial hub comprising The Bridge Cambodia (a 100% SOLD OUT mixed-development by Oxley), AEON Mall, Nagaworld 1 & 2, Government Offices (National Assembly Building, Ministry of Foreign Affairs and the Australian Embassy), The Independence Monument, the main Preah Sihanouk Boulevard and the upcoming Thai Boon Roong Twin Tower Trade Centre (Asean tallest twin tower) in close proximity.
Register NOW for Crucial Updates, Latest Starbuy Units, VVIP Discount and More Info!
SMS/WhatsApp "PeakShoppes" <Name><Email> to (+65) 90624481 for VVIP Privileges & Pricing Info!
The Peak Shoppes | Retail Level
The Peak Shoppes | Retail Mall Floor Plate
Secure Your Best Choice Unit Now with VVIP Discount! RSVP: (65) 90624481

~~~~~~~~~~~~~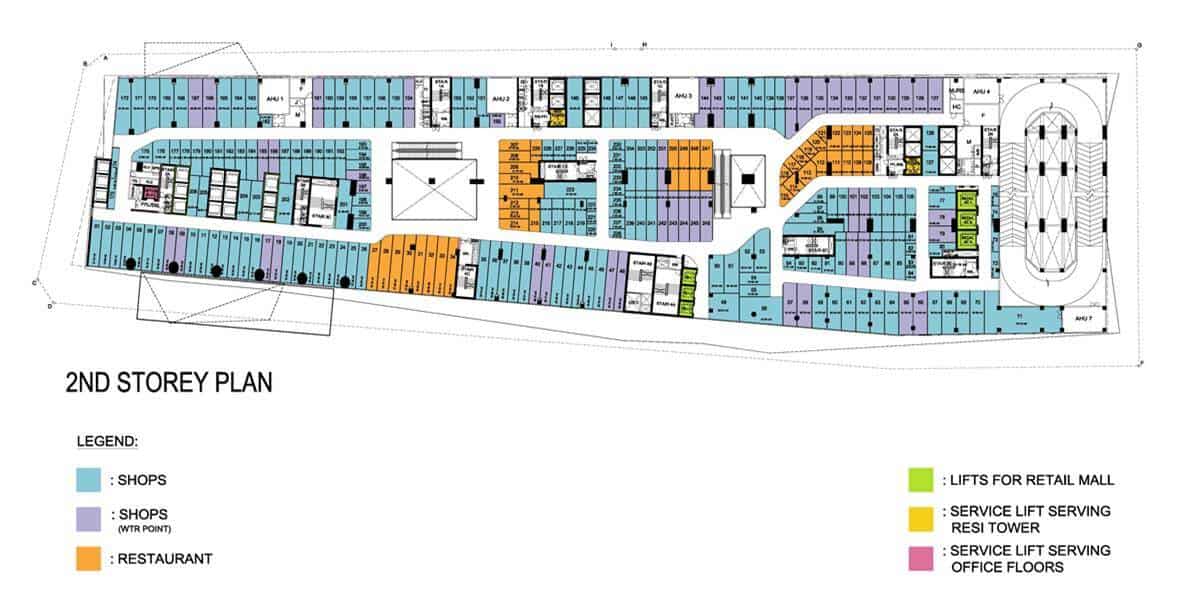 ~~~~~~~~~~~~~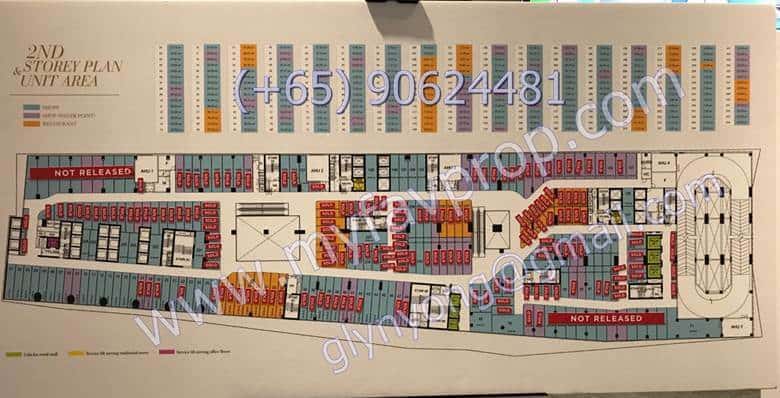 ~~~~~~~~~~~~~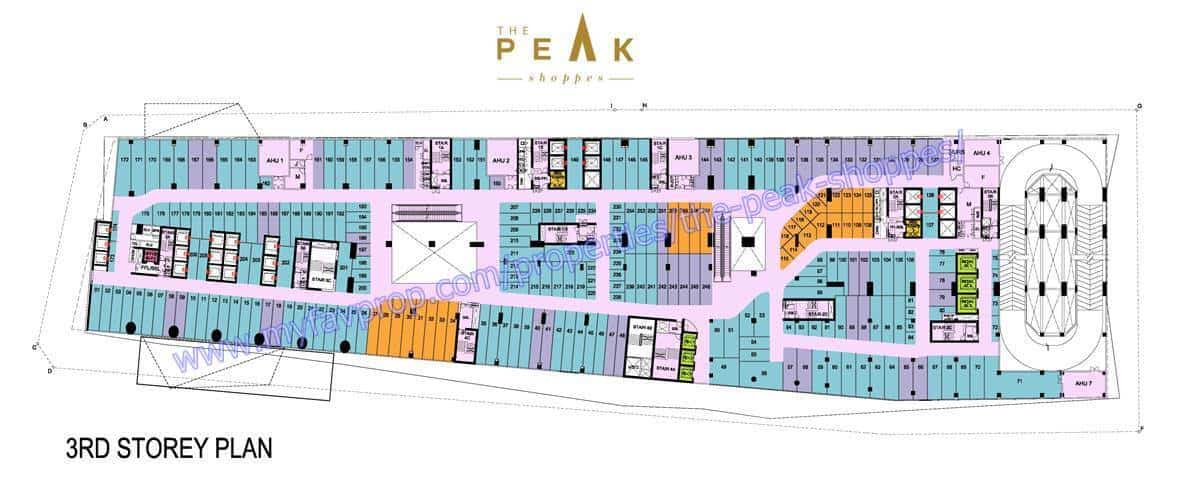 ~~~~~~~~~~~~~
[wpanchor id="#registration"]
Guaranteed Rental Return "GRR"
1) 1st – 5th Year – Net 5% p.a. on purchase price
2) 6th – 10th Year – Net 6% p.a. on purchase price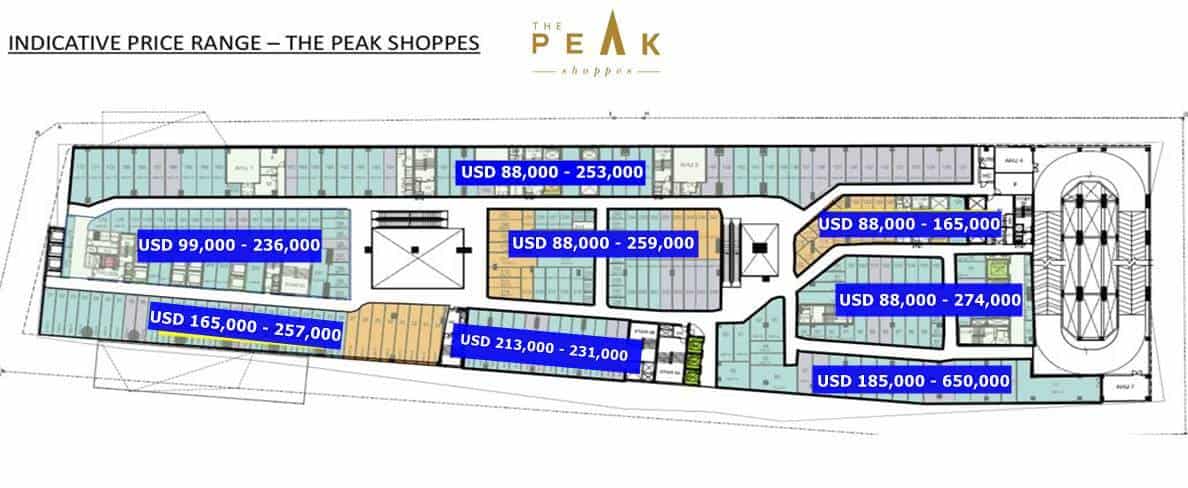 Booking Fee & Progress Payment As of Dec 2020
A non-refundable reservation fee of S$1700 is payable upon reservation (equivalent to US$1200)

20% of purchase price, less reservation fee paid, is payable within 21 days of reservation with exchange of contracts

20% of purchase price payment – 31 Dec 2020

Balance 50% payment by 15 Feb 2020 (*Note: The Peak Shoppes completion on Dec 2020)

4% Title Transfer Fee payable after completion upon notification of ownership

title transfer
| Duration : | Progressive Payment | Cummulative Total |
| --- | --- | --- |
| Signing of SPA : | 1st 20% | 20% |
| 31-Dec-18 : | 2nd 10% | 30% |
| 31-Mar-19 : | 3rd 10% | 40% |
| 30-Jun-19 : | 4th 10% | 50% |
| Handover Date/Completion : | Final 50% | 100% |
About Bluebell Group
Bluebell Group is an omni brand operator, curator and distributor. In 1954 we pioneered the luxury industry in Asia, and have been introducing the world's leading brands to the region ever since. We curate and distribute luxury, premium and lifestyle brands, and are the partner of choice across Asia, across product categories and channels. Bluebell Group has comprehensive Asia network that covers ten markets – Japan, Korea, Mainland China, Hong Kong SAR, Macau SAR, Taiwan, Malaysia, Singapore, Indonesia and Thailand.

Bluebell Group offer the right selection of brands into their markets. Targeting diverse cultures and market sectors, and operate across multiple product categories: Accessories, Footwear, Apparel, Fragrance, Beauty, Gourmet, Jewellery, Watches, Eyewear and Tobacco.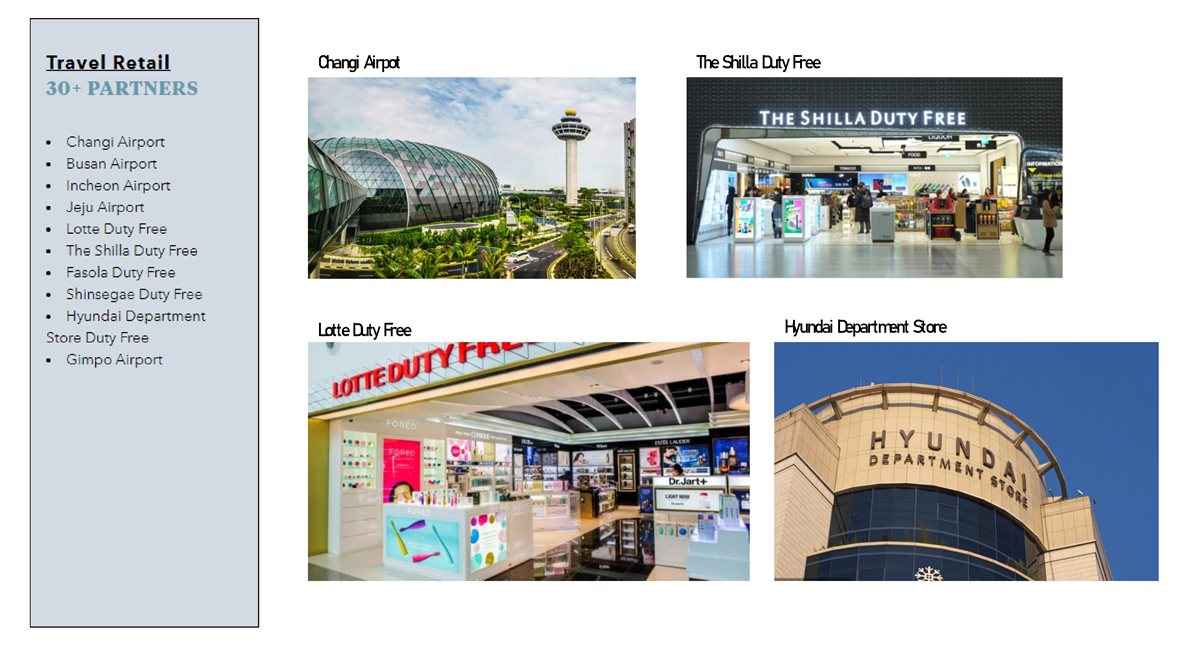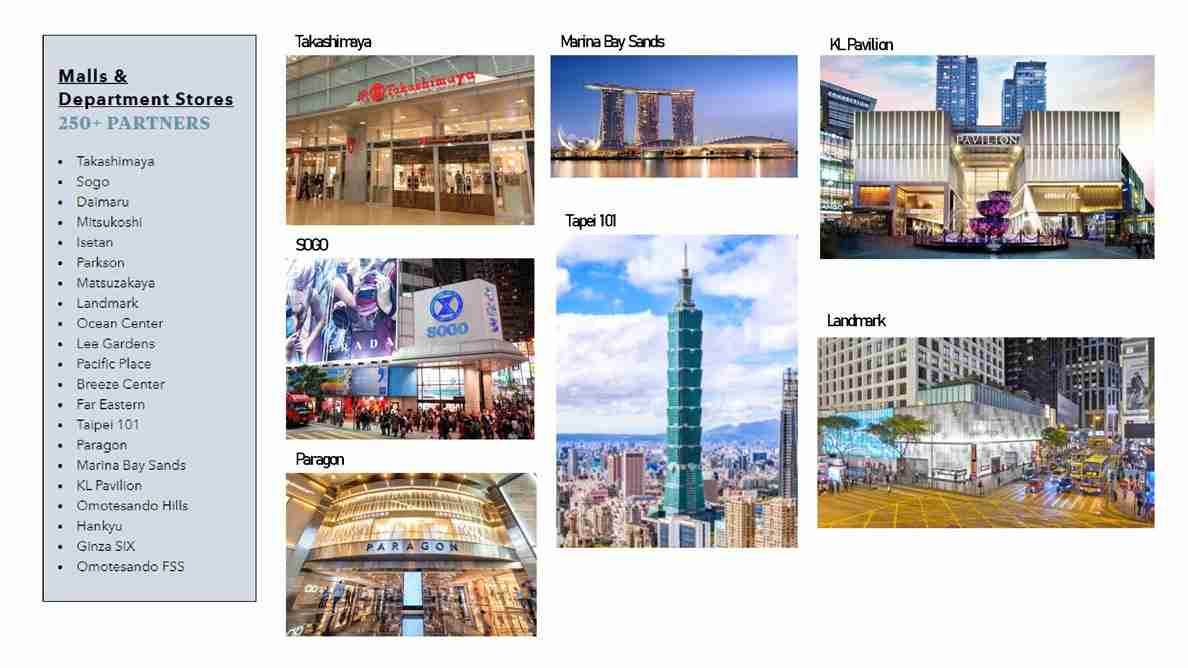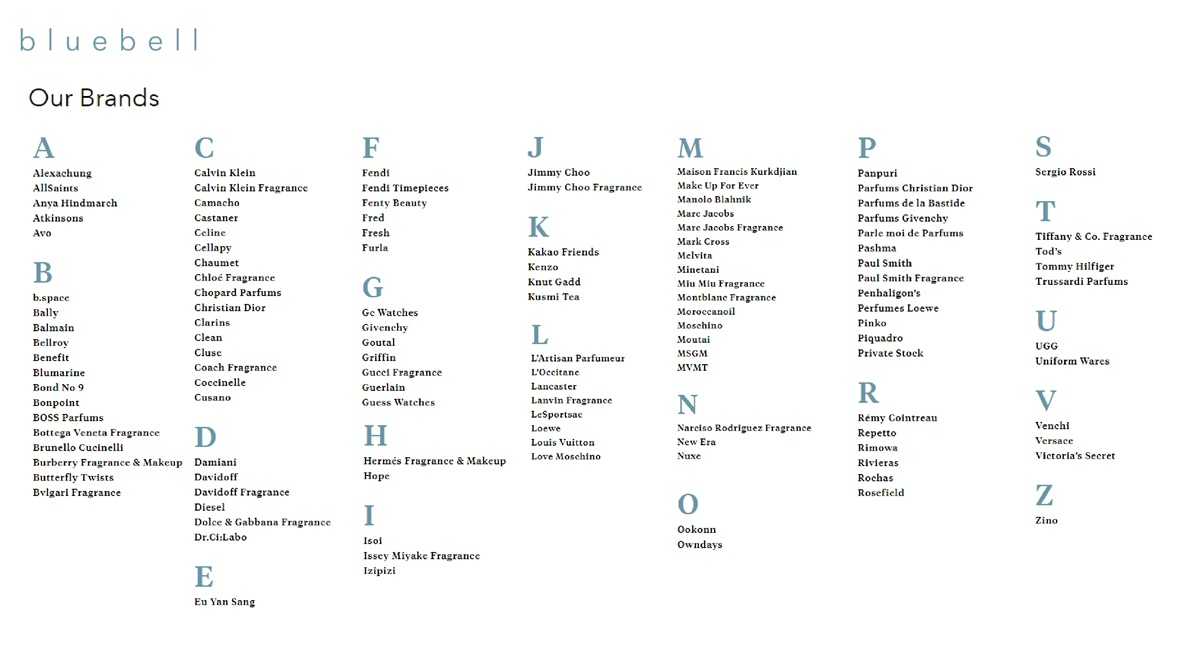 REQUEST FOR A SHOWROOM INVITE !
Visit to showroom is by invitation only. To request for an invite, kindly fill up the form and we will be in touch with you shortly.
Official Developer Sales Team. Brochures, Detailed floor plan, Payment Schedules, Special Sales Packages , Promotional Packages, Development Updates are available upon request by simply fill up the request form.
Unit Choice & Selection (Shops and F&B units)

Early Bird Discounts

Direct Developer Price
Singaporeans/Permanent Residents/Foreigners are welcome!
Register now for :
Visit Sales Gallery

The Peak Shoppes VVIP Booking & Discounts

The Peak Shoppes VVIP Pre-launch Priority Unit Selection

The Peak Shoppes News &  Updates

The Peak Shoppes eBrochure & Floor Plans

The Peak Shoppes Price list / Starbuy

The Peak Shoppes Location Map
For Crucial Updates, Latest Starbuy Units, VVIP Discount, Floor Plan and More Info!
SMS/WhatsApp "PeakShoppes" <Name><Email> to (+65) 90624481 NOW!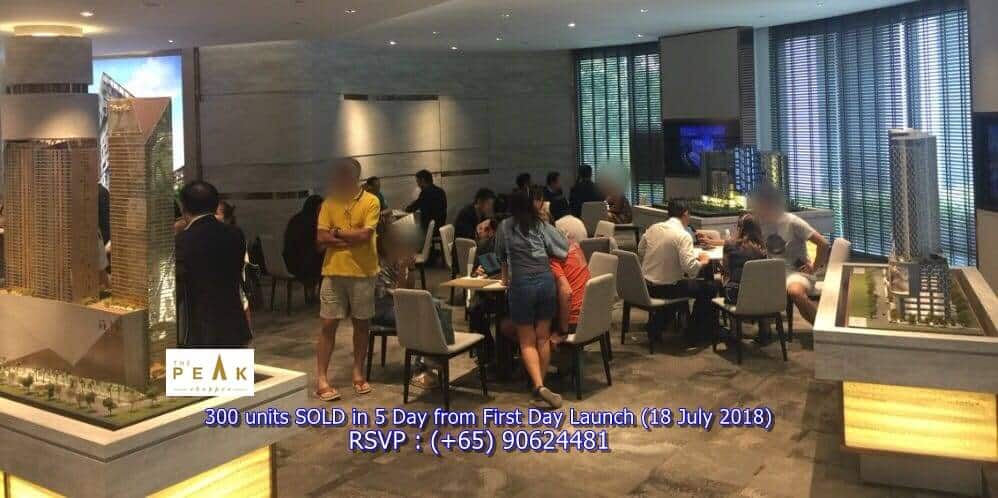 Top Selling Cambodia Investment Property!
Get Exclusive Invite and Privilege Information For Preview Launch
The Peak Shoppes, Cambodia by Oxley. Investors residing in Asia who wish to invest in Retail Shop and /or F&B Units from The Peak Shoppes should contact our Singapore Sales Office by filling up the form below.  We will be in touch with you shortly. Thank you!
Registration of Interest:
Other Good Property Investments
Cambodia Property
Vietnam Property
1) HCMC 
2) Hanoi 
Malaysia Property:
1)Kuala Lumpur
The Luxe KL : Freehold Condo near KLCC – Singapore Listed Developer. Low Cash Downpayment only from $20k to own a unit here.
Oxley Tower KLCC : Freehold  Mixed Development at KL City Centre, comprising Commercial Office, Branded Residences, SO Sofitel Hotel and Retail Podium. Signature Office from $3xxK!
SO Sofitel KL Residences : The World's First SO Sofitel Branded Residences at the Heart of KL City Centre. From RM 1.4M. Only approx RM 180K DP to own a unit
2)Johor Bahru
Suasana JB : Freehold Condo by UMLand next to Komtar, CIQ, upcoming MRT Station. From S$2xxk!
UK Property
1) Manchester Property
CITU NQ Manchester : Luxury Apartment at the heart of Manchester City Center, UK 2nd  Largest City Center,  From  GBP1xxk!
JuNQtion Manchester : Fully Managed Serviced Office at the heart of Manchester City, North Quarter, from £65K with 30% Nett Guaranteed Rental Yield over 5 Years
2)London Property
3) Liverpool Property
Infinity Waters Liverpool :  Luxury Waterfront Apartment at the heart of  Liverpool Business District,   ONLY From  GBP 99.5k! Fully Furnished & Managed with 21% GRR over 3 years!
Address: Village No 14, Sam Dach Hun Sen Road, Tonle Bassac Commune, Chamkamorn District, Phnom Penh,
Country: Cambodia
Property Id : 3211
Property Size: 50 ft2
Developer: Oxley Gem (Cambodia) Co,. Ltd
Completion (TOP): Dec 2020
Tenure: Freehold
Price: From USD80K
Unit Mix: Shops adn F&B outlet
Number Of Floor: 5 level retails shops including F&B units
Eligibility: Foreigners elegible to purchase
View: city
Similar Listings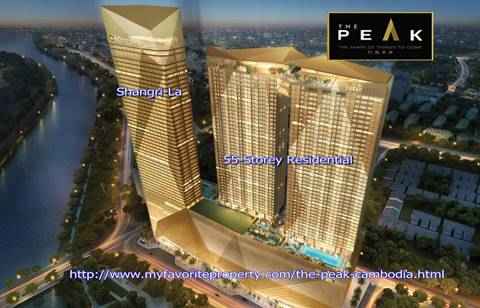 The Peak Cambodia, a 55-storey Iconic timeless design mixed development by Oxley, located at prime Phnom Penh Comme
[more]
The Peak Cambodia, a 55-storey Iconic timeless design mixed development by Oxley, located at prime Phnom Penh Comme
[more]