Thailand Property Market
Bangkok Property, Thailand – A Magnet of Attraction to International Investor
About Thailand
Thailand as ASEAN's 2nd Largest Economy
Overview of Thailand Population
Thailand


– World's 51th largest country




– 513,120 square kilometers




– 20th most populous nation




– Population 65,479,453 (2010 –last official census)




– Population 67,367,943 (2014 –estimated)




-Thai Ministry Of Foreign Affairs estimates closer to 70m

Bangkok




– 1,569 square kilometers




– Population >14.5 million in Bangkok Metropolitan Area or 22%
Key Economic Drivers (In Order of Economic Contribution)
Exports (US$212 billion worth of goods around the world in 2015)

US$37.1B – Machines, Engines, Pumps

US$29.36B – Electronic Equipment

$26.68B – Vehicles

$12.3B – Rubber

$11.7B – Plastic

$8.3B – Oil

$10.8B – Gems, Precious Metals, Coins

$5.9B – Meat and Seafood Preparations

$5.2B – Medical, Technical Equipment

$4.6B – Cereals

Banking & Financing

Pharmaceutical Research & Manufacturing

Labor Supply

Design – Fashion, Furniture, Advertisement, etc.

International Tourism (~10% of GDP) . . 11. Rice (~8% of GDP)
Thailand To Open Up To Asian Economic Community (AEC)
Thailand has open up to the AEC in 2015. This will allow Thailand to tap into a huge free market allowing freedom of movement capital, labor, goods and services. This will increase market for Thailand from approximately 65 million to about 600 million people: an extremely massive increase even if compare globally.
Thailand Economic Growth
While Global economy faced constraints that led economy and export in many countries to slow down. Thai economy expanded well, following high public disbursement and strong tourist growth.
Thailand's economy advanced 2 percent quarter-on-quarter in the March quarter of 2018, following a 0.5 percent growth in the previous period and easily beating market consensus of a 1.05 percent expansion. It is the strongest quarterly growth since the fourth quarter 2012, mainly supported by faster rises in private consumption and fixed investment.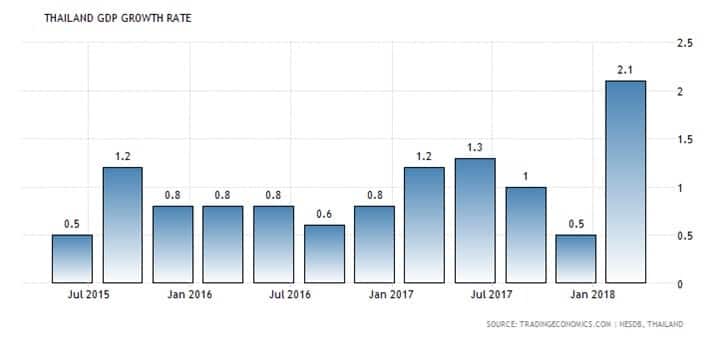 Bangkok Remains 2nd Most Visited City After London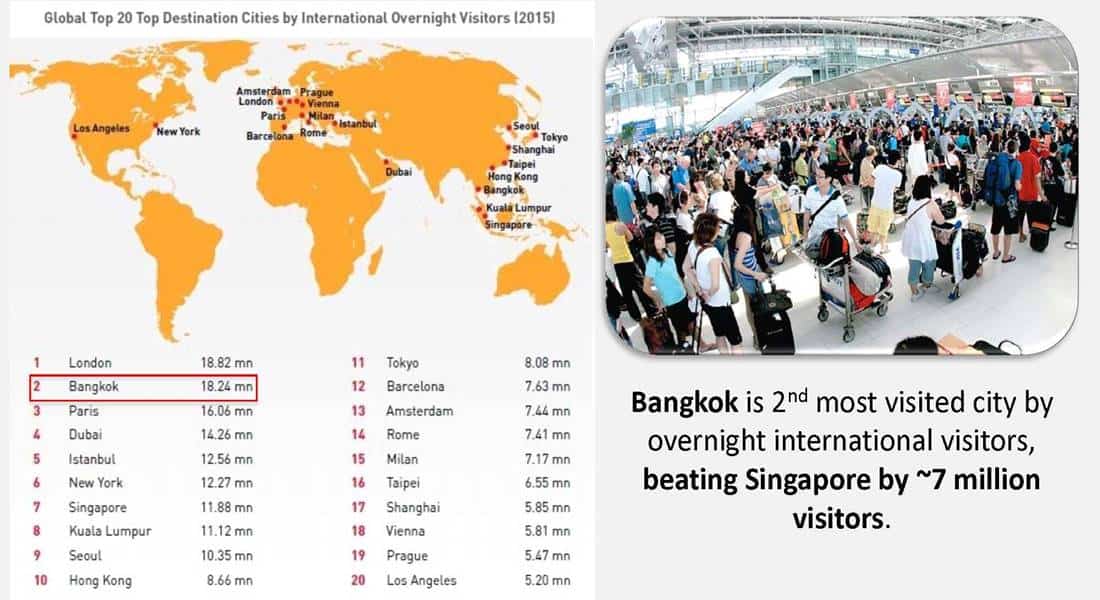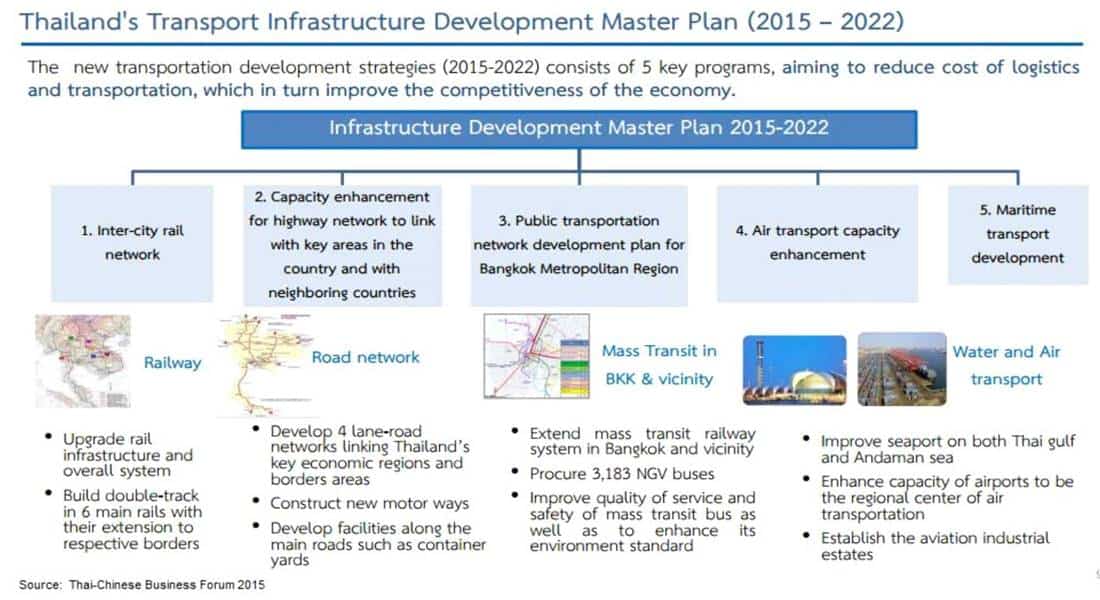 Continuous Growth in Tourism, expected to hit 36 million Tourist Arrival in 2016 !
Why is Thailand market so attractive to investors
Strong Real Esate Market | The Thai capital market contribute to approximately 50% of the country's GDP and have no equivalent competitors internally for its size, wealth and therefore, its property appreciation potential. In fact, Bangkok's relative wealth and real estate market potential is not just confined to Thailand but S.E.A and the rest of the world.
Good Infrastructure | It is impossible to find a better market than Bangkok as the city is huge, well connected infrastructure comparing to other real estate region like Jakarta, Ho Chi Minh, etc (as these regions have years to catch up to Bangkok's thriving sale and rental market). In terms of ROI, it also well supersede region like Hong Kong, Singapore and many more establish regions.
Urbanisation | More and more people are moving towards the city in many Asian countries. In Thailand, this is no exception. In the next 20 years, global urbanization is set to increase from 50% to 80%, with most coming from Asia (most populous continent). Therefore, investing in Bangkok makes perfect sense as Thailand, Bangkok is centrally located in the heart of Asia.
Geographical Location | Being a cost-effective destination and strategic geographical location, Thailand has the potential to be the regional logistics hub, given the country's massive transport infrastructure masterplan (up to 2022). These factors could fuel the demand for real estate in Thailand and particularly the capital city of BANGKOK from both local and foreign investors (individuals and corporations).
Leading Medical Tourist Destination | Bangkok offer Internationally Accredited (JCI) World Classs Healthcare Services at between 40 – 60% lower cost vs that of Developed Nations.
Top Retirement Destination | Ranked Top 1- by International Living Index.  Entry criteria for retirement visas is low. Retirees can enjoyed Multi-Facted Lifestyle options from Metropolitan to Island Living
Market Resilience | Land prices along Mass Transit Lines has gone up 1000% over the last 30-years due to strong domestic demand and increasing foreign demand.
Bangkok Property Market Overview
Demand for prime sites has remained strong with developers continuing to acquire sites both for condominium and rental income producing office, hotel and retail developments. The fierce competition has been driving up prices to record levels and both condominium prices and office rents are at record highs. Raising capital through collaboration with foreign partners has now become the new standard as local developers seek bigger war chests for new development because Thai banks have become more cautious about project lending.
There have also been greater efforts by developers to market Bangkok condominiums offshore with much emphasis on Chinese buyers. Thailand, unlike Hong Kong, Singapore and Australia, does not have special stamp duties for foreign purchasers, but it is very difficult for foreign buyers to obtain a local bank loan to fund a purchase of property in Thailand. Dominating Thai buyers still accounted for more than 75% of transactions for new luxury downtown Bangkok condominium properties based on sales by CBRE in 2017.
The outlook for the end-user driven residential market will be brighter in 2018. Banks have eased lending criteria on mortgage loans, which should and access to mortgage finance. This should help clear up unsold inventory in the midtown/suburban areas to make way for newer developments.
However, there continues to be a great disparity between the downtown and midtown/suburban markets. The midtown/suburban markets still faces challenges in clearing off unsold inventory whereas there is little unsold inventory in the downtown area.
Most downtown projects will continue to achieve record prices, but not every developer hoping to achieve more than THB 300,000 per sq.m. will be successful. The midtown/suburban markets will see mixed performance. Successful projects will either be in locations closer to CBD, existing/under construction mass-transit lines or in locations with limited existing supply.
Rapidly rising land prices and scarcity of freehold land in prime downtown locations have forced developers to explore and reach out to new locations and unexploited land plots for development opportunities.
Condo /Apartment Rental Growth
Lump sum monthly rentals will remain unchaged as expatriates's housing allowance have not increased in over a decade and the growth in the number of expatriates is expected to be flat in 2018. However, occupancy for both sole-ownership apartments and serviced apartments is expected to remain healthy at above 95% and 80%, respectively, due to limited supply.
Demand for apartments in Bangkok mainly comes from foreign expatriates. Due to the limited supply, the competition will continue to come from condominium units for rent. However, expatriate tenants prefer sole-ownership apartments over multi-ownership condominiums because of the availability and convenience of maintenance services.
The serviced apartment market is driven by two groups: the long-term market which is driven by expatriate employees, especially Japanese, and the daily rate business which is driven by tourists and business travellers.
New Mass Transit Lines Open New Development Areas for Housing Projects
Future infrastructure development, especially the mass transit lines, will spur residential development in more areas of the city. The development of the MRT Orange Line and Pink Line will increase the attractiveness of the Northeastern part of Bangkok as a residential area. However, home buyers will only decide to buy when they see significant progress of the construction of this infrastructure. Housing supply is going to increase in the outers areas of Bangkok due to the increasing land price in central and midtown Bangkok.
Foreign Purchase Guide in Buying A Codominium in Bangkok
Foreigners can purchase and a freehold condominium in Thailand, but there is foreign quota ownership. The percentage of areas sold to foreigner must not be over forty nine percent (49%) of total amounts of areas of the condominium and the funds used to purchase the condominium must be remitted from abroad to a bank account in Thailand even if such foreign buyer has bank accounts in Thailand and/or has work permit to work in Thailand (no exceptional). Under Thai law, foreign ownership is capped at 49% of a condo's total area. However, the number of units available for foreigners to buy is limited. A condo registered as part of the foreign ownership quota is more desirable as it means you can sell your unit to a foreigner or a Thai and logically, the price should be higher than a Thai-registered condo. Buying a Bangkok condo under entity required the company to be a Thailand incorporated company of which the process tends to be more complicated.
Location
Location is a key consideration in all property purchases, being it in Singapore or overseas. As in other major cities, Bangkok has certain desirable locations where people would like to live (and rent). The Thai word for such locations is "hi so" which means "high society" or "high class". This is similar to Singapore's Districts 9, 10 and 15. 
Buying the right Bangkok property close proximity and ease of access to BTS/MRT Stations (e.g. less than 500m to Mass Transit Stations) and /or Major Roads & expressway (e.g. major roads versus Inner Soi) will make a good investment return as condos in these area tends to fetch higher rental yield and more easily rented out. Condos near Mass Transit Stations offer ease of commuting to work and home for expatriates with the current traffic congestion on the road, remains the top choice for tenants.
Developer Profile
Have deligent check on Developer's profile. As in Singapore, there are certain well-established property developers in Thailand with good track record. Typically, the properties they develop have decent finishings and they may have different market segments (eg super luxury, luxury, middle class etc.).
Unit Type and Size
Bangkok condominiums in CBD or Commercial areas tends to be in the form of studio, 1 and 2 bedroom layout. Typically studios are sized from 25 -30 sqm, 1 bedroom from 30 -47 sqm and 2 bedroom from 48 – 68 sqm and in most cases, number of 2 bedroom unit least to be built. It is wise to invest in 1 bedroom size from 30 sqm and above in considering future resale needs as local Thai would most prefer a larger area of minimum 30 sqm for own stay.
Bangkok Metropolitan Rapid Transit Network 
Condo Title
A condo title may be freehold or leasehold (some as short as 30 years!) and there are up to four different title deeds. Investor would prefer or want the freehold title deed (Chanote or Nor Sor 4).
Condos built on Crown land (i.e. belongs to the King) are typically leasehold and these are located in the Grand Hyatt Erawan / St Regis vicinity. Advisable to stick to Freehold condo.
Typical Payment Schedule for foreigners to own a Bangkok Condominium
5-15% upon booking a unit (booking fee varies from Developer)

10-15% payable within 3 month upon booking

Balance 70-80% to be settled upon completion/Handover of condominium (paybale 30 – 60 days prior to transfer of ownersip title)

2% Transfer Fee for Title ownership issued
Other Related Cost for acquiring a Bangkok condo
Transfer fees : 2% of property's registered value, payable by buyer but may be shared by mutual agreement between buyer and seller on a 50:50 basis
Specific Business Tax : 3.3% of sale price, payable by seller (only if the condo is sold within 5 years from transfer of title)
Stamp duty : 0.5%, payable by seller or shared between the seller and buyer (if the condo is sold after 5 years from transfer of title)
Withholding tax : payable by seller, pegged to seller's personal progressive income tax rate (5-35%)  or corporate (fixed at 1%)
Financing Thailand Condo Purchase
Foreigners looking at financing Bangkok Condo purchase with loan will have difficulty in getting a Thai bank to approve their mortgage loan application unless they have an employment income sourced within Thailand (i.e. have a work permit) and /or married to a Thai spouse. Thai law requires a foreign buyer to transfer money from overseas into Thailand for a condo purchase. 
Under the Thailand Condominium Act (section 19) a foreigner has  to remit into Thailand the full purchase price of the condo in foreign currency, the handling bank in Thailand must upon request issue an official copy of the FET-form (Foreign Exchange Transaction Form) or a prepare credit note and bank letter of guarantee containing the same information as the foreign currency exchange transaction reporting form as proof of the remittance and exchange of foreign currency into Thai baht by the foreigner. These documents MUST be handed over to the land office in order to register the transfer of ownership of a condo apartment unit in the name of the foreigner. The foreign exchange transaction documents must show the foreign purchaser's name either as the sender or receiver of the money from the overseas bank. *If the remittance from abroad is in Thai baht the bank will not issue a FET-form and the foreigner will not qualify for registration of foreign ownership at the land office, unless he qualifies on one of the other grounds for foreign ownership under section 19 of the Condominium Act.
Hence foreigner have to open a bank account with a Thai bank. Some banks may refuse to open an account if you do not have a Thai work permit. If this happens, try another branch or bank. Banks known to open accounts for foreigners include Bangkok Bank and Kasikorn Bank.
Completing The Purchase
The buyer and seller and their respective agents will show up at the Land office on an agreed date to effect the ownership transfer. Your agent should be able to advise you as buyer on what you have to bring, mainly, passport and a bank draft. After making the appropriate payments, you will get your title deed (Chanote) with your name (in Thai!) reflected. 
(a) Blue Book / Yellow Book
After you have completed the title registration, you will be given a blue book called a Tabien Baan. This is an official address registration book and is used as proof that a person lives at that particular address. A Thai national will register his address in the blue book and a foreigner does the same in a yellow book. 
Ownership-related Costs
In practice, there is no annual property tax on residential properties. There is a monthly condo management fee and this may be collected upfront for 6 months or 12 months.
Owner-occupied houses Tax exempt
Thailand at present has a house and land tax of 12.5% of assessed rental income or of assessed value, whichever is higher, with an exemption for owner-occupied houses. To prevent this rental property tax burden, foreigners obtaining a long term lease interest in a property should make sure that they own the house and only lease the land and not lease land and house. Also if they own the property through a limited company the house should be owned separate from the land and the land should be held as an asset in the Thai company, not land and house. When the house on the leased land is owned freehold and owner occupied the house is exempted from housing and land tax. Building a house and ownership or transfer of ownership of an existing house in Thailand apart from the land requires a separate procedure.
Drop us a note if you have further questions about Bangkok Condominium Purchase or if you would like to schedule an appointment to explore further on Bangkok Condo Investment.