UK Property Investment Guide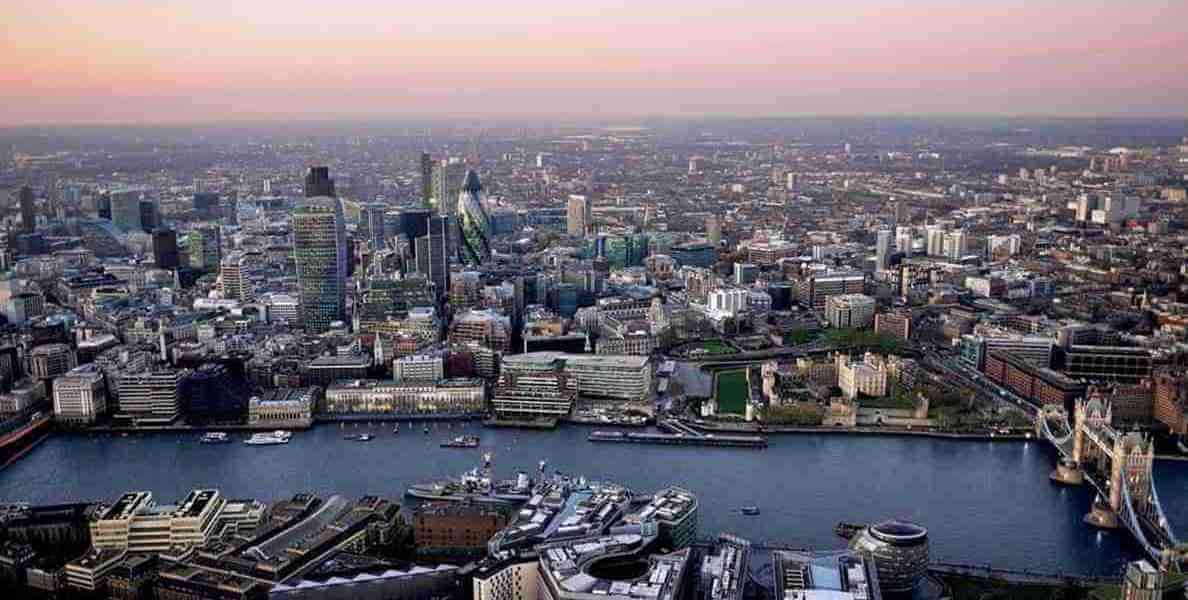 The UK real estate market has always been and remains popular for international investors, with easy access to high-quality legal advice and no restrictions on the flow of capital into or out of the country. From modern condominiums to old manors and period homes, the UK has a wealth of property types waiting to be seen, bought for investment and/or to live in.
UK's property market is a hot favourite with Singapore's affluent individual and corporate investors. About 97,000 properties in England and Wales are owned by overseas firms, and Singapore is among the top 10 countries owning UK properties. The latest data released by UK's Land Registry has shown that out of 42,680 of the properties owned by foreign companies in England and Wales, some 44 per cent of the total, were in London, and that they had a value of £33.9 billion.
In July 2017, a study for the London Mayor showed that foreign investors are buying up thousands of homes suitable for first-time buyers in London and that they were using them as buy-to-let investments. As according to research study, 3,600 of London's 28,000 newly built homes between 2014 and 2016 were snapped up by Singapore and Hong Kong. About 50% of the propery bought by foreigners were priced between £200,000 and £500,000 and more than 70% as rental investments and in 15 per cent of cases, the properties were bought by companies.
London's robust market fundamentals which translates into attractive yields over other global cities also boosts investor confidence in the London real estate market. With an average of 10 to 15 years, the city's lease lengths are also significantly longer than many markets. UK's robust legal system, along with its market transparency and liquidity all play a part in the appeal.
An annual survey of the Association of Foreign Investors in Real Estate also ranked London at the top (tied with Los Angeles) for  stability and opportunity for capital appreciation. Members of the Association with an estimated more than $2 trillion in real estate assets under management also said that they were less worried about the impact of Britain's exit from the European Union than they were a year ago.
Why UK Property Investment Remain Appealing to International Investors?
Top 10 Countries Owning Properties in England and Wales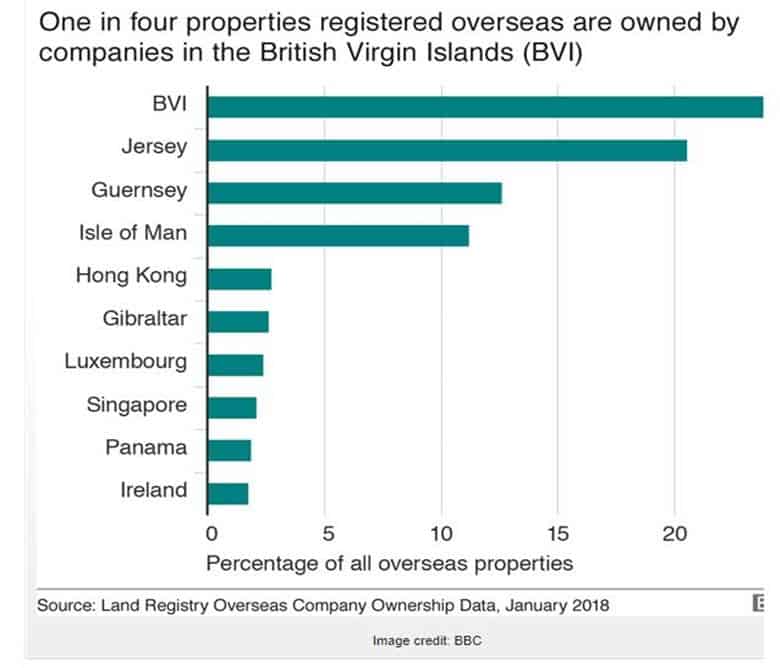 Despite recently UK Brexit and recent tax and lending rules enforced by the Government, have caused some ripples of uncertainty amongst property investors on a national and international scale, the investment sentiment remains – the UK is a still a good place to invest in property.
1) United Kingdom Remain Top European City for Property Investment
Britain's ongoing appeal to investors on a worldwide scale has remained resilient.  In Schroders' latest Global Cities 30 index listed London retain a top spot in listeing as the third best city in the world to invest in property. Paris is the only other European city to make the top 30, making London still the hotspot in Europe.
2) Top for Foreign Direct Investment
Paying further testament to the UK's appeal, in 2016 alone, notably the year of the Brexit vote, foreign direct investment (FDI) to Britain hit a record high, with net flows jumping to £145.6billion from £25.3billion in the previous year. According to Reuters, this was the largest value recorded for a year since comparable data began to be compiled in 2006.
In the first half of 2017, 14% of global commercial property investment transactions occurred in the UK, second only to the USA*.
3) Infrastructure Investment
The significant investment made into infrastructure projects in the UK, in the coming years, starts to bear fruit, and are set to dramatically change and improve connectivity, house prices and employment across many parts of the UK.
Crossrail project is set to be the game changer in the South East for access in and out of London. Since its launch in 2009, house prices within a one mile radius of its planned stations has seen an increase in value by 66% on average.
The £56 billion HS2 project which will connect eight major cities between the Midlands, the North and London, is projected to create around 25,000 jobs by the time it arrives on 2026. This could fuel economic benefits worth over £103 billion to the UK.
4) UK Regeneration Plan
Regional UK cities such as Birmingham, Manchester and Leeds are currently flourishing under the regeneration program. As London prices having increased enormously, investors have in recent years started to look at alternative option outside London, for more fruitful and rewarding returns. The improved infrastructure such as HS2 are making its way towards these cities, as a result of major regeneration taking place.
Birmingham alone has, in the past decade, undergone a complete transformation, with the £500million redevelopment of its New Street station and £150million Grand Central shopping destination, major developments such as Paradise and Arena Central underway, and a planned £1billion regeneration scheme in anticipation of the arrival of HS2 in 2026.
5) Educational Credentials
Out of the top 100 universities in the world, 16 of them are in the UK. Cambridge, Oxford, University College London and Imperial College London all make the top ten, with universities in key regional cities of Manchester, Edinburgh, Sheffield, Nottingham and Birmingham all making the top 100.
6) Chronic supply shortage versus Demand
As a result of regeneration, jobs and investment, demand for homes is high, and it's increasing at a faster rate than the supply resulting a resurgence of people looking to live and work in the regional cities across the UK, such as Birmingham, Manchester, Leeds and Liverpool. 
7) House Price Growth
Latest reports show that UK house prices are still increasing. Whilst London houses is stagnating, having already reached its peak, the high prices are forcing people out into the rest of the UK, increasing demand in regional cities. As a result pushing up the housing prices in these cities. The recent reports from Hometrack have shown that UK as awhole has acheieved 4.4% growth on average with Edinburgh, Birmingham, Manchester and Glasgow surpassing 7% year on year.
For property investor, these would mean there is still significant potential for capital growth and good rental yields in UK property investment. Despite the uncertainty surrounding Brexit, UK is still growing. In recent years, there has been a shift in focus on residential property in London. Cities and areas of the UK that are once have been overlooked, may now present very lucrative opportunities.
Related News on UK Real Estate Market
10 March 2019 : UK real estate investors are planning to increase their property portfolios in the next 12 months, according to research provided exclusively to FTAdviser.
"It is interesting to see that, while London remains the most popular location for property investment, other regions across the UK are very close behind. In particular, the North West has established itself as something of a 'hotspot' for buy-to-let investors, with cities like Liverpool and Manchester providing strong rental yields and healthy capital growth." (source: https://www.ftadviser.com/investments/2019/03/05/property-investors-defy-brexit-scaremongering/)
Where Are UK Property Investment Hotspot?
As of today, the market has accepted high housing prices across London and the wider south-east, some investors look north for good bargains to maximise rental yields. The first fruits of the Northern Powerhouse are finally being realised with the courtesy of infrastructure improvements and funding for elected mayors. The HS2 could magnify the appeal of cities from the Mersey to the Aire. According to recent report by KPMG, the North West and the North East will see some of the UK's highest average house price growth during the next decade.
1) Manchester
"The North" or the "Northern Powerhouse" is a collection of different UK region, namely Manchester, Liverpool, Sheffield, Leeds and West Yorkshire and The north East. Manchester is becoming the "London of the North".
Manchester, the fastest-growing city outside London hosts some of the UK's largest regeneration projects, spearheaded bythe media-powered Salford Quays complex and digital-oriented Northern Quarter. As the epicentre of a thriving metropolitan area, Manchester is one of the best cities to invest in property in the UK. 
Manchester property now offer a good opportunity to invest as the property rices are rising rapidly, yet yields still average twice those on offer in London. Manchester is one of the strongest bu-to-let cities in UK. Not only are 63% of the households renting (24% above UK average), but in the extended city centre, four out of five aprtments are rented. About 30 per cent of Manchester's housing stock is in the private rented sector, with a six-figure student population underpinning demand for apartments and flats. Under the Northern Powerhouse  Initiatives, many key investments are flowing from London to Manchester generating hugh influx of professionals, turning Manchester into a Media City; such as BBC and ITV having their HQ relocated from London to Manchester. As a result, rental growth of 20.5% is expected between 2017 – 2021 and Manchester houses being sold two weeks faster than UK average.
3) Leeds
Leeds is another city outside London represents a compelling proposition, after Manchester and Liverpool gentrification. Sharing an international airport with neighbouring Bradford, and a key beneficiary of HS2, Leeds is a stylish modern city, is in considerable demand among Far East investors with an impressive housing stock. There are three major universities supporting a thriving student population, while affordable house prices and high rental demand ensure healthy rental yields for landlords. Leeds property prices has being appreciated by more than four per cent in the last year which seen its Capital appreciation as another advantage.
4) Birmingham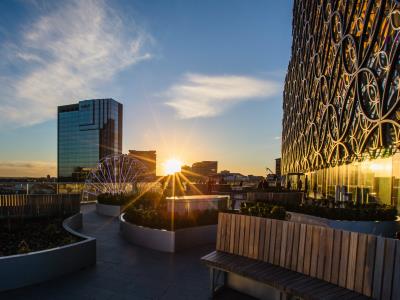 Birmingham is Britain's second largest city, the literal and spiritual heart of England. As metropolitan city, Birmingham is home to almost four and a half million people. Its £90 billion regional economy is set for significant expansion when HS2 slashes travel times from London to just 50 minutes. The Midland Metro tram line already links many suburbs into the metropolis centre whose rebirth is virtually evident round New Street Station and Paradise Circus. A chronic sortage of rental accomodation has been driving up property prices with particuarly strond demand for home along A456 corridor. The ripple effect from the gentrified Jewellery Quarter are has also being extended beyond to the infamous suburb of Handsworth.
UK Property Buying Guide
Buying Process
To locate a suitable property for own use or investment rental, it is always wise to enage an experienced real estate agent/sales professional/sales consultant with the professional knowledge of UK real estate market, the buying procedures, UK taxes requirement and associated cost of property purchases. In the UK open market, expect to pay a commission fee that could range anywhere between 0.75% and 3.5% of the selling price. VAT at the rate of 20% is also applicable. The good thing in buying new development launch will be that buyer is not required to pay the real estate any commission or service fees. 
To complete the purchase, you will have to appoint a solicitor or a licensed conveyancer. This person's role will include:
Handling of the legal contracts.

Providing legal advice.

Carrying out local council searches.

Dealing with the Land Registry.

Transferring funds to pay for the property.
In the the resale open market, in addition to paying the commission fee to the estate agent, you will need to bear the cost of surveying the proposed property. A building survey may cost about £500. If you are planning to purchase an existing property, this is an essential exercise. 
A house built many years ago may look absolutely flawless, but there may be problems that are not easily discernible. Issues may range from structural defects to rot and subsidence. Solicitor's fees are another expense that you will have to bear. These can vary widely, but on average expect to pay at least £1,500 and the amount will vary acording to the value of the property to be purchased.
Currency Risk
The fluctuations of a specific foreign country's currency value against the Singapore dollar is one that must always take into consideration. The real estate market or economic climates of a country, of course, are the other key factors that may affect the projected value of an overseas property investment. However, any appreciation or depreciation of the foreign currency will also affect the overall returns from the investment due to its fluctuations. Hence, it is important to always keep track of the movement of a country's currency value. The current Brexit issues has caused british pound to depreciate further against the world's major currencies that has also helped increase the attractiveness of UK real estate to overseas investors. This translate into a window of opportunity to own a UK property at a very much affordable price now. 
UK Taxes and Fees
There are two taxes which are relevant to acquiring property in England and Wales, namely Stamp Duty Land Tax ("SDLT") and Value Added Tax ("VAT").
SDLT is charged on land and property transactions in the UK. The tax is charged at different rates and has different thresholds for different types of property and different values of transaction. Almost all land transactions will be subject to SDLT, which is payable within 30 days of the date of purchase
Stamd Duty Land Tax
The current SDLT threshold is £125,000 for residential properties and £150,000 for non-residential land and properties.
There are different rules if you're buying your first home. You get a discount (relief) that means you pay less or no tax if:
you complete your purchase on or after 22 November 2017

the purchase price is £500,000 or less

you, and anyone else you're buying with, are first-time buyers
SDLT is payable when you:
buy a freehold property

buy a new or existing leasehold

buy a property through a shared ownership scheme

are transferred land or property in exchange for payment, eg you take on a mortgage or buy a share in a house, given as gift or will, as areult of marriage or on divorce etc.
What's the SDLT Rate?
How much you pay depends on whether the land or property is:
residential and whether you're a first-time buyer

non-residential or mixed-use
You can use HM Revenue and Customs' (HMRC) Stamp Duty Land Tax calculator to work out how much tax you need to pay.
You may be able to reduce the amount of tax you pay by claiming relief, such as if you're a first-time buyer or purchasing more than one property ('multiple dwellings').
SDLT for First Time Buyer:
You can claim a discount (relief) so you don't pay any tax on property value up to £300,000 and 5% on the portion from £300,001 to £500,000.
You're eligible if:
you, and anyone else you're buying with, are first-time buyers

you complete your purchase on or after 22 November 2017
If the price is over £500,000, you follow the rules for people who have already own a property or bought a home before.
SDLT Table for Residential Unit
Overseas investors who has already own a property in their hone country are taxed under the subsequent property purchase category regardless the purchase is made for own stay ot buy-to-let investment purpose.
*Note: Personal allowances are available to all EEA Nationals, British Citizens, and those individuals who are residents and nationals of Malaysia and Thailand. No Personal Allowances are available to Citizens of China, Hong Kong or Singapore, unless they hold British (or other EEA) Citizenship. Nationals of other countries should check their own position as they may qualify under the relevant Double Tax Agreement with the UK.SDLT Table for Non-Residential Property (Commercial)
Commercial property includes businesses promises – hotels, shops, offices, warehouses etc – but also other categories specifically excluded from the residential property rules. This includes care homes and some student accommodation.
Rental Income Tax
Income tax is payable on all net rental profit arising in the UK. It is possible to offset a variety of allowable expenses including financing costs (subject to a restriction from April 2017 for higher and additional-rate taxpayers), maintenance and repairs, and certain professional fees against the gross income. Non-UK companies will be brought within the scope of UK corporation tax, rather than income tax from 6 April 2020.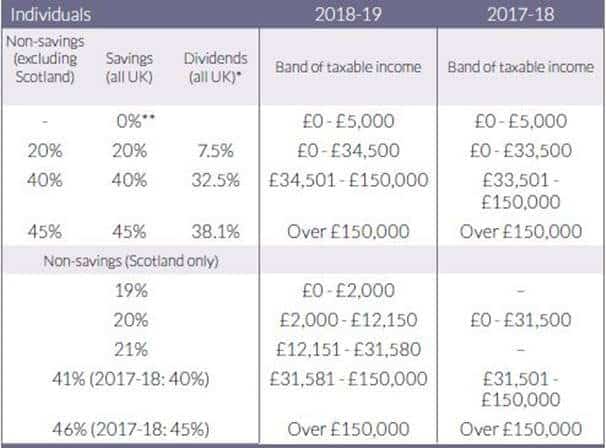 Capital Gain Tax for disposal of property
Capital Gains Tax is payable by all investors on disposals of UK residential property. If not caught by the ATED provisions (see below), Capital Gains Tax is paid on the excess value received over and above the market value as at 6 April 2015.
Where a UK residential property is purchased for more than £500,000 by a corporate entity for an individual's own use, it will fall within the Annual Tax on Enveloped Dwellings (ATED) provisions. Those properties are liable for higher flat rate of SDLT, a higher rate of Capital Gains Tax (28% instead of 20%), and annual charges. It is proposed that the rate is reduced after April 2019 to the corporation tax rate of 19%.
Capital Gain Tax for Disposal of Commercial Property
Individuals
UK resident individuals are subject to capital gains tax (CGT) on gains realised on the disposal of UK commercial property at 10% or 20%, depending on whether the individual has any basic rate band remaining (after calculating their income for income tax purposes).
Company
A UK resident company is subject to corporation tax (at 19%, reducing to 17% from 1 April 2020) on gains realised on the disposal of commercial property
Non-UK Resident Individual
Individuals who are not resident in the UK are not liable to capital gains tax on the sale of UK property unless they have been resident in the UK within the past five years.
Council Tax
Council tax is a tax set by each locality on UK properties that may be used as dwelling, regardless of whether owned or rented. Fifty percent (50%) of the tax payable is based on the property band (A-H) to which the property belongs. The other 50% depends on the number of persons living in the property. If a person, of legal age, lives alone in the property, the taxpayer may avail of the Single Person Discount and the second 50% may be reduced to 25%.
Where there is an assured tenancy (the normal case) the tenant pays the tax. However, if there are no tenants, property owners /Landlord are usually liable for this tax.
Value Added Tax ("VAT")
Commercial property transactions may be subject to VAT. Whether a commercial property transaction is subject to VAT will depend on a number of factors, mainly being whether it is regarded as a "new" property or whether the seller has opted to tax the property (formerly known as an election to waive exemption from VAT). Commercial property transactions may be subject to VAT if the value of the supplies exceeds certain thresholds. VAT is currently charged at 20%. Residential property transactions are currently "zero rated", which means that VAT is not generally charged on the premium or rent paid on a residential transaction.
Tax implications for overseas buyers
If you are a 'non-resident' in the UK then you are classed as an overseas landlord and may apply to HMRC in the UK for exemption – the appointed solicitor can assist overseas investors with this.
It is important to only engage the Official Direct Developer Sales Team to assist you in exploring your property purchase. There are several complex procedures and key factors to consider before committing to purchase a unit. Rest assured that all our representatives are certified, well-trained and committed to deliver. By engaging the Official Direct Developer Sales Team, you will also enjoy the best possible direct developer price. There is no commission required to be paid.
Leave A Message If You Would Like To Have A Free Consulation on UK Property Investment
Disclaimer:
Regulated by CEA.
Information is as accurate as 11 December 2018. The information and investment guide provided here are subject to changes without advnace notice. Investors are required to seek professional advice from UK Solictors or Tax Advisor or your home country's solicitors who have professional knowledge about UK Property Process Requirement and it's tax system for more up-to-date informations before making any UK property purchases.
All forms of investments carry risks, including the risk of losing all of the invested amount. Such activities may not be suitable for everyone. This is an overseas investment. As overseas investments carry additional financial, regulatory and legal risks, investors are advised to do the necessary checks and research on the investment beforehand. Details of Guaranteed Rental Returns will be accompanied with respective Sales & Purchase Agreement.