Vietnam Property Market
About Vietnam
Vietnam lies in the heart of Southeast Asia and spans across 330,958 km2. It is home to over 90 million people with nearly 50% of the population below age of 30. The country has experienced stable economic growth in recent years with GDP growth rate averaging 6.15 percent from year 2000 and 2015. 
Vietnam soon to become the new property hotspot in the Asia Pacific Region, challenging the likes of Bangkok and Singapore for investment dollars. Channel NewsAsia recently reported that the country's growing middle-class, along with relaxed regulations on foreign ownership, could help the property market grow significantly in the near future.
At the moment, Vietnam's economic outlook is healthy, which is one reason why prospective investors are starting to enter the market. The article stated that the annual growth of 6% to 7% is forecasted between now and 2020, driven by foreign investment and a slew of free deals such as the Trans-pacific partnership. (source : Channel News Asia). In Q3 2018, Vietnam posted its highest GDP growth in 8 years for the first nine months, expanded 6.98% y-o-y. The formation of ASEAN Economic Community and the passing of the TPP will provide a favourable setting for Vietnam's economy and increase foreign investments into the country.
The Game Changer – New Vietnam Housing Law | 1st July 2015
A key factor is the liberalisation of foreign investment policies in 2015, such as the implementation of Decree 60, which removed the cap on foreign ownership in public companies. The lifting of the 49% foreign ownership limit in public companies boosted foreign sentiment and capital inflow into Vietnam.
In July 2015, the government also relaxed the rules on foreign ownership of real estate. Foreigners are now allowed to buy investment properties. In the past, they could only buy one residential unit for their own use. And they had to sell the property within a year of leaving the country. Now, foreigners are allowed to purchase more than one unit.
However, the government has capped foreign ownership at 30% of the units in a condo or apartment project, and 10% for a landed housing project. In the past, foreigners were not allowed to buy landed property. This was to prevent foreigners from flooding the market and driving up prices, making it less affordable for local home buyers, as seen elsewhere in major cities.
While locals can buy properties of freehold tenure, foreigners are restricted to properties with a 50-year lease, with an option to renew for another 50 years.

Boom is on
The relaxation of the foreign ownership rules essentially opened the floodgates and sparked a boom, leading to record condo sales in 4Q 2015 and the whole of 2016. For instance, Keppel Land, which has been in Vietnam for more than two decades, said it sold more than 1,500 homes in the country in 2016, 63% higher than the 930 units it sold in 2015.
Meanwhile, Singapore's largest listed property group, CapitaLand Ltd, sold 1,480 units worth a total of $282 million in 2016, compared with 1,321 units worth $226.5 million in 2015. Last year, an average of 24 projects were launched each quarter in Ho Chi Minh City, while the number of projects launched in 1Q2017 was 21, which shows a slight slowdown in new launches.
Guide to Foreigner Purchase
INDIVIDUALS
All foreigners who are granted permission to enter Vietnam are allowed to buy and own residential properties within a property development project in the country (with the exception of foreigners entitled to diplomatic or consular immunities and privileges prescribed by law).
ENTITIES
All legal entities like foreign investment funds, banks, Vietnamese branches and representative offices of overseas companies which are established in Vietnam are eligible to buy.
TYPES
The new Residential Housing Law allows the eligible foreign entity and individual to buy and own all residential sectors including apartments and landed properties such as villas and townhouses (previously only applicable to apartments).
PURPOSE OF PURCHASE
The properties owned by foreigners can be sold, sub-leased, inherited and collateralized (previously only for owner occupying purpose).
TENURE
The tenure allowed to foreign individuals buying homes is 50 years from the date the authority issues the house ownership certificate to the relevant owner with renewal possibility upon expiration. Foreign individuals married to Vietnamese citizens are entitled to freehold tenure. Eligible foreign entities shall have the tenure of ownership of apartment/house in accordance with the duration as stated in their business license/investment certificate.
VOLUME
The rule of 30% cap for Condominiums, and 10% cap for Villas/Townhouses (previously an eligible foreigner could buy only one apartment in Vietnam).
Foreign organization and individual ownership of units in an apartment building may not exceed 30% of total units in one apartment building. In the event of an area with geographical boundary equivalent toward level with many apartment buildings for sale or lease purchase, then foreign organizations and individuals may own no more than 30% of the total units of each apartment building, and not more than 30% of the total units of all the apartment buildings.
For housing projects which have separate houses for sale or lease purchase, the foreign organizations and individuals' ownership must not exceed 10% of the total number of separate houses for each project. In the event of an area with geographical boundary equivalent to ward level with several projects where the number of individual houses are more than 2,500 units, then the foreign organizations and individuals' ownership must not exceed 250 units.
Legislatively, the revision of Vietnam's laws now allow eligible foreign buyers to legally enter the country to purchase and own residential property. The types of projects available to foreign buyers include apartments, villas and townhouses (as long as they are part of a development, and not standalone units). Such property can be leased out, traded, inherited and collateralised, firmly placing the rights of foreigners over property on the same level as locals. Tenure shall be for a period of 50 years, renewable for a nominal fee for another 50 years, very much comparable to the majority of other real estate markets, like the Philippines and Thailand.
SALES & PURCHASE AGREEMENT
The SPA is a legally binding contract between the buyer and developer to prove that a house or apartment is sold to the buyer by the developer. The SPA is also used as evidence of ownership of the house or apartment before the house ownership certificate has been granted to the owner. It is used for applying for house ownership certificate for the owner.
The template of the SPA is in accordance with the standard template as provided by the Ministry of Construction and is to be registered with Consumer Protection Bureau under the Ministry of Industry of Trade. As such, the SPA is a standard template which is not to be changed or amended.
HOUSE OWNERSHIP CERTIFICATE
The "House Ownership Certificate", which stands for "Certificate of land use rights or house and land attached asset ownership" is the certificate granted by the State Authority to certify/recognize the ownership of an eligible individual/organization over his/her/their land or house. It is commonly referred to as the "ownership certificate" or "pink book".
The ownership term of foreigners is 50 YEARS from the day on which the ownership certificate is granted !
However, under the new residential housing law, there are some restrictions for foreigners as per the following:
He/she may not buy, rent and purchase, receive, inherit and own more than 30% of apartments in an apartment building; or more than 250 houses regarding separate houses including villas, row houses in an area whose population is equivalent to a ward-administrative division.
In case the foreigners receive or inherit house(s) which are exceeding the number of houses prescribed in above, he/she only receives the value of that house(s).
The ownership term of foreigners is 50 years, from the day on which the ownership certificate is granted. They may apply to extend the term of ownership and it shall be subject to the approval of State Authority.
If a foreign individual marries a Vietnamese citizen or an overseas Vietnamese, he/she qualifies for stable and long-term home ownership and has all rights of a homeowner similar to Vietnamese citizens.
During the ownership term, the homeowner is entitled to gift or sell their house(s) to individuals/entities eligible for home ownership in Vietnam; if not, upon the expiry of the ownership term, their house(s) shall belong to the State.
TAXES APPLY IN VIETNAM PROPERTY SALES TRANSACTION
VALUE ADDED TAX(VAT)
10% VAT is taxed on any sale of property by local or foreigners
ADMINISTRATION FEE
A minimal administration fee is to be granted an ownership certificate at the current regulation.
REGISTRATION TAX FOR OWNERSHIP
0.5% registration tax for obtaining the house ownership certificate on the apartment value.
PERSONAL INCOME TAX (PIT)
If personal income is earned through the assignment or resale of apartments or houses, a 2% personal income tax has to be paid on the transacted value.
~~~~~~~~~~~~~~~~~~~~~~~~~~~~~~~~~~~~~~~~~~~~~~~~~~~~~~~~~~~~~~~~~~~~~~~~~~~~~~~~~~~~~~~~~~~~~~~~~~~~~~~~~~~
PERSONAL INCOME TAX (PIT) – APPLY TO PROPERTY RENTAL INCOME
If personal income is earned through rental of house/apartment, 5% VAT and 5% PIT has to be paid on revenue.
For rental income exceeding VND 1,500,000 per month, a business license tax of VND 1,000,000 per year applies.
Real Estate Market Evolution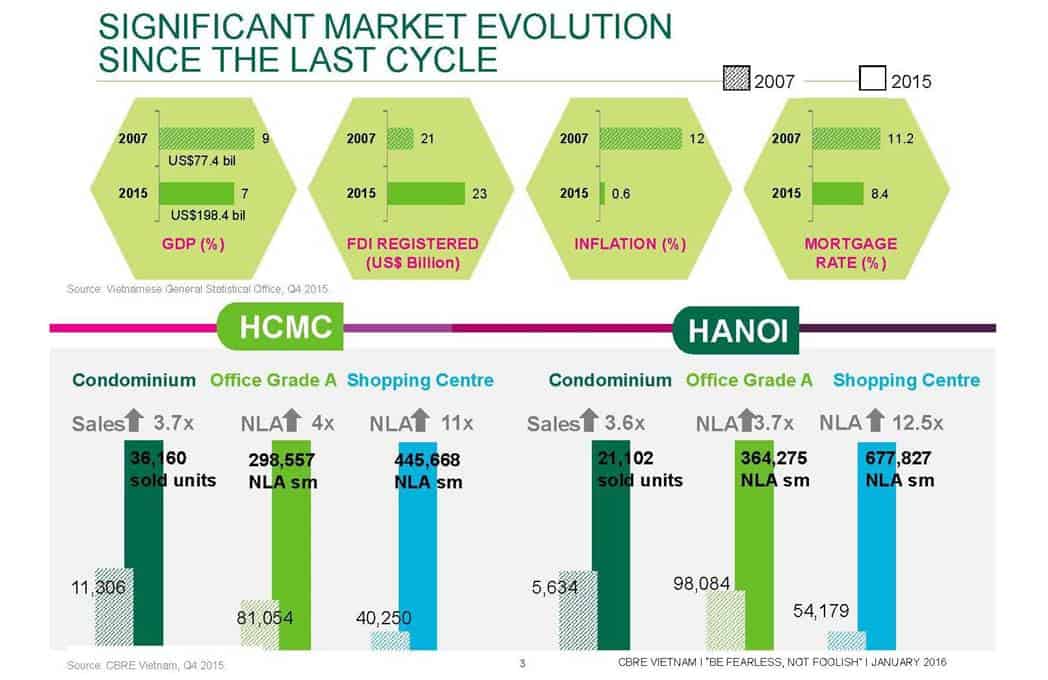 Where foreign trade relations and bilateral ties are concerned, Vietnam's trade liberalisation policy has allowed it to be a beneficiary of recently concluded treaties. With the Trans Pacific Partnership (TPP), Vietnam's economic connectivity to major global markets will improve by leaps and bounds. With the lowering of import tariffs of "made-iin-Vietnam" products, more industries will relocate and setup shop in Vietnam. This will accelerate the country's growth as a manufacturing powerhouse, made possible by its relatively cheaper labour (when compared to its illustrious neighbour China), and ease of access to port facilities (made possible by its long eastern coast lines and broad river networks). When fully implemented, the signed Asean Economic Community (AEC) will perpetuate a single market in Southeast Asia, allowing Vietnam to experience an increase in GDP, jobs and wages. All these factors will work in Vietnam's favour to greatly improve its standard of living, increasing the demand for quality housing, and creating a more vibrant and sustainable real estate industry.
Vietnam Condominium Transaction Profile
Residential Affordability Pyramid
Demographically, Vietnam's favourable situation as depicted in demographic statistics paint a rosy outlook for the real estate market. With a median age of 30, a rapidly growing middle-class forecasted to reach 40 million people by the year 2020, and a high urbanisation rate of 3.5 percent per annum, will create a huge demand for quality housing in the urban centres. Evident of one of the fastest rates of urbanisation in Asia, many Vietnamese are abandoning country life to seek a better future in the cities, so much so that it is putting a strain on infrastructure. According to government figures, there is a shortfall of housing supply to meet the future demands of Vietnam's young population.
Property Price Index
Vietnam Condominium Market Outlook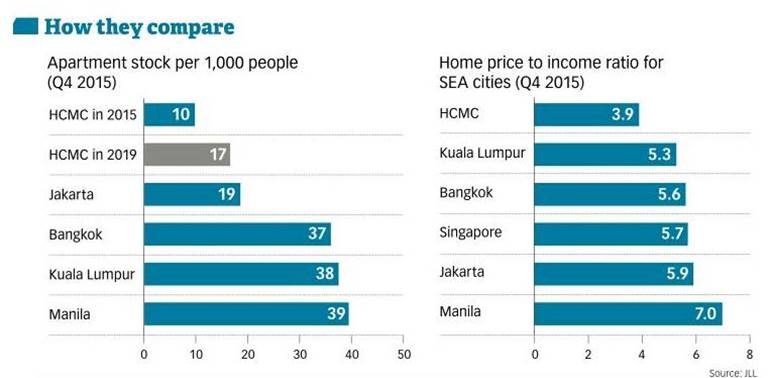 According to the HCMC Real Estate Association, since the new laws were put into effect, more than 1,000 transactions from foreign buyers were registered for HCMC properties, while only 250 foreigners bought between the period of 2009 to 2013 for the whole Vietnam. As Vietnam as a real estate destination catches the global wave of investments, fence sitters will start to make advances into the market, and the early movers (foreign buyers) who invested early will reap the benefits of investing early.
Investors in HCMC's properties can generally expect a competitive gross rental yield of six to eight percent (as compared to other regional investment destinations) and good mid- to long-term capital gains. Based on 2015/2016 forecasts, residential property prices are set to increase by five to eight percent per annum in the near future. These all present a healthy return on investments for the individual investor, and provide a good opportunity not to be missed.
Districts 2 and 7 sought-after by expats
For retail investors in Singapore, the opportunities are in buying condo units, and the two most sought-after areas are Districts 2 and 7, where international schools are located.
For instance, the American School of Vietnam, Australian International School Vietnam and British International School are located in District 2. Meanwhile, District 7 is where the Canadian International School, Japanese School, Korean International School, Saigon South International School and Taipei School, as well as the Royal Melbourne Institute of Technology (RMIT) Saigon South campus, are located.
CBRE's Townsend has been living in Vietnam for the past 14 years, and he and his wife, a Vietnamese citizen, have accumulated a portfolio of some 10 properties. Their focus has been on one- and two-bedroom units, although they also own a three-bedroom apartment. "We always buy near the international schools as this is where expatriate families want to live," says Townsend
Recommended Vietnam Properties